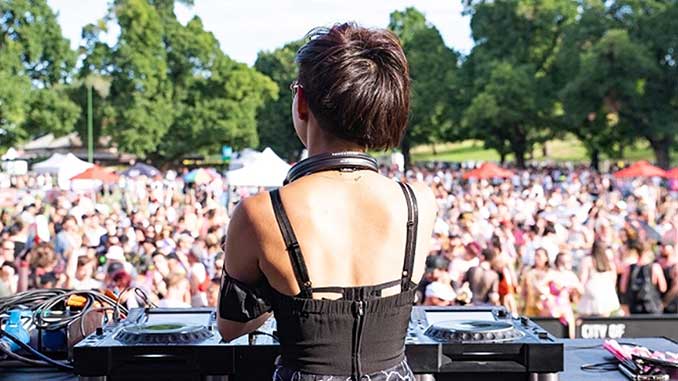 The iconic Midsumma Carnival is back on Sunday 22 January to highlight the opening weekend of the annual Midsumma Festival. Taking over the CBD's Alexandra Gardens, Midsumma Carnival features an array of LGBTQIA+ acts that will grace three stages.
Presented by Midsumma Festival and supported by City of Melbourne, Midsumma Carnival features over 180 stalls including pop-up bars, two large food zones, free giveaways, and multiple queer-friendly community groups and businesses, including the iconic Dog Show for pooches to compete to win the Ultimate Best Dog prize.
Midsumma Carnival highlights include: The Carnival Main Stage will be emceed by Dandrogyny (A Composting Cabaret), Lucy Best (Lucy Best Presents Queer Comedy), Nefertiti LaNegra and 2Joocee.
Performances include The Shanties Choir presents: Wet and Wild, expect banging tunes and performances from deviant divas and an abundance of seafaring shenanigans. Andy Balloch and Justin Porter will take to the stage, known for their completely improvised soap opera (Gays of Our Lives). Join and dance the night away to every Bowie hit performed live by Peppy Smears (Bowie Ball).
The Carnival Picnic Stage will features the likes of Mystic Moira – A Taste of Fruit Cake, with a wacky lip-sync (Fruit Cake Comedy), as well as Australian drag artist, designer and DJ Jandruze, who has taken both the realms of international cabaret and the queer underground by storm. Checkout he jam-packed Carnival program here!
"The annual Midsumma Carnival is always a vibrant and fun day on the calendar where communities come together and celebrate LGBTQIA+ culture and inclusivity," said Lord Mayor Sally Capp. "We can't wait for Melbourne to come alive with colour and diversity for this fabulous day which kicks off a jam-packed Midsumma Festival."
Visitors can expect a variety of fun and safe spaces accessible to everybody, including, sports activities, a youth area, and family-areas from dawn to dusk. As the night approaches, Midsumma will have everyone dancing, with DJs and musicians across both the main and picnic stages.
Join thousands of people dancing the night away to a huge line-up on each stage, including major headliners DJ AYEBATONYE, DJ Aqueerius and DJ DAWS.
Midsumma Carnival will kick off 23 days of celebration with over 200 events in over 100 separate venues across Melbourne, showcasing queer culture, featuring local, interstate, and international artists in spectacular performances, talks and social events.
Midsumma is Australia's premier LGBTQIA+ arts and cultural organisation. Sharing the lived experiences of voices at the margins, expressions of queer history, and the celebration of new ideas and stories that come to life through world-class art and performance.
---
The 2023 Midsumma Carnival takes place in Alexandra Gardens, this Sunday (22 January: 11.00am – 10.00pm). The Midsumma Festival runs across Melbourne from Friday 21 January to Sunday 12 February. For more information and program, visit: www.midsumma.org.au for details.
Image: Midsumma Carnival – photo by Creative Edge Photography