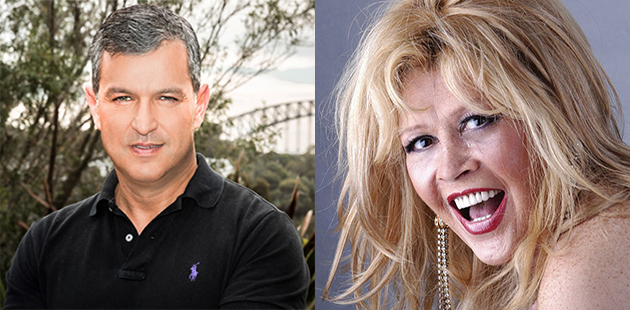 Australian icon and renowned cabaret performer Carlotta and former CEO of David Jones, Paul Zahra, have been announced as the champions for the 29th Midsumma Festival.
Zahra, one of two openly gay CEOs of ASX200 companies, will hold an intimate lunchtime event where he will share insight into what it takes to run an ASX 200 Company and why he believes CEOs should not be scared to be themselves.
Renowned cabaret performer and Australian icon Carlotta is set to dazzle and astonish with her legendary feather fan and wit. Her show Carlotta: Queen of the Cross, accompanied by Michael Griffiths, will take audiences through a whirlwind journey of Carlotta's life on stage.
Fresh from returning home from a trip to Thailand, Carlotta has revelled in being a champion this year: "What Midsumma means to me is to celebrate who we are and our right to freedom to express our diversity," said Carlotta. "Being a Midsumma Festival Champion is such and honour. The organisation do a tremendous job in bringing together a fabulous pride festival for Victorians."
As a 2016 Festival Champion, Zahra is proud of what being a champions represents to the community and welcomes the role a Champions plays during the festival period. "As a boy from Melbourne, Midsumma brings back so many happy memories of long hot summer days in Melbourne and the fabulous parade and parties of celebration of the LGBTI community whilst remembering the road we have already travelled on this journey to equality," said Zahra.
"As a member of the PwC Advisory Board for Diversity and Inclusion and a Non- Executive Director of The Pinnacle Foundation, I feel it's an honour and privilege to be chosen as a Champion for the 2016 Midsumma Festival"
Midsumma Chair Aaron Hockly says: "We are delighted to have two high profile members of the community with such diverse backgrounds as our champions for 2016. Our champions honour two people who have fought for the human rights we enjoy, celebrate the contribution of DGS people to Australia's business community and its culture and pay respect to the trans community in particular.
"The Midsumma Festival celebrates our community's diverse gender and sexuality through arts and culture, and Carlotta and Paul are a true symbol of the diversity that exists in our community. Midsumma is proud to have both as our champions for the 29th Midsumma Festival."
Commencing on Sunday 17 January and running to Sunday 7 February 2016, the 29th Midsumma Festival features a line up of 145 events spanning exhibitions, performing arts, live music, film, social, sporting and community events. For more information, visit: www.midsumma.org.au for details.
Image: Paul Zahra and Carlotta (supplied)