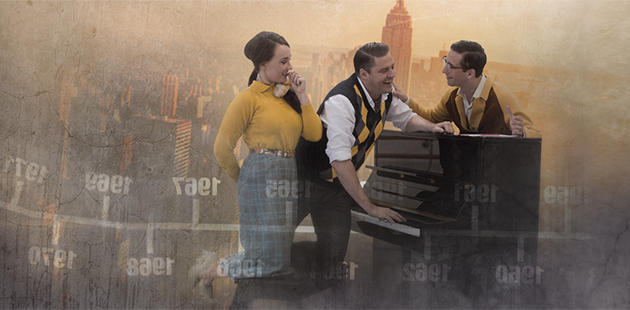 Australia's first company dedicated to performing works by legendary composer Stephen Sondheim, Watch This follows its recent sell-out season of Company with another witty and deeply moving collaboration between Stephen Sondheim and George Furth in Merrily We Roll Along.
Franklin Shepard has made it to the top: a wealthy LA movie producer, he rubs shoulders with Hollywood's A-list. But he desperately wishes things had turned out differently. Where did his life veer off course?
As it wheels back through the landscape of Franklin's past, his choices and their consequences, Merrily We Roll Along explores the forces that shape our lives: success and what it costs, friendship and what it can bear, dreams and what they become.
Beginning in 1976 with disillusionment and despair, the journey follows Frank and his two estranged friends Charley and Mary through each milestone of their personal and professional lives, ending with the promise and purity of 1957.
With a book by George Furth and lyrics and music by Stephen Sondheim, Merrily We Roll Along is a 1981 musical based on the 1934 play of the same name by George S. Kaufman and Moss Hart. This rarely produced musical features some of Sondheim's most beautiful and at times haunting songs including: Good Thing Going, Our Time, Old Friends and Not a Day Goes By.
Directed by Sara Grenfell, with Musical Direction by Cameron Thomas and Choreography by David Wynen, an outstanding cast is led by Lyall Brooks (A Prudent Man, North by Northwest), Nicole Melloy (Dusty, Loving Repeating), and Nelson Gardner (Ned – A New Australian Musical, Beauty & the Beast).
They will be supported by Adrian Barila, Cristina D'Agostin, Mark Doggett, Keane Fletcher, Laura Greenhalgh, Nicholas Kong, Vidya Makan, Ana Mitsikas, John Reed, and Sophie Weiss. Set & Costume design by Emily Collett, and Lighting design by Rob Sowinski.
Watch This burst onto the Melbourne music theatre scene in 2013 with their production of Assassins, and now have five Sondheim seasons and an impressive 12 Green Room nominations and a win (for Best Supporting Actor for Adrian Li Donni in Pacific Overtures) under their belt.
"Merrily We Roll Along is a show about dreams and desire, about how we each chart our respective course and define success," says Artistic Director, Sonya Suares. "And of course, because it's Sondheim, it's also about the cost of our choices."
"Assassins and Pacific Overtures were overtly political and resonant: they spoke to audiences about social inclusion versus radicalisation, the fragility of human connection and the forces of change/ their impact on cultural and individual identity. With Company and now Merrily, we travel into interpersonal and psychological territory."
Merrily We Roll Along  
Southbank Theatre, The Lawler, 140 Southbank Boulevard
Season: 30 June – 15 July 2017 (preview: 29 June)
Bookings: www.mtc.com.au
For more information, visit: www.watchthis.net.au for details.
Image: Nicole Melloy as Mary, Lyall Brooks as Frank, and Nelson Gardner as Charley feature in Merrily We Roll Along (supplied)