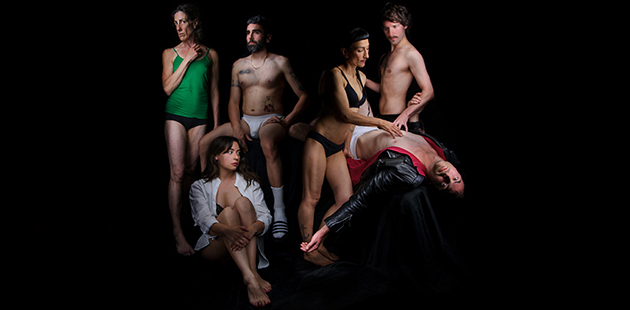 Fresh from a sold out Sydney season, Arts Centre Melbourne presents Dan Giovannoni's Green Room Award winning adaptation of Christos Tsiolkas' Merciless Gods in the Fairfax Studio from 6 February 2019.
This collection of eight vignettes based on Tsiolkas' work shows how humans are prey to the cruel and capricious Ancient Gods, taking audiences into worlds both strange and familiar. The two-hour production is a brutal and tender examination of queer immigrant experiences in Australia.
From migrant camps to gay saunas, pill-popping hipster dinner parties to porn sets and prison cells to the streets of the Cross, Merciless Gods captures haunting slices of our psyche and unveils the hidden faces of ancient deities on mortal ground. Intercutting between families, friends and accidental encounters, this is humanity laid-bare – virtuous and vengeful, domestic and divine. It is Australia today!
Christos Tsiolkas is one of Australia's prized authors known for works including The Slap and Barracuda. Of seeing Merciless Gods hit the stage he says the process of theatre and collaboration are what brought his work to light in a new and imaginative way.
"I released Merciless Gods because I was confident these stories said what I wanted to say, or created the mood I wanted to convey, or made sense of an experience," said Tsiolkas. "But through the theatre process it's almost like that multiplies. Just the wildness of Stephen's ideas [for the adaptation] were really enthralling to me."
Tsiolkas has entrusted this first ever stage adaptation of Merciless Gods to award winning queer indie masterminds Little Ones Theatre, as well as Helpmann and Green Room Award winning playwright Dan Giovannoni. Giovannoni has written plays for adults and children, including the critical and box office success Cut Snake.
More recently, he was announced as one of Melbourne Theatre Company's inaugural writers-in-residence. Adding Merciless Gods to his repertoire means he is able to share his experiences and reveal the disconnect he felt in society. Even with Tsiolkas 20 years his senior, the two shared very similar stories.
"When Merciless Gods first premiered, I was shocked when people came up to me afterward and said, 'This is my story', and 'I haven't seen this before'. If people aren't seeing these stories on stage, what are we missing?" said Giovannoni.
Green Room Award winner and director, Stephen Nicolazzo recounts the day he, Tsiolkas and Giovannoni united together at the pub to discuss the makings of Merciless Gods as a very enriching moment and one he will be forever grateful for. "Each person who has worked on Merciless Gods is incredibly passionate about both Christos and his voice," said Nicolazzo.
"It feels like a unique moment in the Australian theatrical landscape where like-minded artists from similar walks of life have come together to share their experience of this country on stage – no holding back, raw and true," Nicolazzo said.
Critically acclaimed in Melbourne and Sydney, and winner of two Green Room Awards (including Best New Writing and Best Performer), Merciless Gods is urgent, dirty, glorious queer theatre. A must-see theatrical event!
"This is an outsider play made by outsiders… brutal, tender, and unsentimentally queer. It demands your attention." – The Guardian
Director: Stephen Nicolazzo Featuring: Paul Blenheim, Stefan Bramble, Brigid Gallacher, Sapidah Kian, Charles Purcell, Jennifer Vuletic Set & Costume Designer: Eugyeene Teh Lighting Design: Katie Sfetkidis Sound Design: Daniel Nixon Production Manager: Gwen Gilchrist Stage Manager: Ruth Blair Producer: Jo Porter Playwright: Dan Giovannoni Dramaturg: Chris Mead Author: Christos Tsiolkas
---
Merciless Gods
Fairfax Studio – Arts Centre Melbourne, 100 St Kilda Road, Melbourne
Season: 6 – 10 February 2019
Bookings: www.artscentremelbourne.com.au
For more information, visit: www.littleonestheatre.com.au for details.
Image: Merciless Gods (supplied)