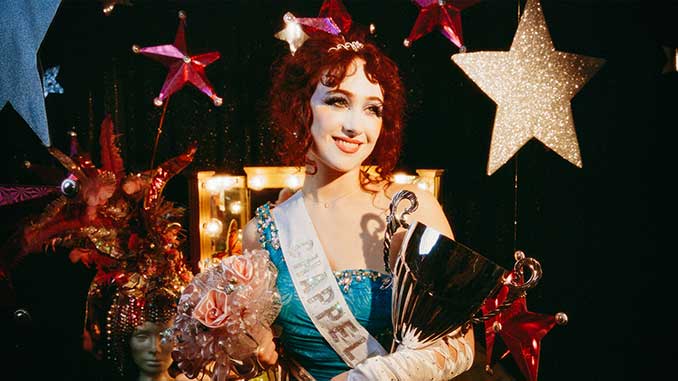 Brisbane's forward and fearless annual celebration of queer art, artists, allies and ideas, MELT Festival, is back for an eighth edition with a vibrant and eclectic 2023 program.
Featuring ground-breaking home-grown music artists alongside international sensations, provocative and hilarious theatre, exhibitions showcasing exquisite photography, textile art and installations as well as a book launch and talk, the 2023 MELT Festival will take over Brisbane Powerhouse from 11 – 26 November. Highlights include:
Alter Boy + June Jones
Saturday 18 November
Channelling Sleep Token and The Prodigy, peppered with hints of Banks and London Grammar, queer-lectro pop band Alter Boy's indie dance-pop mashes modern R&B, dark beats and haunting vocals. Fronted by hard-of-hearing vocalist Molly Priest, and Auslan Interpreter Luke Eastman, Alter Boy boldly evoke and exercise accessibility and inclusion, with all songs performed alongside in Auslan. They'll be joined by a Sydney based alt-pop singer and songwriter, June Jones, who heads to Brisbane with new single Good Girl in tow and after playing everywhere from Brunswick Music Festival to Sydney Mardi Gras.
BUNNY
15 – 18 November
Artists and performers, Luke George and Daniel Kok, exploit the physical properties of rope and knots to unpick the boundaries of desire, trust, consent and communion between artist and audience in Bunny. To unravel shared lines of connection, to suspend tension and to unleash collective desires, Kok and George look to macramé, sailors' knots, Chinese knots and rope bondage to weave together an interactive and intimate experience of collectivity. Touring to 15 cities across Asia, Europe and North America (including the Venice Biennale) Bunny returns to Australia for this special season.
Chappell Roan
Saturday 25 November
Chappell Roan brings her world of bold pop hooks, sex positivity, honest songwriting and a heavy dose of glitter to this year's festival. Celebrating the release of her debut album 'The Rise & Fall of a Midwest Princess' and direct from her sold-out US tour, she'll perform fan favourites alongside brand-new music. Chappell has well and truly become the next multi-faceted force in pop music. Through her punchy bangers that combine fantastical narratives and heart-bearing self-reflection, the LA-based singer, songwriter, and performer, has emerged as the rare star who is both larger than life and real as f**k. Chappell Roan is the alter ego of the performer born Kayleigh Rose Amstutz. A performance piece where she explores a side of herself that she's still wary of showing in real life.
Elizabeth
Thursday 16 November
Brisbane based artist, Elizabeth, brings her disarmingly truthful lyrics, dream pop haze and bouncing beats to this special, pay-what-you-can event. Dramatic and exhilarating, Elizabeth's electro-pop and neon cool evoke feelings of dancefloor heroes Robyn and Troye Sivan, with the addition of her unique spin on the reckless thrill of romance.
LGBTQIA+ Elders Dance Club
Sunday 12 November – 3.00pm
Lesbian, Gay, Bisexual, Trans and Gender Diverse, Queer, Intersex and A-Sexual Elders and their allies are invited to this fabulous, free social event of the season. Learn new dances, bring your friends and meet wonderful new people. Presented by All The Queens Men, an independent arts organisation founded by award-winning performance artists Tristan Meecham and Bec Reid, LGBTQIA+ Elders Dance Club is a safe, joyous and inclusive space for the whole community, elders, allies, friends and family. Come one, come all! No dance experience required! No booking registration required, just show up with your dancing shoes on. Light refreshments will be provided.
Kah-Lo
Wednesday 15 November
Internationally-acclaimed singer, Kah-Lo, brings her unique brand of music and style to Australia for MELT Festival 2023, supported by emerging First Nations artist Djanaba. Grammy-nominated, dance-pop sensation Kah-Lo has collaborated with the likes of Selena Gomez and Diplo and has a catalogue of infectious tracks ready to roll for MELT including Rinse & Repeat (with UK producer Riton), #1 debut single Fast, TikTok favourite Fake and her latest Drag Me Out. Djanaba is a Wiradjuri and Bundjalung woman from Newcastle with links to the Wollombi people. She references traditional dance and song, mashed with sprinkles of Florence and the Machine, Birdy and SZA. Djanaba's new single Don't Really Care, produced by PNAU, is just a taste of the great dance vibes she brings.
Overflow
23 – 26 November
From internationally acclaimed writer and one of the UK's most prominent trans voices, Travis Alabanza (Burgerz), comes the Australian premiere of Overflow directed by Dino Dimitriadis. Overflow takes the audience on a hilarious and devastating tour of women's bathrooms – who is allowed in and who is kept out. Cornered into a flooding toilet cubicle and determined not to be rescued again, Rosie (Janet Anderson) distracts herself with memories of bathroom encounters. Drunken heart-to-hearts by dirty sinks, friendships forged in front of crowded mirrors, and hiding together from trouble. But with her panic rising and no help on its way, can she keep her head above water?
Paul Yore – BECOME WHAT YOU ARE
Exhibition continues to 10 December
One of Australia's most interesting and consequential multidisciplinary artists, Paul Yore brings together a suite of intricate textile works, interrogating popular culture, nationalism, neo-liberalism, consumerism, and sexuality. This stunning exhibition draws on a vast array of recycled materials, forms, texts and images and deploys laborious and time-honoured craft methodologies such as embroidery, quilting, mosaic, collage, and bricolage. The exhibition also features selected garments drawn from a collaboration with celebrated fashion house Romance Was Born for their 2023 winter collection, Stronger Together.
Rhys Nicholson – Dish
Thursday 16 November
Join multi-award-winning comedian and writer Rhys Nicholson as they talk about anxiety disorder, a complicated relationship with food and a book deal. In Dish, through a series of revealing stories, intrusive thoughts and a recipe here and there, they're hoping to ruminate, gossip and generally have a deeply private, wide-ranging conversation with themselves about a whole bunch of life's smaller questions.
The Huxleys – Places of Worship
Exhibition continues to 26 November
Exploring the fading magic of supernatural worlds in which Melbourne-based performance and visual artists, Will and Garrett Huxley cast themselves as exquisite outsiders, isolated and ornate, existing on the fringes of places and the margins of society. It presents a longing for the precious jewels of earth to be celebrated and adored by emulating the outrageous beauty they interpret in nature through their handmade costumes and styling. These photographs invite the viewer to find a similar beauty in explosively queer bodies, yearning for difference to be marvelled at, worshipped and praised.
TOPS
Thursday 23 November
Since forming in Montreal in 2011, TOPS has become vastly influential, creating a niche for sophisticated pop in the world of indie music. Measured drumming, trademark guitar licks and lush keyboards support the unmistakable wistful voice of Jane Penny.  The result is a collection of soft rock-infused pop hits and signature ballads that cover a range of moods and a complex emotional realm set within a unique groove. Supported on the night by Meanjin/Brisbane Alt-pop band of the moment – Platonic Sex.
---
The 2023 MELT Festival takes place at the Brisbane Powerhouse from 11 – 26 November. For more information and full program, visit: www.brisbanepowerhouse.org for details.
Image: Chappell Roan (supplied)