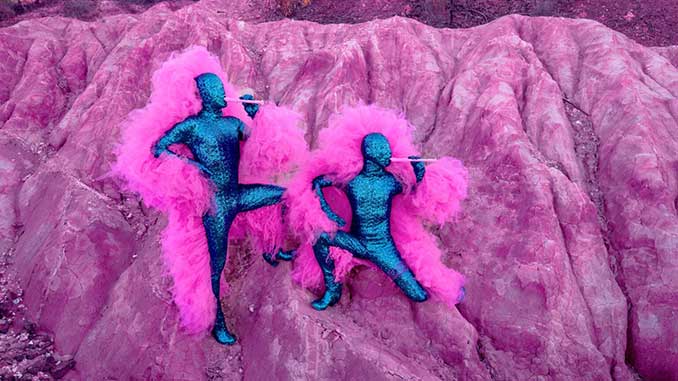 MELT Festival, Brisbane's forward and fearless annual celebration of queer art, artists, allies and ideas is back for an eighth edition, revealing its vibrant and eclectic 2023 program.
Featuring ground-breaking home-grown music artists alongside international sensations, provocative and hilarious theatre, exhibitions showcasing exquisite photography, textile art and installations as well as a book launch and talk, MELT will take over Brisbane Powerhouse from 11 – 26 November.
Brisbane Powerhouse Artistic Director and CEO Kate Gould said Melt is changing gear in 2023, with a program that radiates the vibrant diversity of queer culture.
"Melt 2023 is an explosion of creativity blending music, visual art and theatre to deliver our audiences an amazing program on the dancefloor, in the gallery and across our theatres," said Ms Gould.
"What better way to celebrate our LGBTQIA+ community than with a kaleidoscope of performers and experiences curated by our diverse team at Brisbane Powerhouse."
MUSIC
Leading UK dance artist Aluna, previously half of AlunaGeorge, will bring tracks from her latest solo release MYCELiUM that's currently taking over dance floors around the world. In a not-to-be-missed double bill she'll be joined by electronic producer and songwriter KUCKA, who has firmly established herself as a standout producer and vocalist, collaborating with artists such as Flume, A$AP Rocky, Vince Staples, SOPHIE and Kendrick Lamar.
Grammy-nominated, dance-pop sensation Kah-Lo has collaborated with the likes of Selena Gomez and Diplo and has a catalogue of infectious tracks ready to roll for MELT including Rinse & Repeat (with UK producer Riton), #1 debut single Fast, TikTok favourite Fake and her latest Drag Me Out. She'll be joined by First Nations artist Djanaba. Raised on traditional dance and song mashed with influences from Florence and the Machine, Birdy and SZA, Djanaba's new single Don't Really Care, produced by PNAU, is guaranteed to get you moving.
Since forming in Montreal in 2011, TOPS has become vastly influential, creating a niche for sophisticated pop in the world of indie music. Measured drumming, trademark guitar licks and lush keyboards support the unmistakable wistful voice of Jane Penny.  The result is a collection of soft rock-infused pop hits and signature ballads that cover a range of moods and a complex emotional realm set within a unique groove.
Award-winning ensemble Matt Hsu's Obscure Orchestra is comprised of 20+ BIPOC, First Nations, disabled, non-binary and trans artists. Their new alt-pop and experimental work Companions carefully considers the accessibility requirements of the performers, including light, motion, sound, and physical accessibility. These elements become the companions, or friends, that shape compositional process.
Channelling Sleep Token and The Prodigy, peppered with hints of Banks and London Grammar, queer-lectro pop band Alter Boy's indie dance-pop mashes modern R&B, dark beats and haunting vocals. Fronted by hard-of-hearing vocalist Molly Priest, and Auslan Interpreter Luke Eastman, Alter Boy boldly evoke and exercise accessibility and inclusion, with all songs performed alongside in Auslan. They'll be joined by a Sydney based alt-pop singer and songwriter, June Jones. Jones heads to Brisbane with new single Good Girl in tow and after playing everywhere from Brunswick Music Festival to Sydney Mardi Gras.
In 2020 Western Sydney-raised artist Keiynan Lonsdale released his debut album Rainbow Boy, catching the ears of Billboard, GQ, Rolling Stone, Vogue, Interview Mag, & gaining him the nomination for 'Outstanding Breakthrough Music Artist' at the 2021 GLAAD Music Awards. Now poised to release his sophomore album, Keiynan is set to dive deeper into his R&B roots. Keiynan will be joined by Naarm/Melbourne-based queer alt-pop artist, Keelan Mak, who'll have you crying in the disco and feeling great about it. Keelan's reflections on candid, 20-somethings heartbreak, mix perfectly with soft, lullaby-esque vocal, alternative electronica and hook driven choruses.
THEATRE
Artists and performers, Luke George and Daniel Kok, exploit the physical properties of rope and knots to unpick the boundaries of desire, trust, consent and communion between artist and audience in Bunny. To unravel shared lines of connection, to suspend tension and to unleash collective desires, Kok and George look to macramé, sailors' knots, Chinese knots and rope bondage to weave together an interactive and intimate experience of collectivity. Touring to 15 cities across Asia, Europe and North America (including the Venice Biennale) Bunny returns to Australia for this special season.
From internationally acclaimed writer and one of the UK's most prominent trans voices, Travis Alabanza (Burgerz), comes the Australian premiere of Overflow – an entirely trans production and "a future classic" (Evening Standard), directed by Dino Dimitriadis. Overflow takes the audience on a hilarious and devastating tour of women's bathrooms – who is allowed in and who is kept out. Cornered into a flooding toilet cubicle and determined not to be rescued again, Rosie (Janet Anderson) distracts herself with memories of bathroom encounters. Drunken heart-to-hearts by dirty sinks, friendships forged in front of crowded mirrors, and hiding together from trouble. But with her panic rising and no help on its way, can she keep her head above water?
VISUAL ART EXHIBITIONS – FREE
One of Australia's most interesting and consequential multidisciplinary artists, Paul Yore's BECOME WHAT YOU ARE brings together a suite of Yore's intricate textile works, interrogating popular culture, nationalism, neo-liberalism, consumerism, and sexuality. This stunning exhibition draws on a vast array of recycled materials, forms, texts and images and deploys laborious and time-honoured craft methodologies such as embroidery, quilting, mosaic, collage, and bricolage. The exhibition also features selected garments drawn from a collaboration with celebrated fashion house Romance Was Born for their 2023 winter collection, Stronger Together.
Internationally-celebrated performance artists The Huxleys' Places of Worship photographic series explores the fading magic of supernatural worlds in which Melbourne-based performance and visual artists, Will and Garrett Huxley cast themselves as exquisite outsiders, isolated and ornate, existing on the fringes of places and the margins of society. It presents a longing for the precious jewels of earth to be celebrated and adored by emulating the outrageous beauty they interpret in nature through their handmade costumes and styling. These photographs invite the viewer to find a similar beauty in explosively queer bodies, yearning for difference to be marvelled at, worshipped and praised.
New York-based Australian artists and creative technologists Tin Nguyen & Edward Cutting are driven by a deep curiosity for the natural world and the intricate ways we are connected to it. Tin & Ed use art to envision the world through this lens of interconnectedness. Multitudes is a series of playful outdoor installations and experiences that illuminate the borderless dimension between art and science, the physical and the digital, the human and the more than human.
BOOK TOUR
Join multi-award-winning comedian and writer Rhys Nicholson as they talk about anxiety disorder, a complicated relationship with food and a book deal. In Dish, through a series of revealing stories, intrusive thoughts and a recipe here and there, they're hoping to ruminate, gossip and generally have a deeply private, wide-ranging conversation with themselves about a whole bunch of life's smaller questions. "This Dish is served hot, funny and sincerely fresh!" – RuPaul.
---
The 2023 MELT Festival takes place at the Brisbane Powerhouse from 11 – 26 November. For more information and full program, visit: www.brisbanepowerhouse.org for details.
Image: The Huxleys (supplied)