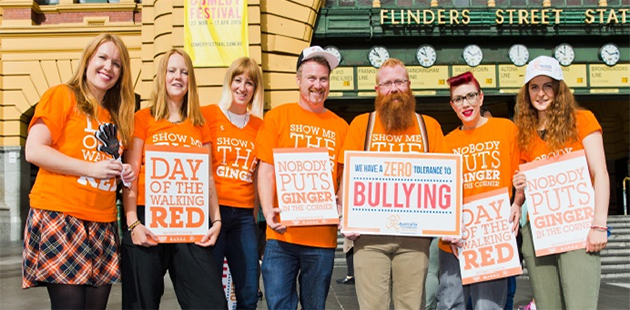 Hundreds of redheads, family and friends of gingers, and plain-old ginger enthusiasts were recently asked to vote for which city should host the 2017 Australian Ginger Pride Rally, and Buderim Ginger is excited to announce that the winner is Melbourne!
The cosmopolitan city, that successfully played host to this year's inaugural Australian Ginger Pride Rally which saw over 1,000 redheads unite, pipped other cities to the post, receiving 32% of the country's votes, beating hot contenders Sydney and Brisbane for the title.
Planning is already underway to make next year's event, which will be hosted by Buderim Ginger on Saturday 29 April 2017 at Federation Square in Melbourne, bigger, better and more gingery.
Voters also had their say in the type of charity they would like the event to raise funds and awareness for, with overwhelming support shown for both children's anti-bullying and skin cancer non-for-profits. As well as this, the 2017 Australian Ginger Pride Rally will again partner with The Red and Nearly Ginger Association (R.A.N.G.A), which exists as the peak special interest body for Ginger issues.
"We're thrilled that so many people got involved in the voting process and had their say about where they wanted the 2017 Australian Ginger Pride Rally to take place, and which charity initiatives they're passionate about," said Buderim Ginger Marketing Manager Jacqui Price.
"This year's event saw thousands of people stand against bullying and rejoice in the diversity of people that make up our community, and that was just the beginning. In 2017 Buderim Ginger is looking forward to celebrating and raising awareness for other issues that commonly affect gingers and redheads, and hosting an even larger and more 'gingerier' event."
More details will be announced shortly, but for now, make sure you mark Saturday 29 April in your diary for the 2017 Australian Ginger Pride Rally. For more information visit: www.thegingernet.com/ginger-pride-rally for details.
Image: Participants getting ready for the 2017 Ginger Pride Rally (supplied)