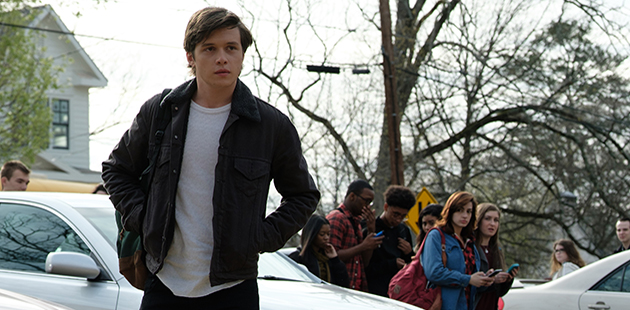 Building on its reputation for showcasing the finest, contemporary queer cinema from Australia and beyond, the 28th Melbourne Queer Film Festival has assembled a line-up of deliciously evocative titles that explore and celebrate the rich diversity inherent throughout the LGBTIQ spectrum.
The 2018 Festival will present 85 sessions at ACMI, Kino Cinemas and Cinema Nova from 15 – 26 March 15, encompassing 38 features, 14 documentaries, 72 shorts and incorporate 2 world premieres, 12 Australian premieres, 21 Melbourne premieres and 2 newly restored classic features.
"We're truly excited to share this global celebration of LGBTIQ cinema with Melbourne audiences," said Program Director, Spiro Economopoulos. "Every film and documentary within our 2018 program is guaranteed to not only entertain, but to provoke discussion, engender compassion and confront the many aspects of queer culture with honesty, insight and, not infrequently, that great leveller, humour."
Launching the Festival will be the Melbourne Premiere of Freak Show – the critically feted, coming-of-age comedy based on the cult novel by James St. James, follows fashion-forward teen, Billy, who, on moving to a new school, sets his sights on becoming Homecoming Queen.
Directed by Trudie Styler with an amazing central performance by Alex Lawther (Departure MQFF 2016), and some unforgettable cameos by Bette Midler, John McEnroe and Laverne Cox, you have a 'fierce' ode to being true to oneself. Post-screening Opening Night festivities will continue with drinks, canapés and fabulous music!
Love, Simon, screening mid-Festival as the Centrepiece Presentation, will also explore the oft-fraught journey to self-discovery Based on Becky Albertalli's acclaimed novel, Simon Vs. The Homo Sapiens Agenda, and directed by Greg Berlanti (The Broken Hearts Club, Life As We Know It), this heartfelt tale follows seventeen year-old Simon Spier (Nick Robinson) who is yet to 'come out'; a fact complicated by his feelings for the anonymous classmate he's fallen for online.
Closing Night audiences will be treated to the Australian Premiere of Becks, awarded Best Film at the 2017 Los Angeles Film Festival, and featuring a terrific cast including Tony Award winner Lena Hall in the titular role, along with Christine Lahti and Mena Suvari. Moving to LA to be with her girlfriend, Becks is crushed to find that she's been two-timed.
With no money and diminished confidence, she retreats to the conservative Midwest to live with her mother, where she forms a clandestine relationship with a restless housewife, coincidentally married to Becks' high-school tormenter. A sure-fire crowd pleaser, Becks will be followed by Closing Night celebrations at ACMI with tunes by DJ Emoceans.
MQFF's 2018 program is brimming with a truly superlative selection of full-length features and documentaries. The Australian Showcase program incorporates 2 World Premieres; The Five Provocations – a daring, original, performance driven, realist drama from director Angie Black about four strangers whose lives intersect, and So Long, directed by Caitlin Farrugia & Michael Jones. Shot in Melbourne, this lesbian mumblecore drama on single life is striking in its naturalistic and improvisational style. Both features will be followed by Q&A sessions with the filmmakers.
The retrospective strand, Bring it Back, will screen 2 restored classics from the mid-80s – the groundbreaking lesbian classic Desert Hearts, from director Donna Deitch which, thanks to a superb 4K restoration, radiates with heightened sensuality, and Prick Up Your Ears, Stephen Frears' biopic on doomed English playwright, Joe Orton, with Gary Oldman (in one of his earliest film performances), as the charismatic Orton, and Alfred Molina as his one-time creative partner, and tortured lover, Kenneth Halliwell.
In addition to the previously announced 2018 highlights which included BPM (Beats Per Minute), My Days of Mercy, Saturday Church, Signature Move, Behind the Curtain: Todrick Hall and Woman on Fire, here are a few of the many exceptional international LGBTIQ+ features, documentaries and shorts programs that will screen as part of the 2018 season:
A Million Happy Nows – USA/Feature (Melbourne Premiere)    
A veteran soap opera star retires to a beach house with her younger partner, but when she is diagnosed with Early Onset Alzheimer's the couple's relationship is strained until they find the strength to redefine their feelings for each other. Director Albert Carr's superlative drama, starring Crystal Chappell and Jessica Leccia, won Best First Narrative Feature, Best Actress and Best Supporting Actress at FilmOut (San Diego) Festival and Outstanding First Narrative Feature (Audience Award) At L.A. Outfest.
A Moment in the Reeds – Finland/Feature (Melbourne Premiere)    
Possibly the first ever Finnish LGBT romance, this beautiful love story, set against an idyllic Finnish summer, explores the intense affair between Leevi who is visiting his estranged father and Tareq, a Syrian architect, now refugee, employed to repair the family's lake house.
Abu – Canada/Documentary (Australian Premiere)         
This absorbing documentary offers an intimate insight into a Pakistani immigrant exploring his sexuality while ruminating on his complex relationship with his father. Director Arshad Khan bravely puts himself front and centre as he documents his family's move from Pakistan to Toronto.
Alaska is a Drag – USA/Feature (Australian Premiere)
Life for Leo (Martin L. Washington Jr.), who dreams of being a drag superstar, is far from glamorous.  His sister has cancer, his days are spent gutting fish and there's only one sad little gay bar within 100 miles. But when he's invited to compete in Miss Drag America, this fabulous diva finally sees a chance to escape in writer/director Shaz Bennett's memorable drama.
Chavela – USA/Documentary
Audience award winner for Best Documentary at the 2017 Frameline Film Festival, this rousing film, which features previously unseen footage and interviews, tells the story of a cigar-smoking, tequila-downing rebel, Chavela Vargas, who scandalised Mexico's music industry by working against traditional gender by wearing pants and ponchos and singing male rancheras.
The Fabulous Allan Carr – USA/Documentary (Australian Premiere)
Featuring interviews with those that knew him intimately, this is fascinating portrait of larger-than-life Hollywood producer and marketing genius, Allan Carr, who built his bombastic reputation against the success of hit musical Grease and Broadway triumph La Cage Aux Folles.
The Feels – USA/Feature (Melbourne Premiere)
In this racy, hilarious ensemble comedy, a group of friends gather for a weekend away to celebrate an impending wedding. However, as the weekend progresses, marriages unravel and sexual tensions boil over with wickedly comic results!
The Gospel According to André – USA/Documentary (Melbourne Premiere)
This inspiring portrait chronicles the meteoric rise of André Leon Tully, the operatic style icon and fashion industry trailblazer, from segregated North Carolina to the highest echelons of the fashion world, and is a heartwarming story of a man with a fearless determination to remain true to himself.
Ideal Home – USA/Feature (Melbourne Premiere)
Extravagant, bickering long term lovers, Erasmus (Steve Coogan) and Paul (Paul Rudd), are unexpectedly plunged into parenthood, when the grandson Erasmus never knew he had, lands on their doorstep. From director Andrew Fleming, this dramedy is a bawdy and surprisingly touching look at the many variations that define a family.
Mansfield 66/67 – USA/Documentary (Australian Premiere)
A doco so drenched in camp that you may need to come up for air, this is an uproarious look at the final years of Hollywood starlet, Jayne Mansfield and her scandalous associate, Anton LaVey, founder of the Church of Satan, both of whom shared an unquenchable thirst for publicity.
McKellen: Playing the Part – UK/Documentary (Melbourne Premiere)
A unique journey through the landmarks of Ian McKellan's life from childhood to his candid thoughts on his own 'coming out' against the backdrop of the encroaching AIDS epidemic.
Paths – Germany/Feature (Australian Premiere)
This understated, lyrical mediation on the intricacies of love is a moving, portrait of the decades long relationship between Martin (Mathis Reinhart) and Andreas (Mike Hoffermann), from their initial meeting at a rock gig, to years later when their teenage son has flown the nest.
Porcupine Lake – Canada/Feature (Australian Premiere)
Starring Australian actress Lucinda Armstrong Hall, this wistful and tender tale, set in Northern Ontario about two young girls on the cusp of their first romance, is a complex look at how friendships can shape both our lives and dreams.
Postcards from London – UK/Feature (Australian Premiere)
Seeking his fortune in London, beautiful teenager, Jim, portrayed by Harris Dickinson, star of the 2017 drama Beach Rats, lands in Soho, broke and jobless. An innocent, he falls in with a group of high-class male escorts specialising in post-coital conversation, and rapidly becomes the star attraction for an exclusive coterie of prominent clients, who find his ethereal beauty a perfect canvas upon which to project their fantasies.
Queerama – UK/Documentary (Australian Premiere)
From director Daisy Asquith, this engrossing essay film charts a century of incredible change in British LGBTIQ life. Archival film, television, documentary and newsreel footage explore the relationships, desires, fears and expressions of gay men and women from 1919 to the current day.
The Revival – USA/Feature (Australian Premiere)
In this darkly funny drama, set amidst a fire and brimstone congregation, a secret love affair between Eli (David Rysdahl), a married southern Baptist preacher and Daniel (Zachary Booth), a rugged, young drifter, examines Eli's agonising internal conflict between his homosexuality and devotion to God.
Rift – Iceland/Feature (Melbourne Premiere) Director:
With shades of the classic thriller Don't Look Now, this is a truly chilling Icelandic drama. Two estranged lovers, Gunnar (Björn Stefánsson) and Einar (Sigurður Þór Óskarsson) awkwardly reunite in an isolated cabin in the woods, but it's not long before they sense the presence of a malevolent force.
The Ring Thing – USA/Feature (Melbourne Premiere)
When Kristen (Nicole Pursell) misinterprets a ring Sarah (Sarah Wharton) shows her as the beginning of a marriage proposal, it reveals a couple in vastly different places, in this ambitious exploration of the nature of commitment and how the prospect of marriage can turn a loving relationship into a minefield.
Susanne Bartsch: On Top – USA/Doc (Melbourne Premiere)
A star-studded, behind-the-curtains look that explores NYC culture through the influence of legendary club promoter, Susanne Bartsch, who over four decades hosted some of the most famous parties in New York city to rightly claim the title 'Queen of the Night.'
Torrey Pines – USA/Animated Feature (Australian Premiere)
Scattered with witty pop culture references, this original animation tells the autobiographical story of its creator, trans animator Clyde Petersen, via a whimsical and occasionally psychedelic 1990s road trip that he took across the USA with his paranoid-schizophrenic mother.
Love Bites
To commemorate the 40th anniversary of the Sydney Gay and Lesbian Mardi Gras, the ABC and Screen Australia commissioned 10 five-minute documentaries from LGBTIQ filmmakers across Australia. MQFF is excited to be screening the four Victorian entrants. The screening will be followed by a panel discussion with the filmmakers.
Shorts Program
72 local and international films feature in this year's exceptional Shorts program, to be screened as single sessions across 10 distinct categories including Comedy Shorts; Transformations; Young and Queer; Hooking Up, Our Queer Neighbors; Guy on Guy Shorts and Girl on Girl Shorts – culminating in the Australian Shorts & Awards that features a fantastic selection of diverse movies from local filmmakers, which will compete for a cash prize pool of $4,500.
"We're all on a journey to self-discovery and understanding," said Executive Director, Maxwell Gratton. "We're optimistic that with each year, the remaining barricades towards complete acceptance of our community, are gradually being eroded, which is one of the reasons why Festivals such as MQFF and its local and international counterparts are so essential."
The 2018 Melbourne Queer Film Festival runs 15 – 26 March. Member tickets on sale Wednesday 13 February, with general release tickets on sale Monday 19 February. For more information and complete program, visit: www.mqff.com.au for details.
Image: Nick Robinson stars in Love, Simon – courtesy of Melbourne Queer Film Festival