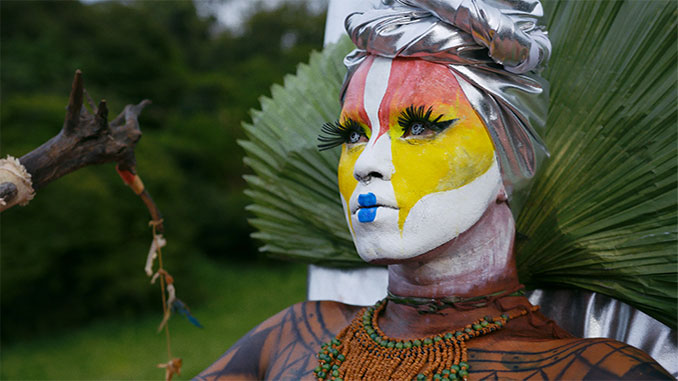 Launching on Thursday 10 November, the 2022 Melbourne Queer Film Festival (MQFF) features a twelve-day jam packed program stronger than ever. Expect a prime selection of local and international drama, comedy, documentary, and everything in between; from boundary-pushing filmmakers across the globe.
"We're excited to be back in full swing to share an international survey of queer narratives to audiences. This jam-packed program invites the community to come together to laugh, to be moved, to connect, and to celebrate queer lives and stories," said David Harris, MQFF CEO.
Running 10 – 21 November, the 32nd MQFF features a Spotlight on Brazil, 49 feature films and documentaries, 12 short film packages, 35 Australian premieres and four Melbourne premieres.
This year, MQFF is thrilled to welcome new collaborative partner, the Victorian Pride Centre to host eight open-air rooftop screenings. Some program highlights taking place at the rooftop cinema include:
The Australian premiere of Blitzed! (2021) directed by Bruce Ashley and Michael Donald (UK) – tracing the evolution of the eponymous London nightclub through the eyes of club regulars Boy George, Princess Julia, Spandau Ballet and more.
Cult classic, But I'm a Cheerleader (1999) directed by Jamie Babbit (USA), is back with a director's cut. This is a seminal 90s satire that cannot be missed.
The rooftop will also host the Closing Night film Uýra: The Rising Forest (2022) directed by Juliana Curi (Brazil), a superbly lush, ephemeral film that utilises rich colour contrasts and deep, evocative shots to evoke Uýra's style as both artist and activist – a masterwork of documentary that must be seen the world over.
This year's MQFF will screen 35 Australian premieres, some highlights include: Black As U R (2020), directed by Michael Rice (USA). This highly incendiary documentary points a lens at Black America, asking: 'Why do we protest racial injustice, but disregard the injustices experienced by black queer people?'
The inaugural recipient of Frameline Festival's Out in the Silence Award, Black As U R is a must- see film dedicated to LBGTQ+ visibility in spaces so politically charged that queer representation has been disregarded.
Also premiering in Australia is Chrissy Judy (2022), directed by Todd Flaherty (USA). This devilishly dark comedy follows a New York drag queen on a quest to reinvent himself.
My Emptiness and I (2022), directed by Adrián Silvestre (Spain), is also an Australian premiere and follows Raphi's journey with gender transition and her changing place in the world.
Set in Barcelona and made with sensitivity and compassion, the film is a beautiful narrative selected for the Big Screen Competition 2022 at the International Film Festival Rotterdam.
A fantastically fun film for all ages, MQFF's Rainbow Families Screening: Mini-Zlatan and Uncle Darling (2022), directed by Christian Low (Sweden, Norway, Netherlands).
This Australian premiere follows Ella, who is excited about summer with her favourite uncle, Tommy, but things get complicated when Tommy's new boyfriend Steve enters the picture.
Ella takes matters into her own hands, orchestrating a Parent Trap-style summer of disaster in the hope of to getting rid of Steve. Based on the children's book by Swedish author Pija Lindenbaum.
MQFF features four Melbourne premieres, starting with the red-carpet Opening Night screening of Private Desert (2021), showing at ACMI and followed by the official MQFF Opening Night Party.
Directed by Aly Muritiba (Brazil, Portugal) – A tale in two parts of lovers who've not met, separated by miles of desert, in a journey of transcendence, of knowing one's true desire.
Private Desert was the winner of the BNL People's Choice Award 2021 and was the Brazilian Entry for the Best International Feature Film at the 94th Academy Awards.
The Festival's Australian Feature of the Year is also a Melbourne Premiere – The Longest Weekend (2022), directed by Molly Haddon (Australia).
Set in Sydney's Inner West, this soon-to-be indie classic depicts how the lives of three disconnected siblings are turned upside-down when they find themselves forced to live under the same roof.
The program also features 12 shorts packages, highlights include: Laugh Out Proud! – showcasing the greatest hits of queer comedy, featuring seven side-splitting shorts taking audiences on a riotous and raunchy trip to the funny side of queer life.
Freak Out! is back for its signature weird, queer and out-there showcase of features and shorts expanding and redefying what queer horror and genre cinema is, including the Australian Premiere of feature film Hypochondriac.
"VicScreen is proud to have supported MQFF since its inception, celebrating inclusivity, diversity and the best of queer cinema," said Caroline Pitcher, VicScreen CEO.
"The festival also plays an integral role in championing new Australian voices, providing meaningful opportunities for our homegrown talent."
"We can't wait to see Melbourne come to life this November for twelve jam-packed days of curated excellence," said Pitcher.
"The City of Melbourne prides itself on being a welcoming, inclusive municipality that celebrates our individuality," said Lord Mayor Sally Capp.
"The Melbourne Queer Film Festival is a spectacular offering of talent and creativity, and I can't wait to see some of the exciting and thought-provoking films that come out of this year's selection.
"This festival is an integral part of Melbourne's film scene, and we're overjoyed MQFF to fill capacity in 2022," said Capp.
---
The 2022 Melbourne Queer Film Festival runs 10 – 21 November. For more information and full program, visit: www.mqff.com.au for details.
Image: Uýra: The Rising Forest (supplied)