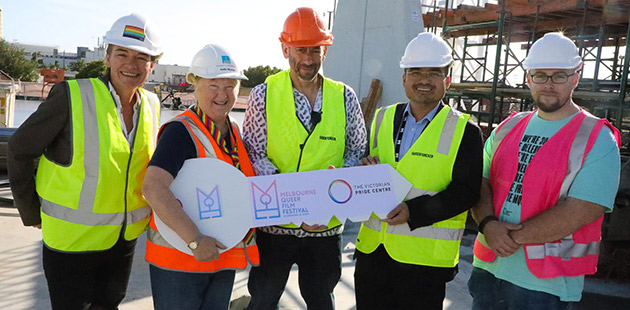 Australia's oldest and largest LGBTIQ film festival, Melbourne Queer Film Festival (MQFF) will be programming from The Victorian Pride Centre in St Kilda later this year.
The Victorian Pride Centre Board Chair Jude Munro AO and acting CEO Justine Dalla Riva presented MQFF's President Scott Herron, business manager Daniel Lancefield and CEO Maxwell Gratton with a symbolic key to the Pride Centre.
"The Victorian Pride Centre is proud to welcome another essential LGBTIQ community organisation to the centre," said Victorian Pride Centre Chair, Jude Munro AO. "For 30 years MQFF have provided our city and regions with access to paramount popular LGBTIQ culture through film messaging and story sharing."
Celebrating 30 years in 2020, MQFF is Australia's largest and longest running film festival that tells the stories of LGBTIQ+ communities through film and the moving image. With a main festival in March, MQFF eXtra in October and regional screenings covering Geelong, Bendigo, Shepparton, Ballarat and Morwell – the festival offers an array of opportunities for the community and its allies to come together and enjoy queer film.
"We're so excited to be moving to this new dedicated space in Melbourne for the LGBTIQ+ community, learning and sharing with others across so many industries all working towards improving the lives of LQBTIQ+ people in our city and across the country," said MQFF Board President, Molly Whelan.
"For an organisation that had its beginnings in the back room of a book shop, the move to the Pride Centre in our 30th year really represents the confidence and commitment we have in the future. A new home for the next 30 years!" said MQFF Board President, Scott Herron.
Apart from programming from the centre, MQFF will work together with the Pride Centre to look at spaces like the Theatre and the rooftop to increase opportunities for the community to enjoy queer film – bringing arts, culture and vibrancy to the precinct.
"The Victorian Pride Centre offers the Melbourne Queer Film Festival the opportunity to collaborate with other community organisations in order to enrich the programming and delivery experience," said MQFF CEO, Maxwell Gratton. "The staff and stakeholders look forward to this unique opportunity to underpin the Festival's operational excellence, engagement and accessibility."
For more information about the Victorian Pride Centre, visit: www.pridecentre.org.au For more information about the Melbourne Queer Film Festival, visit: www.mqff.com.au for details.
Image: (left to right) Victorian Pride Centre: Justine Dalla Riva – acting CEO, Jude Munro AO – board chair, MQFF: Scott Herron – board president, Maxwell Gratton – CEO, Daniel Lancefield – business manager – photo by Dean Arcuri
Source: www.pridecentre.org.au