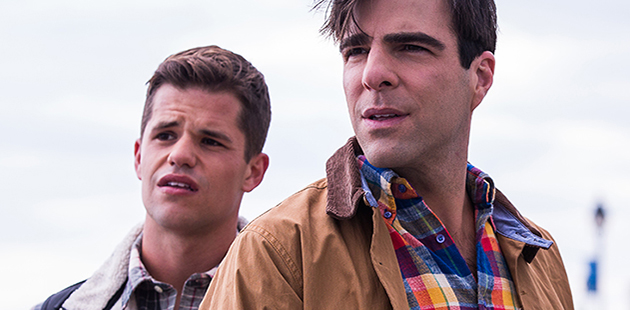 Now in its 27th year, Melbourne Queer Film Festival (MQFF), Australia's largest queer film festival, has launched its massive 2017 program encompassing 135 challenging and inspiring films from 30 countries, including 47 features, 15 documentaries, 73 shorts, 6 Australian premieres, 35 Melbourne premieres and 10 special event screenings and forums.
From 16 – 27 March, MQFF will present 94 sessions at the Australian Centre for the Moving Image (ACMI), Kino Cinemas and Cinema Nova with a new satellite event at Testing Grounds in Southbank.
"With this year's Festival we wanted to showcase the films that have won top honours for the biggest queer film awards around the world, including Tomcat, the Berlin Teddy Award winner, the Iris Prize winning short, Balcony and the Cannes Queer Palm winner, The Lives of Thérèse," said MQFF Program Manager, Spiro Economopoulos.
The Festival will open with the Australian premiere of I Am Michael starring James Franco and Zachary Quinto. Based on the fascinating and controversial true-life story of Michael Glatze (Franco), a celebrated queer theorist and gay activist who became an anti-gay Christian pastor. Anchored by a nuanced performance by Franco, I Am Michael is a compelling and powerful film that explores love, denial and redemption. MQFF is thrilled to welcome the film's writer/director Justin Kelly as a festival guest. Followed by Opening Night Party revelries at ACMI with tunes by DJ YO! MAFIA.
MQFF will also screen Justin Kelly's provocative new film King Cobra. Dubbed the Boogie Nights of gay porn, King Cobra charts the early rise of gay porn headliner Sean Lockhart a.k.a. Brent Corrigan (Garrett Clayton), before his falling out with the producer who made him famous. King Cobra also stars Christian Slater, Alicia Silverstone, Molly Ringwald and yes, James Franco. Justin Kelly will be in conversation discussing both films.
Marking the Festival's halfway point is this year's Centrepiece film the bold independently funded Australian fantasy Pulse. Mixing sexuality and teen angst with an undercurrent of sci-fi, Pulse follows a gay disabled teen who undergoes a mysterious procedure that gives him the body of a young able-bodied woman in order to pursue his love object. Writer and lead actor Daniel Monks and director Stevie Cruz-Martin are festival guests.
The Festival will go out with a bang on Closing Night when it screens Women Who Kill a dark comedic psychological thriller written and directed by Ingrid Jungermann (who also stars). Commitment phobic Morgan and her ex-girlfriend Jean, Brooklyn true crime podcasters, suspect Morgan's new love interest is a murderer. Winner of the Jury Prize for Best Screenplay at the Tribeca Film Festival last year, Women Who Kill challenges modern relationship fears of intimacy and commitment. Followed by Closing Night partying at ACMI featuring DJ Mr Weir (The Outpost).
This year MQFF's International Features program highlights include Sundance Special Jury Prize winner As You Are starring Charlie Heaton (Jonathan from Stranger Things), As You Are is a moody teen mystery drama about the friendship that develops between two male teenage loners and their female friend through their shared love of Kurt Cobain, skipping school and smoking pot.
In Take Me To The River, Californian teenager Ryder's plan to come out at his mother's rural Midwest family reunion gets derailed when a bloodstain on his young cousin's dress makes the unwitting suspect of abuse and long-buried family secrets are unearthed in this impressive and confronting feature debut from writer/director Matt Sobel.
Arianna is a gentle and introspective look at intersexuality and emotional isolation from Italy, the story of a young woman who, as she becomes more aware of her body and sexuality, also becomes more aware that something may be amiss. Ondina Quadri's performance in the titular role of Arianna earned her the award for Best Actress in a Debut Film at the Venice Film Festival.
While in The Pass, rising British star Russell Tovey (Being Human, Looking) impresses as a closeted soccer player in this film adapted by John Donnelly from his own acclaimed stage play.
In Suicide Kale, written by actor Brittani Nichols (Transparent) and directed by Carly Usdin, a simple lunch with friends goes awry when Jasmine (Nichols) and Penny, a new couple still getting to know one another, find an anonymous suicide note at the home of the happiest couples they know with hilarious consequences.
Actor Clea DuVall (Argo) makes her feature directing debut with The Intervention, an ensemble comedy which she wrote and also stars opposite Natasha Lyonne (But I'm A Cheerleader) and a top-notch indie cast portraying a group of friends whose reunion getaway goes awry when it is revealed that the trip was orchestrated as an intervention for one troubled marriage.
This year's selection of international features also includes ten films from Central and South America, notably Berlinale award winners Rara, a beautifully observed drama from Chile about the bittersweet experience of an adolescent girl being raised by same-sex parents, and You'll Never Be Alone (also from Chile) when his cross-dressing teenage son suffers a brutally violent attack, a mild factory manager desperately seeks help and, when none can be found, is forced to take matters into his own hands.
Highlights of MQFF's Documentaries program include Freedom To Marry, a tense documentary charting the fight for marriage equality in the US from award-winning filmmaker Eddie Rosenstein, and Audience Award winner for Best Documentary at Frameline Film Festival, Real Boy, a moving and breathtakingly honest, coming-of-age documentary features Bennett Wallace, a 19 year old trans musician searching for the acceptance of his family.
While in Check It, fed up with being abused and harassed on the brutal Washington D.C. neighbourhood, a group of gay and trans teens form a gang to fight back. This raw and intimate portrait follows four Check It members as they struggle to find a way out of gang life through an unlikely avenue: fashion.
From Academy Award-winning Australian filmmaker Eva Orner (Chasing Asylum) and co-director Chris McKim, comes Out Of Iraq, a moving account of the resilience and strength of love in the face of life-threatening situations. Two Iraqi men meet in the middle of war-torn Ramadi in 2004; one (Btoo) is a soldier for the Iraqi Army, the other (Nayyef) is a translator for the US military. They fall in love only to be separated when Nayyef, fearing persecution flees to the US as a refugee. To be reunited they must fight bureaucracy and prejudice.
Director Sébastien Lifshitz returns to one of the subjects of his César Award-winning documentary, The Invisibles to record the final moments of a remarkable, sexually-politicised life in The Lives of Thérèse. In the 1960s French activist Thérèse Clerc left her husband and bourgeois lifes to join the fight for legal abortion, equal rights of men and women, and gay rights. Now 88 and diagnosed with an incurable disease Thérèse and her family look back at her life in this poignant, loving and surprisingly vital portrait of a woman at the vanguard of a passing queer generation, that won the Queer Palm at the Cannes Film Festival last year.
This year's Bring It Back program of newly restored classics of LGBTIQ cinema includes a screening of John Waters' Multiple Maniacs (1970) with a special video introduction from the cult auteur filmmaker himself – exclusive to MQFF – and a panel discussion from film historians Lee Gambin and Sally Christie, presented by Cinemaniacs.
While this year's queer Pioneers program highlights the work of Dorothy Arzner, one of the first female Hollywood film directors, with screenings of The Wild Party starring Clara Bow (1929) and Dance, Girl, Dance (1940) starring Maureen O'Hara and Lucille Ball – presented in association with Melbourne Cinémathéque.
MQFF explores experiential cinema with Adult, a short film about motherhood, sexuality and grief, based on the short story Porn 1 by Christos Tsiolkas and directed by Jamieson Pearce. This unique viewing experience is taking place in a specially designed installation at Testing Grounds, Southbank. Each session will be approximately 30 minutes duration and is designed to heighten your viewing experience. Thursday 23 March, Friday 24 March and Saturday 25 March. Free, bookings essential.
This year's Shorts program includes Transformations – a collection of trans and gender diverse shorts, as well as an array of short fiction, documentary and animation films (gay, lesbian and mixed) from across the globe. Highlights include the 2016 Iris Prize Winner Balcony and Curmudgeons directed by Danny DeVito, and the Asia Pacific Queer Film Festival Alliance shorts, a selection of the best shorts from 14 queer film festivals across the Asia Pacific region.
A Festival institution (selling out each year), the Australian Shorts package puts the spotlight on local queer filmmakers. All films selected for this program are eligible for a range of awards including the Audience Choice Award for Best Australian Short. Vote for your favourite films at: www.mqff.com.au
"Despite societal developments, the LGBTIQ community is still fighting for rights as evidenced by debates both locally and internationally over the last year," says MQFF Executive Director, Dillan Golightly. "It feels more important than ever that we continue to show queer screen content and bring the community together."
The 2017 Melbourne Queer Film Festival runs 16 – 27 March, taking place at ACMI, Kino Cinemas and Cinema Nova. For more information, and complete program, visit: www.mqff.com.au for details.
Image: Justin Kelly's I Am Michael (supplied)