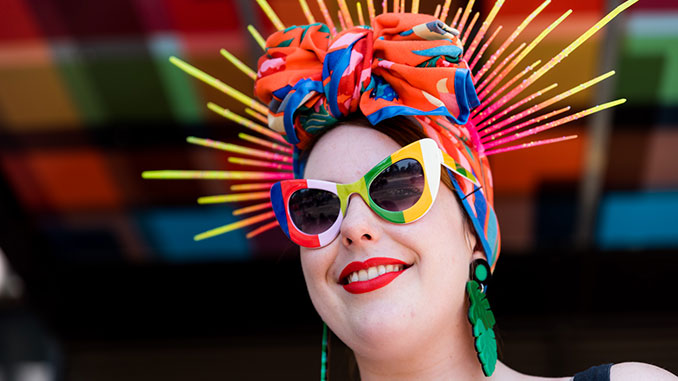 Commemorating the 40th Anniversary of the Decriminalisation of Homosexuality in Victoria, Melbourne Pride is a one-day festival that will honour the courage and resilience of Victoria's LGBTQIA+ community with a celebration of community on Sunday 13 February 2022.
Melbourne Pride is an opportunity for LGBTQIA+ Victorians and the wider community to come together as one to celebrate the remarkable journey of equality through inspirational arts, community involvement, food, and culture.
Melbourne's iconic Gertrude and Smith Streets will be transformed into a huge street party – with a sensational line-up across two stages. MCs Bobby Macumber and Lori Bell will take you through a full day of entertainment featuring Open Seen, Burn City Waack and House of Dévine Collaboration, The Lost Girls – 80s Super Group, Vetta Borne, Harehole Generation, Kokonutz (Lilikoi Kaos, Lisa Fa'alafi, Hope One and Lana Tukaroa).
Further down the street on the Smith Stage, the effervescent Victoria Falconer (Fringe Wives Club), MCing and warming up the stage for Judy Small, shOUT Youth Chorus, Evan Lawson and Deborah Cheetham with the Premiere of 'After the Long Night – Gowidja djirrunga dhala', Jimi the Kween, YUMMY, Gender Euphoria, Rob Snarksi with Shane O'Mara, Graham Lee and Ben Wiesner, and All The Queens Men Dance Club Extravaganza.
Later in the day, Jojo Zaho and Philma Bocks will keep the Smith stage warm for a delectable line up with headliner Electric Fields, Kira Puru, Reuben Kaye, and The Huxleys & Simone Page Jones with special guests. Taking the spotlight on the Gertie Stage will be Aysha Buffet, hosting a busy back-to-back line up featuring, KYVA, Jimi The Kween, Jawbreakers DJ, Burn City Waack and House of Dévine Collaboration, Alice Ivy and Simona Castricum.
The Peel Park Precinct will feature Caravan sounds playing funky beats all day with a variety of DJs representing Yarra based LGBTIQA+ venues and parties taking to the decks. The Peel Park Activation Space will have a range of family friendly activations throughout the day including the Mini Beasts Disco, Sweat Dreams Aerobics and Rapid Fire. Tenfingerz Fast Fashun, Snuff Puppets and Skate Odyssey will be roving throughout the precinct.
Many LGBTIQA+ community organisations will be positioned throughout the precinct, providing information to visitors – while many local traders in the area will be throwing open the doors and painting the precinct rainbow with lots of special events and offers.
Midsumma wants as many of our community to be able to enjoy the day and not be faced with access barriers. All formalities at the Smith Stage will be accessible in Auslan and selected performances across both stages will also have interpreters. Wheelchair and Mobility Scooter Access will be available across the Precinct.
There will also be a livestream of Melbourne Pride on Midsumma's Facebook and YouTube, capturing the event for remote viewers. Hosted by Frock Hudson and Dolly Diamond, the livestream will showcase digital performances and interviews, as well as give viewers a glimpse of what is happening on the day at the festival.
---
Melbourne Pride
Precinct: Gertrude and Smith Streets, Fitzroy
Event: Sunday 13 February 2022 (11.00am – 9.00pm)
Free event
For more information, visit: www.midsumma.org.au for details.
Image: Melbourne Pride – courtesy of Midsumma