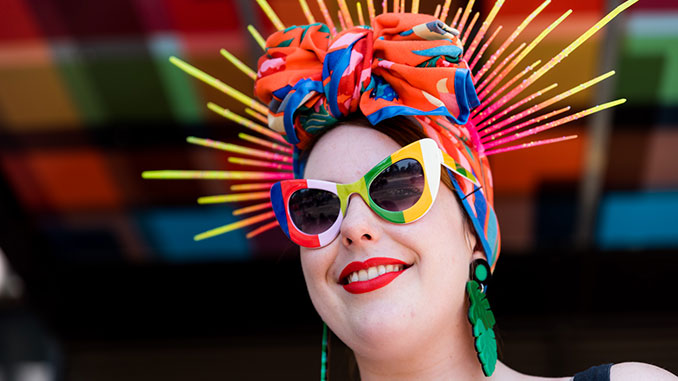 Melbourne Pride – a Victorian State Government initiative delivered by Australia's LGBTQIA+ arts and cultural experience Midsumma, will culminate the state-wide celebrations, commemorating the 40th anniversary of the decriminalisation of homosexuality in Victoria, with a street party in the Gertrude Street Precinct on Sunday 13 February 2022.
Acknowledging the courage and resilience of Victoria's LGBTQIA+ community, the incredible one-day festival will honour the historical occasion with a celebration of community, featuring a stellar collection of live performances, music, circus, keynote speakers, activities, community stalls and interactive demonstrations.
Melbourne's iconic Gertrude and Smith Streets will be transformed into a huge street party – with two live music stages and performances from musicians and artists – to celebrate Victoria's diverse LGBTIQ+ communities.
Minister for Equality Martin Foley has announced that Australian neo-soul pop duo Electric Fields will headline the inaugural Melbourne Pride – a free street party on Sunday 13 February 2022, that will bring Melbourne's summer of pride to a close.
With a sensational line-up across two stages, the iconic event will feature live performances from Yorta Yorta woman, composer and educator, Deborah Cheetham; singer-songwriter, and multi-instrumentalist, Vetta Borne; Australian newcomer, KYVA; and multi-award-winning cabaret company, YUMMY.
Also performing will be art experience creators, All The Queens Men; multi-disciplinary artist and musician, Kira Puru; two of Australia's hottest award-winning drag duo, Jawbreakers; the quintessential cabaret performer, Ruben Kaye; and headlining the event will be electronic music duo, Electric Fields.
Local businesses all down Gertrude and Smith Street will benefit from the party – serving food and drink to the thousands of people expected to attend across the day, while some will be incorporated into the party with shopfront activations and performances in venues.
"Melbourne Pride celebrates our LGBTIQ+ communities, with a series of activities across the state including in our regional communities over the entire summer," said Minister for Equality Martin Foley.
"We are thrilled to see such creativity already underway across the state, ensuring regional voices and stories are shared alongside, what will be, a street party to remember on 13 Feb; making Melbourne Pride a commemoration of the road to pride for our communities, and the journeys still being undertaken." Says Karen Bryant, CEO, Midsumma.
A snapshot of Melbourne Pride events across the State:
Online exhibition documenting queer community stories from older rural and regional Victorians. Produced by ChillOut – Queer Country Pride: Our Time to Shine – 9 December (online)
Collaborative exhibition by artists Lisa Bishop – Wangaratta Road to Pride – from 15 January (Chiltern)
Video installation featuring the reflections of central Victorian LGBTQIA+ community members on what Pride means to them – Self (ie) Pride: 24 January – 16 February (Maryborough, Newstead, Maldon, Castlemaine, Inglewood, Heathcote and Bendigo)
Pride and intergenerational connection to socially isolated older people – Celebrating Pride in all Places with Switchboard – 6 February (across Victoria)
Original artwork of verbatim theatre – Thrive: Queer Voices: Out Loud – 8 February (Castlemaine)
Photography series celebrating lived experiences in regional Victoria – Camp – 13 February (Melbourne)
Video exhibit of diverse LGBTIQA+ locals who have led the way – Proudly Here – 13 February (Ballarat)
Melbourne Pride Street Party, Gertrude + Smith Streets, Fitzroy / Collingwood – 13 February (Melbourne)
---
Melbourne Pride is an opportunity for LGBTQIA+ Victorians and the wider community to come together as one to celebrate the remarkable journey of equality through inspirational arts, community involvement, food, and culture. For more information, visit: www.midsumma.org.au for details.
Image: On the Road to Pride – courtesy of Midsumma