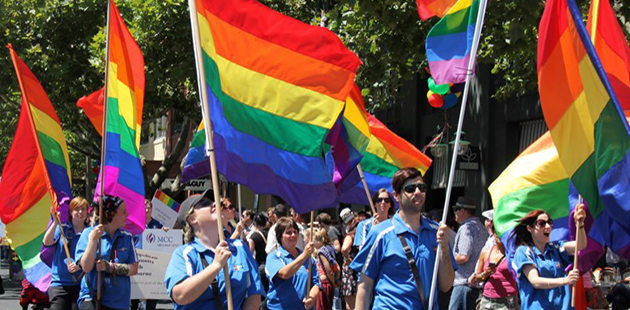 With its origins in the spontaneous demonstrations of Stonewall and speaking to the struggles of LGBTQIA+ peoples everywhere, Midsumma Pride March is a spectacular act of queer solidarity in a world where many go without rights, dignity and visibility. Taking place this Sunday 29 January on Fitzroy Street, St. Kilda, the 22nd Pride March is an opportunity for Melbourne's queer community to come together as one.
For the first time, Pride March will be led by a smoking ceremony conducted by Indigenous Elders along with a contingent of queer Aboriginal and Torres Strait Islander people. In another first, Pride March will also see a coalition of hundreds of young people near the front of the march in a powerful statement about fostering safe spaces for young people. The March will then see over 150 community groups and organisations proceed down Fitzroy Street in all colours of the rainbow.
At the conclusion of the March, the General Public are invited to follow the final marchers into Catani Gardens for Post Pride celebrations, which will see the introduction of a moment silence and vigil performance – a new initiative that pays homage to all queer peoples who have suffered violence because of their gender or sexuality. For 2017, this will be performed by Deborah Cheetham AO, celebrated Yorta Yorta soprano, actor, composer and playwright.
The Post Pride celebrations will be hosted by Dale Woolbridge-Brown, renowned Circus Oz performer and proud queer Kamilaroi man, and will feature one of Melbourne's favourite DJs, Grant Cook, and entertainment by Jessie Lloyd and the Shania Choir. For more information, visit: www.midsumma.org.au for details.
Image: Rainbow Flags at Pride March
---
Midsumma Pride March – Order of March:
Pre-March:
Dykes on Bikes
Wave A: Queer Indigenous Peoples; VIPs
A1: Aboriginal and Torres Strait Islander; with Premier and Minister Martin Foley
A2: City of Port Phillip with Cr Bernadene Voss: Mayor of the City of Port Phillip
Wave B: Youth Groups
B1: Minus18 and Safe Schools
B2: Queerspace
B3: GASP (City of Greater Geelong)
B4: YUMCHA – Brophy Family & Youth Services
B5: Whittlesea Secondary College
B6: Headspace
B7: Rainbow Connections Mornington Peninsula
B8: Hume City Council Youth Services
B9: Lord Somers Camp and Power House
B10: The Royal Children's Hospital Gender Services
B11: Parents of Gender Diverse Children
B12: Peninsula Pride
B13: PROJECT ROCKIT
B14: MOIRA Disability & Youth Services
B15: Rainbow Families Inner South East
B16: Rainbow Families Victoria
B17: QEAST Alliance
B18: Scouts Victoria
B19: Cardinia Shire Council Youth Services
Wave C: Groups representing Diverse Genders & Sexualities; Special needs
C1: Miss Gay & Miss Transsexual Australia
C2: Seahorse Victoria
C3: FTM Shed Inc.
C4: Transgender Victoria Inc
C5: Bi-Alliance Victoria
C6: ASECI Inc
C7: Vixen Collective
C8: VicBears Inc
C9: Victorian Pups and Handlers
C10: Vic Leather
C11: Yooralla
C12: Lifeview Residential Care
Wave D: Queer Organisation; LGBTQIA+ Advocacy Groups
D1: Australian Marriage Equality
D2: PolyVic
D3: Switchboard Victoria
D4: ChillOut Festival Daylesford
D5a: Matrix Guild of Victoria
D5b: Rainbow Labor Network Victoria
D6: LGBTIQ Amnesty Victoria
D7: Victorian Pride Centre
D8: Melbourne Queer Film Festival
D9: Victorian Gay & Lesbian Rights Lobby
D10: JOY 94.9
Wave E: HIV & AIDS Organisations; Individuals; Queer Venues and Events; Jewish Groups
E1: VAC (Victorian AIDS Council) with Riff Raff Radical Marching Band
E2: Living Positive Victoria
E3: PrEPaccessNOW
E4: Individuals
E6: GH Hotel
E7: PANDORAS hosted by The Retro Girls
E8: Fire Engine Adventures
E9: DTS PUB
E10: Gossip Sundays – Love Machine
E11: Habonim Dror – Jews for equality
E12: Temple Beth Israel
E13: Jewish Lesbian Group of Vic Inc
Wave F: Queer Social and Sports Groups
F1: NAB
F2: Melbourne Gay and Lesbian Chorus
F3: Order of Perpetual Indulgence Adelaide
F4: Vintage Men Inc
F6: The NOMADS Outdoors Group Inc.
F7: Women's Circus
F8: Performing Older Women's (POW) Circus
F9: Greater Shepparton's LGBTIQA+ Groups
F10: Bent Kranks
F11: Samba United Melbourne
F12: My Rainbow Story Project
F13: West Side Derby Dollz
F14: African Film & Writer's Society
F15: Melbourne Rainbow Band
Wave G: Organisations and Groups Showing Pride
G1: AGL
G2: The Nature Conservancy Australia
G3: Queer Greens Victoria
G4: Melbourne Metropolitan Community Church
G6: Telstra
G7: KIIS 101.1
Wave H: Team Melbourne
H2: Melbourne Frontrunners
H3: Melbourne Surge Waterpolo
H4: Melbourne Argonauts Queer Rowing Club
H5: Melbourne Chargers Rugby
H6: Glamourhead Sharks Aquatic Club
H7: Melbourne Spikers Inc.
H8: Melbourne Wranglers Wrestling Club Inc
H9: Melbourne Dragons Martial Arts
H10: Purple Bombers & AFL Pride
H11: Melbourne 69ers Tenpin Bowling
H12: St Kilda Football Club
H13: Motafrenz Car Club
H14: Melbourne Motorcycle Tourers
Wave I: Emergency Services; Government Affiliated Organisations
I1: Emergency Management Victoria and ESTA 000
I2: Victoria State Emergency Service
I3: Victoria Police
I4: Ambulance Victoria
I5: St John Ambulance Victoria
I6: CFA PRIDE – Country Fire Authority
I7: Victorian Public Sector Pride Network
I8: Vic Equal Oppt & Human Rights Commission
I9: Department of Justice and Regulation
I10: Victoria Legal Aid
I11: The Department of Agriculture & Water Resources
Wave J: Organisations and Groups Showing Pride
J1: Australia Post
J2: Swinburne University
J3: Medibank
J4: Australian Education Union
J5: Victorian Trades Hall Council
J6: Australian Sex Party
J7: Socialist Party
J8: Rimbombe – Momo's Groove
J9: Acceptance
J10: SEEK Limited
J11: RMIT University
Wave K: Local Councils
K1: GOWEST
K2: Pride Vic
K3: Carers Victoria
K4: City of Darebin
K5a: Banyule City Council
K5b: LGBTIQ – Support & Protection
K6: Moreland City Council
K7: Yarra City Council
K8: Maroondah City Council
K10: LGPro & Victorian Local Governance Assoc
Wave L: Organisations and Groups Showing Pride
L2: Deakin University
L4: Jetstar Airways
L5: The University of Melbourne
L6: Ormond College Students' Club
L7: Dan Murphy's
L8: Melbourne Inclusive Church
L9: PwC
L10: Coles
L11: GoGet Carshare
Wave M: Health and well-being
M1: Neami National
M2: Vicdeaf
M3: Western Health
M4: Well Proud (LGBTIQA network at Wellways)
M5: South East Centre Against Sexual Assault
M7: Mind Australia
M8: Society of Australian Sexologists
M9: Merri Health
M10: Harm Reduction Victoria
M11: Berry Street
M12: CLEAN & SOBER aka AA; Narcotics Anonymous; and Chrystal Meth Anonymous
Wave N: Organisations and Groups Showing Pride
N1: GLOBE
N2: Accor Hotels
N3: ANZ Pride Network
N4: IAG – Insurance Australia Group
N5: Out for Australia
N6: NECA Education & Careers
N7: NBN
N9: Environment Protection Authority
N10: Melbourne Water
N11: Spaced Out Inc.
N12: Monash University
N13: Monash Queer Department
N14: Liberal Party of Victoria
N15: My Pet Warehouse
N16: VU Pride
N17: REA Group
N18: Craig Evans Funerals
N19: St Kilda Legal Service
N20: The Salvation Army – Crisis Services Net
N22: St Kilda Tourism and Events
Wave O: Midsumma: staff, volunteers and artists
Please note: Order of March correct at time of publication (Wednesday 25 January 2017)