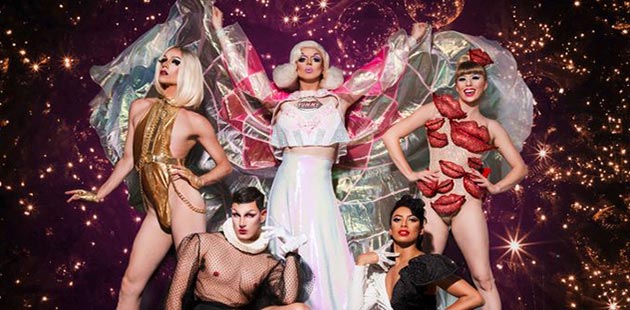 As the show ended, Yummy dollars clutched tightly in my hand, the experience clutched tightly in my heart, I realised I had no words for what I had just seen. I realised I had to turn to my betters. Indeed, I believe it was the great W. H. Auden who once wrote:
Stop all the clocks, tear up the thesaurus
Prevent the crowd from sadness with a juicy show,
Silence your mobiles and with Janelle Monáe
Bring out the performers, and let's get Yummy (Deluxe).
Truly, if do not stumble from the Trades Hall, giddy with joy, mumbling, "They are my North, my South, my East and West," then you could not have been at this show.
After some fantastic runs west of here at other Fringe Festivals earlier in the year, a successful run in London, as well as a recent jaunt to Darwin, Yummy Deluxe comes home to Melbourne for this year's Fringe.
Director/Producer/Performer, Valerie Hex, jokes at one point about the effort in moving the show from place to place, and in all seriousness it can't be a small undertaking. Yet, there wasn't a hint of attrition on stage. Each performer was utterly present, engaging, and spectacular.
Frankenstein's monster was a haphazard creature, but this cabaret – stitched together with circus, comedy, song, dance, and burlesque – is beautiful to witness.
Joni in the Moon was ferocious in her musical numbers, whether stalking the stage herself or sharing it (even when that company is hilariously haunting); Hannie Helsden was wonderful, wringing magic from her circus and dance skills; and lifting dance into the area of the incendiary supernatural were Jandruze and Benjamin Hancock.
Zelia Rose, whether hidden behind classic burlesque feathers or clapperboards, was stunning in her routines; and Valerie Hex was the usual brilliance behind the mic, performing and, well you'll probably never hear Prince's When Doves Cry quite the same way afterwards.
Yummy Deluxe will entertain, leaving you feeling radiant and strong. Stronger together.
---
Yummy Deluxe
Fringe Hub: Trades Hall – ETU Ballroom, Corner Lygon and Victoria Streets, Carlton
Performance: Thursday 12 September 2019 – 8.00pm
Season continues to 29 September 2019
Information and Bookings: www.melbournefringe.com.au
Image: Yummy Deluxe (supplied)
Review: David Collins