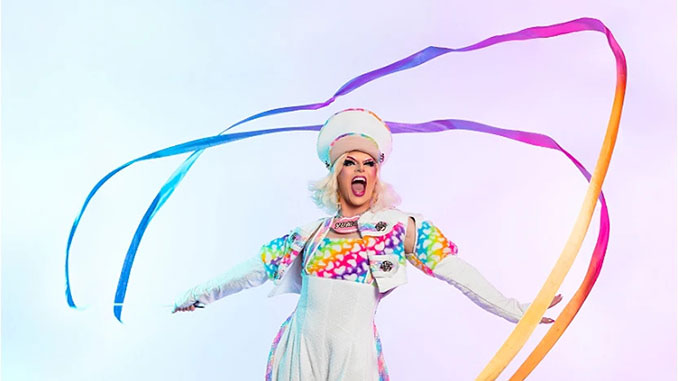 This year's Melbourne Fringe Festival program has officially dropped with a formidable 475 events bursting at the seams across the city and suburbs of Melbourne. Melbourne Fringe believes art is for everyone and at this year's Festival, there is a show for every Victorian with loads of free and unique new art in every corner of the map.
The 2023 program features some of the most exciting, daring and fabulous art from the most cutting-edge independent artists from Melbourne, Australia and overseas including: Sammy J, Betty Grumble, Joel Bray, THE RABBLE, Bloomshed Theatre, Kween Kong, Tom Ballard, Scout Boxall, Spankie Jackson, Na Djinang Circus, Jason Tamiru, Aiden Willcox, Karen from Finance, Casus and Ridiculusmus.
From 3 October 2023, the Melbourne Fringe Festival will reimagine the city into one epic art adventure playground, with three weeks of ground-breaking new events, art and bold ideas (and just a dollop of mischief and mayhem) set to re-invigorate the cheeky and artistic spirit of Melbourne.
The Melbourne Fringe Festival in 2023 is all about reminding everyone of something that kids innately know: that fun and play can be found around every corner.
This year's Festival is an invitation to PLAY UP! – welcoming all Victorians to see Melbourne in a new light as their very own personal playroom. Notably, this year's program features an extraordinary cohort of huge public art events
including a colossal eight-metre-tall bright gold, fully accessible playground swing at State Library Victoria forecourt that anyone can ride for free.
Festival Creative Director and CEO Simon Abrahams explains the Melbourne Fringe Festival for the uninitiated, "For over 40 years Melbourne Fringe has been showcasing the most vital voices and brightest artistic talent to Melbourne," he said.
"This year, we have incredible public art projects, free performances, pop up performance tents and hidden performances in hard-to-find places. Fringe is about discovery – from our Festival Hub at Trades Hall to work on the streets and in venues across the city.
"The Melbourne Fringe Festival is all about platforming voices from the margins, incredible artists with things to say. Fringe is about seeing things differently, and this year's program promises that and much more."
"We'll again see incredible First Nations artists, d/Deaf and Disabled artists, people of colour, and trans and gender diverse artists telling their stories. Encouragingly, LGBTIQA+ artists make up over half the Festival's participants."
"We are thrilled to help Melbourne's arts community have their say – whether it's about the big issues in the world right now, or just about having fun, it's all welcome at the Fringe," says Abrahams.
The 2023 Melbourne Fringe Festival features 475 events – making it the biggest Festival in its 41-year history. With audiences expecting the memorable, the unexpected and the bizarre, highlights of this year's Festival include:
SWING
A seriously ambitious public art project that transforms our civic spaces into sites of joy and play – literally. Swing is an eight-metre-tall classic playground swing (you know the sort – two ropes and a seat; no bungy-jump business here) with a dizzying arc that will give the young-at-heart a whole new perspective on the city. Anyone can come have a swing, before work, on a lunch break, after school – catch it in performance mode and you'll even be serenaded by a choir as you soar through the air. Swing is fully accessible – just BYO spirit of adventure.
Trades Hall Festival Hub and Club Fringe 
The Festival Hub is a one-stop-wonderland for all things Melbourne Fringe. Over 100 events take over the theatres, meeting rooms, cupboards, nooks and crannies of the historic Trades Hall from 4 – 22 October. Punters can catch an evening of shows, plan their next night out over a drink in the bar, nosh on tasty food, and then kick things up a notch with late-night Club Fringe art parties, featuring steamy tunes and sweaty dancefloors. Pop in for a post-work show or kick off weekend shenanigans right!
Festival Park
Revel in the spirit of Fringe at the return of the pop-up Festival Park in the heart of Queen Victoria Market from 3 – 29 October. Under two domed tents, catch two shiny new shows from homegrown knockouts Head First Acrobats, plus the return of their 2022 smash-hit GODZ. Then unwind amongst the very Fringey atmosphere in the beer garden under the stars and grab delicious snacks from local food trucks.
LGBTQIA+ artists
LGBTQIA+ artists – who make up 55% of the Festival cohort – are producing great new art against all odds and in the face of the moral panic of the moment:
In Le Freak (4 – 22 October) award-winning trans, queer, Disabled and sex worker performers sharpen their swords and stilettos to take down capitalism
Yummy: Joy Machine (4 – 21 October) is an outrageous, outlandish and unpredictable variety show with world class queer performers
Plus – a stack of great drag from scene queens and baby drags alike, including Kween Kong and Beverly Kills of RuPaul's Drag Race Down Under fame, both presenting new shows. Incredible comedy from some of the country's best known and emerging comedians:
Scout Boxall brings their new show Pork Chop (11 – 22 October) to the stage, as well as The Fringe  Formal (Thursday 19 Oct) – a Club Fringe comedy night set in a haunted daggy 80s Aussie high school
In Tom Ballard – Yes/ No: A Comedy Lecture (4 – 8 October) – Year 11 Legal Studies graduate and university law dropout Tom Ballard deploys jokes and funny pictures to blast through the history of Australian referenda
HIGH PONY (4 – 22 Oct) from Green Room Award-winning Mel & Sam is a boisterous musical comedy sketch show full of spiky attitude, cutting lyrics, queerness, social commentary and memorable melodies
Winner of both Best Comedy at Melbourne Fringe 2022 and Best Newcomer at Melbourne International Comedy Festival 2023, Aiden Willcox is back with his new show STUD (4 – 8 October)
Your Mother Chucks Rocks and Shells (4 – 8 October) is an absurd comedy-horror about The Exorcist and insomnia from ABC journalist and comedian Angela Lavoipierre (host of ABC's Schmeitgeist)
Melbourne International Games Week
Gamers and gadget gurus are invited to unlock every level of the MIGW program, including Melbourne Fringe collaborations:
The breathtaking VR experience VOLO: Dreams of Flight (4 – 22 October), which lets users look down from the clouds as they soar through the sky in a da Vinci-inspired flying contraption… all without leaving Fed Square.
Victorian made, International smash hit game Cult of the Lamb inspires a Fed Square Forecourt transformation (5 – 7 October) with a gothic ritual performance led by the game's characters, plus sky-high projections and a wicked dance floor.
Free Events
Free events are the golden key to unlocking some of Melbourne's most iconic spaces this Festival, with two free works as part of the new Pulse program which celebrates our most ground-breaking independent makers:
From One Fell Swoop Circus comes In Common – a stunning work of circus and sculpture in the Fed Square Forecourt that sees a seemingly impossible tension sculpture become a playground for acrobats exploring support in all its forms from 6 – 8 October.
Melinda Hetzel & Co's Solace: The Sensory Experience is where experimental art, audio guide and mindfulness app meet, in an inclusive and multi-sensory experience that celebrates the heart-warming solace that can be found in the shared public spaces of State Library Victoria from 11 – 22 October.
Deadly Fringe
Now in its seventh stunning year, Deadly Fringe plays host to nine incredible works from vital First Nations voices. This year's program includes:
Brolga: A Queer Koori Wonderland (Saturday 7 Oct) is an immersive queer art-party celebrating Blackfulla dancefloor culture from highly decorated contemporary choreographer and Melbourne Fringe alum Joel Bray;
Of The Land On Which We Meet (12 – 15 October), an exciting new circus commission about connection to culture from Harley Mann (Na Djinang Circus)
Deadly Sinners (12 – 15 Oct), a raucous burlesque variety night featuring seven First Nations movers and makers skewering the seven deadly sins
Yalinguth LIVE by the Birrarung (Saturday 21 Oct) – directed by Jason Tamiru
Radical Access
Melbourne Fringe's commissioning, education and artist development program for d/Deaf and Disabled artists, heralding a new era for cultural equity in the independent arts. Over 16% of Festival artists identify as d/Deaf or Disabled, and through Radical Access the Festival is amplifying these essential voices in the cultural conversation. This year Radical Access plays host to three brand new genre-busting commissions from Disabled artists including:
~~~~~ "…derelict in uncharted space..." (18 – 21 October) from Fayen d'Evie comes an intrepid, collaborative homage to a 70s Star Trek fan club through inter-sensory movement languages and space-time translations. It includes blind, d/Deaf, hard-of-hearing and queer dancers and sound artists, and features recorded and live creative captioning and audio description.
Pulse
A new program showcasing the creative risk-taking and fierce ambition of independent makers, Pulse is part of the Signature Events series, elevating the work of 10 leading independent artists and collectives to a hand-picked program of events that will challenge, delight, provoke discussion, push boundaries and be bloody good entertainment.
Open Access Program
The cornerstone of the Melbourne Fringe Festival is the Open Access Program, a come-one-come-all bounty of over 450 independently produced events that take over theatres, pubs, lounge rooms, shopfronts, alleyways and community halls right across the city. This extraordinary display of culture and creativity speaks to Melbourne Fringe's vision of cultural democracy – empowering anyone to realise their right to creative expression. Over 2600 artists are set to present, perform or play as part of this year's Open Access events.
---
The 2023 Melbourne Fringe Festival runs 3 – 22 October 2023. For more information, visit: www.melbournefringe.com.au for details.
Image: Yummy: Joy Machine (supplied)