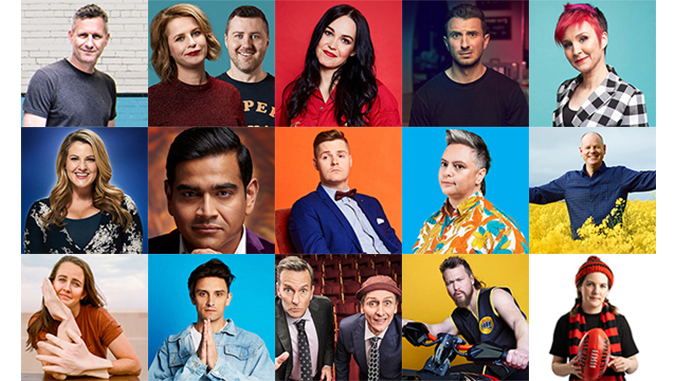 The best of Australian comedy will descend on Melbourne this March and April as the Melbourne Comedy Festival returns. The 2021 festival is set to feature a lineup of the best and brightest comedians – and these are some of the very best household names and rising stars.
Six-time People's Choice Award winner Wil Anderson will reprise his critically-acclaimed show Wilegal; Tommy Little and Tom Gleeson will take over The Comedy Theatre with their brand new shows; and after selling out their seasons at the Malthouse Outdoor Stage, Lano & Woodley will serve up an encore season with a mixture of brand new and classic material, while Anne Edmonds and Lloyd Langford will join forces for a special double bill.
Plus there will be shows from the likes of Adam Hills, Bec Charlwood, Ben Kochan, Brett Blake, Cal Wilson, Damien Power, Dave Thornton, Dilruk Jayasinha, Geraldine Hickey, Greg Larsen, Kit Richards, Lewis Garnham, Lizzy Hoo, Mel Buttle, Nath Valvo, Nikki Britton, Peter Helliar, Sam Taunton, Tom Ballard and Zoë Coombs Marr.
And as always, the much loved and traditional grand finale to the festival – the Moosehead Benefit will return with a secret lineup at the Melbourne Town Hall on the final night of the festival.
---
The 2021 Melbourne Comedy Festival runs 24 March – 18 April. Tickets for all shows (except Wil Anderson, Lano & Woodley and Peter Helliar) will go on sale this Monday 8 February. Wil Anderson, Lano & Woodley and Peter Helliar will go on sale on Thursday 11 February. For more information, visit: www.comedy.com.au for details.
Image: Adam Hills, Anne Edmonds & Lloyd Langford, Bec Charlwood, Tommy Little, Cal Wilson, Nikki Britton, Dilruk Jayasinha, Tom Ballard, Geraldine Hickey, Tom Gleeson, Zoë Coombs Marr, Sam Taunton, Lano & Woodley, Brett Blake and Kit Richards (supplied)