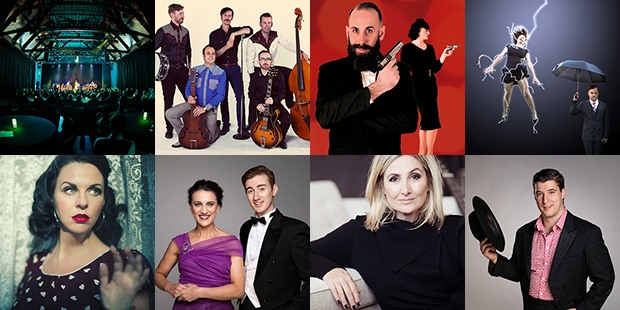 The ninth annual Melbourne Cabaret Festival bursts onto the stage with some of the most fabulous and seductive cabaret from across Australia at Chapel Off Chapel from Tuesday 19 June 2018.
Featuring 20 brand new cabaret shows, the festival again provides an opportunity to see new works from established and emerging artists before they tour to take on the national and world festival stages. Melbourne's Queen of Cabaret, Dolly Diamond has returned as the festival's Artistic Director.
"I'm thrilled to be invited back as Artistic Director for the Melbourne Cabaret Festival in 2018," stated Ms Diamond. "It was such a wonderful experience last year and I'm determined to make this years festival even more exciting. We've absolutely loved gathering such an eclectic lineup of performers for 2018, See you at The Chapel…"
Highlights of the 2018 Melbourne Cabaret Festival include:
Opening Gala
Tuesday 19 June – 6.30pm
Hosted by the one and only Dolly Diamond, some of the best highlights from shows from across the festival in the one opening night extravaganza. Artists include Alyce Platt, Max Riebl, Justin Clausen, Jamie Burgess, Drew Downing, Danielle O'Malley, Erin Hutchinson, Tyler Jacob Jones and Joshua Haines.
God Only Knows: The Brian Wilson Songbook
Friday 22 June – Sunday 24 June
Brian Wilson is undisputedly one of the greatest composers of all time. Through The Beach Boys he revolutionised the world of contemporary music. Behind the song-writing, Wilson's life was emotional and complex; the music frequently mirroring life as he knew it. Accompanied by band, cabaret rockstar Drew Downing narrates the life of Wilson through one of the most acclaimed songbooks of any composer.
Sun Rising
Saturday 23 June & Sunday 24 June 
This critically acclaimed show pays homage to the early music of Memphis record label, Sun Records. The label was owned by a man named Sam Phillips, who went on to discover Elvis, Johnny Cash, Jerry Lee Lewis, Carl Perkins, Roy Orbison, BB King and more. Sun Rising tell their amazing stories, beautifully tied together with the incredible music. David Cosma, acoustic guitar, vocals narration; Damon Smith, piano, vocals, narration; Adrian Whyte, electric guitar, vocals; Trent McKenzie, bass, vocals; Adam Coad, drums, vocals; and Cookie Baker, vocals.
Shaken – A James Bond Cabaret
Wednesday 20 June – Saturday 23 June 
The Man. The Number. The License. His name is Bond, James Bond. Join Charlie D. Barkle and Erin Hutchinson as they plunge head first into over 50 years of James Bond iconography. Pitting the seven 'Bond' actors against each other in a race to determine, scientifically, which of them is the greatest all-time Bond. The award winning Shaken is packed with some of the greatest Bond themes, trivia, and anecdotes. Including hits from Shirley Bassey, Tom Jones, and Tina Turner.
What Doesn't Kill You [blah blah] Stronger
Friday 22 June – Saturday 23 June
A river guide gets swallowed by a hippopotamus… and survives. A British stewardess makes it through three shipwrecks. Winner of the two major awards from this year's Perth Fringe World Festival this outstanding production reveals several bizarre, extraordinary, but true, tales of survival from all over the world. Starring Erin Hutchinson, Tyler Jacob Jones and Joshua Haines on piano.
Fire Walk With Us: The Music Of Twin Peaks
Tuesday 26 – Wednesday 27 June
A live re-imagining of songs and music from both the Twin Peaks TV series soundtrack (1991) and the prequel film Fire Walk With Me (1992). Composed by Angelo Badalamenti and David Lynch, this music is a masterclass in minimalist atmospheres, haunting vocals and sinister soundscapes. This hypnotic performance work is produced and devised by Brisbane-based Electric Moon and brings together a broad range of musicians from the jazz based, to avant-garde noisemakers, to the four diverse vocalists – all bound together by a deep love for Lynch's most celebrated work.
The Songs That Saved Your Life
Tuesday 26 June – Wednesday 27 June
Features the darkly sensitive rendering of iconic songs from the alternative rock and grunge era of the 1990s, backed by some of Australia's most celebrated improvisational jazz musicians. It includes seminal tunes from The Smiths, Nirvana, The Violent Femmes, and the filmic soundtracks to David Lynch films. Jazz Chanteuse Kimba Griffith will explore these iconic indie rock tunes through the lens of jazz, with some of Australia's most celebrated improvising musicians – Julien Wilson, sax; Niko Schauble, drums; Ryan Griffith, guitar, and Tamara Murphy, bass. Audience members can get involved by submitting song requests, mix-tape lists or journal entries to www.teenagejournals.com
Practically Perfect: The Songs of Julie Andrews
Thursday 28 June – Saturday 30 June 
For generations she has graced the stage and screen and is fondly remembered for being Maria in The Sound of Music and of course, the wonderful nanny in Mary Poppins. Now in one glorious stage production comes Practically Perfect celebrating the life and music of the legendary Dame Julie Andrews. Starring Karla Hillam and Jeremy Hinman, all her best known songs from Mary Poppins, My Fair Lady, The Sound of Music, Victor Victoria and more are interwoven with stories about her life on and off the stage – join us for an all singing, all dancing journey from the West End to Broadway and onto Hollywood, just Perfect!
Someone's Daughter
Thursday 28 June – Saturday 30 June
Someone's Daughter whispers colours of Alyce Platt's past from the disquieting and electrifying side of her 'shadow'. Unapologetically telling tales of growing up in the suburbs, being a TV star of the 80s, getting caught shoplifting, biting the next-door neighbours' ankle, and wearing an op-shop jacket to a celebrity party that's come back to 'tag' her. Classic pop songs blend seamlessly with compelling originals, unabashedly shining a light on her dark side, tripping over obstacles of patriarchy, self-doubt, and paranoia, exploring the curious and heightened imaginings of what it is to be in this 'funny little world of make-believe'.
Max Riebl – Hard To Handel
Saturday 30 June & Sunday 1 July 
A performance combining virtuosic hits by the greatest composer of the baroque era with songs from the golden era of pop. Internationally recognised countertenor, Max Riebl reimagines powerful dramatic scenes in a modern context.Arias of betrayal, murderous rage and lust are juxtaposed with the ballads of Adele, Dusty Springfield and Elvis, that deal with love and despair. The show reframes baroque drama in modern existential emotion and unshackling virtuosic music with pop's carefree energy.
The 2018 Melbourne Cabaret Festival runs 19 June – 1 July at Chapel Off Chapel. For more information, visit: www.melbournecabaret.com for details.
Image: A selection of Artists appearing at this year's Melbourne Cabaret Festival (supplied)