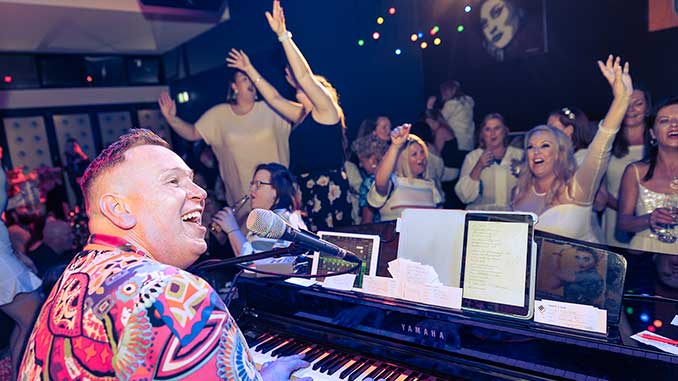 The Melbourne Cabaret Festival makes its highly anticipated return this week from Tuesday 4 to Sunday 9 July 2023. Headliners Prinnie Stevens and the Kransky Sisters and another 10 shows complete the line-up, kicking off with the Gala Opening Soiree on Tuesday July 4 Emceed by Rachel Berger.
Featured in the 2023 Festival line-up are, Jacqui Dark – Songs My Friends Taught Me, Matthew Hadgraft – Elton John Your Song, Chris Burgess and Arlon Faria – Tree Huggers: A Dharma Cabaret, Nikki Nouveau – Swingtime in Paris!, Alister Kingsley –Get it Together, Chelsea Heaney – Historians Call us Roommates, Tamara Kuldin Trio – High Tea Jazz, Trevor Jones Piano Bar, Anton Koritni – Australian Poetry on Piano, and Frankly – Ten Carat Cranium.
Performances take place in the Festival's new home, the iconic art deco MEMO Music Hall in St Kilda, and the adjoining hidden gem upstairs in the St Kilda RSL, The Ruby Carter Lounge.
"We're bringing back the dazzle: it's all about a new venue, new innovations and new acts – we're a revitalised festival returning after a bruising three years," said Producer Neville Sice. "Since we announced the Festival's return there has been enormous excitement about it."
"Our hand-picked smorgasbord of cabaret talent offers a huge variety of entertainment both on the main-stage splendour of MEMO Music Hall and in the elegant intimacy of the Ruby Carter Lounge."
"The Festival's return will introduce a host of new innovations to our program, including an indulgent afternoon high tea with Tamara Kuldin and jazz trio; a dance floor for the high energy Sun Rising band; and a reformatted launch event."
"At our famous Opening Soiree, for the first time we'll have you dancing the night away with three hand-picked acts from across the festival program, hosted by St Kilda icon and comedy genius Rachel Berger," said Mr Sice.
The 2023 Melbourne Cabaret Festival runs from Tuesday 4 July to Sunday 9 July. Tickets are selling fast! For more information visit: www.melbournecabaret.com or www.memomusichall.com.au for details.
Image: Trevor Jones' Piano Bar (supplied)
---
The 2023 Melbourne Cabaret Festival program:
MEMO MUSIC HALL PERFORMANCES:
Melbourne Cabaret Festival –  Opening Soiree
For the first time, the festival will have you dancing the night away with hand-picked acts from across the festival program, hosted by St Kilda icon and comedy genius Rachel Berger. Melbourne audiences will be introduced to Frankly – followed by Matthew Hadgraft's homage to the undisputed worldwide emperor of glam pop when he previews his festival show Elton John – Your Song. The final act, Sun Rising: The Songs That Made Memphis will do a 45 minute set of songs from their critically acclaimed show which pays homage to the birthplace of rock n roll and the greatest recording studio in music history: Sun Records. Tuesday 4 July – 7.30pm.
Songs my friends taught me
It's not what we have in our lives but who we have in our lives that matters. That one friend who knows you down to your bones, the one who drives you mad but you love them anyway, the one who drags you down when they should be lifting you up, the one who got you through the bad times, the one who WAS the bad times! After a brutal year of surgery and chemotherapy, Jacqui Dark returns to the cabaret stage in a show co-created with Daryl Wallis and Sam Russell, to celebrate the friends who got her through. With songs for the weirdos who have your back, who helped you bury the bodies, who lead you astray and back again, this show celebrates those who know all about you but love you anyway. This show is for all of them. Thursday 6 July – 6:30pm.
Elton John – Your Song
The songs of Elton John are like no other: they get the party started, they light up the karaoke stage and they turn any road trip into an all-out singalong. Whether they were on vinyl at your parents' house, a tape in the car, a CD you got one Christmas, AM radio or streaming online, we've assimilated these glamtacular songs and made them our own. After critically acclaimed seasons in 2017, 2018, 2019 and 2020, Matthew Hadgraft returns to Melbourne Cabaret Festival with his celebrated cabaret production Elton John: Your Song. Thursday 6 July – 8:15 pm.
Tree Huggers: A Dharma Cabaret
The longest distance we all travel is the 18 inches from the head down to the heart… Let's as strangers come together, for one night of soulful, splendid, curious cabaret and meet ourselves and each other on that journey.  A new kind of cabaret that acknowledges vulnerability as the beating heart of meaningful and transformative storytelling. An artistic offering that abandons the protective mask most of us wear, and risks sharing from the heart. Chris Burgess and Arlon Faria return to the cabaret stage with another award-winning contemplative performance featuring original songs alongside timeless covers. May this intimate evening of heartfelt and cheeky cabaret be a tonic for your restless mind, a balm for the burnt-out and burnt up, and a gift to inspire the expired. Friday 7 July – 6:30pm.
Swingtime in Paris!
Paris is for lovers. Romance is for dreamers. Blooming in the Springtime. Dancing in the Swingtime! Nikki Nouveau and her dynamic swing band explore the timeless allure of Paris in a compelling musical memoir, bringing to life the bygone era of French jazz and classic show tunes from the 1940s, 50s and 60s. With her delicate vocals and sultry overtones, Nikki presents an uplifting extravaganza singing a rich repertoire from artists such as Cole Porter, Edith Piaf, Josephine Baker, Charles Trenet, Brigitte Bardot, along with her own original compositions in French and English. Featuring acclaimed Melbourne musicians Mark Fitzgibbon (piano), Tony Hicks (saxophone), Jordan Tarento (double bass) and Aaron McCoullough (drums).  An enchanting musical journey like no other! Friday 7 July – 8.15pm.
Prinnie Stevens  – Lady Sings The Blues
A story about women in song, their hurts, struggles, and pain. The show features the songs of greats such as Billie Holiday, Ella Fitzgerald, and iconic modern voices like Beyonce, Whitney and Sade. The audience will be transported to a speakeasy in New York and into the very heart of the star of the show Prinnie Stevens. Saturday 8 and Sunday 9 July – 8:15pm.
The Kransky Sisters – Assorted Nuts
A spicy mix of their hot hits. This eccentric trio of siblings from Esk will share their nutty stories and songs, including well-known tunes with a peculiar spin, played on an eclectic mix of instruments including musical saw, tuba and old reed keyboard. The show promises to be a delightful if not disturbing experience. Saturday 8 July – 4.00pm & 6:30pm.
RUBY CARTER LOUNGE PERFORMANCES
Get it Together
Alister Kingsley is a musical comedian, actor and organisationally challenged person in recovery. In Get It Together he makes his return to the Melbourne Cabaret Festival with a show full of original comedy songs, after taking some time in his life to get it all together. After a life of late notes and lost socks, Alister set aside the year of 2022 to take some responsibility onto his average-to-reasonably sized shoulders. He's got a girlfriend, he's got a house, he's got a shirt that doesn't have any food stains on it. He's a whole new man. But there are moments where things quickly unravel – that's where the songs come in. This is a show that laughs in the face of the delicate order of life and celebrates the love of chaos that can be found in us all. Wednesday 5 July – 7.00pm.
Chelsea Heaney – Historians Call us Roommates
Queer erasure has caused the removal, re-writing or overlooking of some of history's most fascinating stories. Whether intentionally or unintentionally historians have a tendency to erase our stories, a phenomenon that has resulted in a lot of queer couples being described as "roommates" in the history books. In this one-hour cabaret, comedian Chelsea Heaney explores centuries of queer stories of people you won't believe you haven't heard of or had no idea were queer! From polyamorous gothic queens to convent burning nuns, there are many shades of gay to enjoy! Thursday 6 July – 7.00pm.
High Tea Jazz with Tamar Kuldin Trio
Indulge in this de-lovely afternoon of melodies. Tamara Kuldin and her trio celebrating the likes of Ella Fitzgerald, Doris Day and Frank Sinatra, while enjoying your selection from an array of savoury, sweet, hot and cold high tea delicacies. Accompanied by tea, coffee and a glass of bubbles, served at your lounge table. Enamoured by the romance and sophistication of the golden era of song, Tamara has been captivating audiences from Melbourne to Europe with her own playful, sultry and heartfelt interpretation of songs from The Great American Songbook. Sunday 9 July – 3.00pm.
Australian Poetry on Piano
This show takes you on a journey through the country's much-romanticised colonial and federation periods. Anton Koritni celebrates the poets who were integral in creating a distinctively Australian cultural identity by transforming their classic verses into modern song. Not just bush ballads, other pieces explore themes of social satire, love, death, childish wonderment, and raucous boxing arenas! Between songs, Anton shares his creative process and relates intriguing stories of the poets who inspired this opus. Sunday 9 July – 5.15pm.
Frankly – Ten Carat Cranium
Winter blues getting you down? Can't get past those adolescent hang ups? Feeling like a legally binding relationship will cement your self-worth? Never fear! Frankly is here! Put down that smokey quartz and make your way to the chaotically healing cabaret of the season, hosted by a true therapy veteran!  A night of poignant silliness, Frankly's treatment plan will consist of filterless anecdotes, original music and one serious question: can your own insanity be your greatest teacher? If you're thinking not… be convinced in this totally ridiculous and utterly joyful story of how one manic episode changed her life for the better! Who knows, maybe she's the unhinged guru you've been waiting for! Sunday 9 July – 7.00pm.
Trevor Jones' Piano Bar
Australia's favourite piano man, Trevor Jones, returns to the Melbourne Cabaret Festival for what has become a festival tradition! Singalong to your favourite songs by request. Anything is possible from Elton, Billy and Beyonce through to showtunes and standards. Featuring a range of guest performers, you never know who will make a surprise appearance! Trevor Jones performs all over Australia and the world, with residencies including The Butterfly Club Melbourne, DooBop Bar Brisbane, the Adelaide Cabaret Festival, Adelaide Fringe Festival, the World Busker's Festival in New Zealand as well as headline performances on P&O Cruises. His unique blend of humour, song and irresistible charm guarantee a night you'll remember for years to come. Saturday 8 July & Sunday 9 July – 8:30pm.