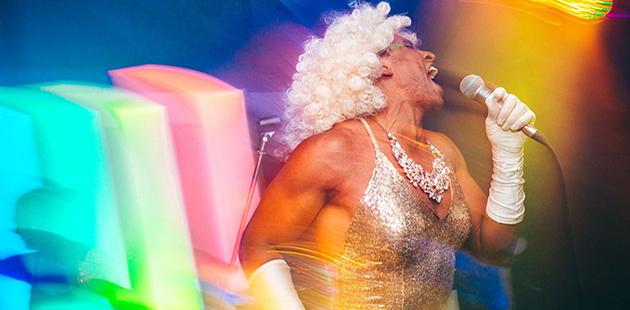 The Melbourne Cabaret Festival celebrates its first decade with cabaret fun at Chapel Off Chapel from Wednesday 19 until Sunday 30 June 2019. Launching new shows and award-winning performers, the Melbourne Cabaret Festival offers some of the best cabaret in Australia.
Leading cabaret artists, Drew Downing and Sally Bourne are the 2019 Melbourne Cabaret Festival Ambassadors. "The Melbourne Cabaret Festival is the perfect place to trial original works and this year is no exception," said Downing.
"I was privileged to be one of the headline acts at the inaugural Melbourne Cabaret Festival 10 years ago and since then have watched the festival grow and continue to present some of the best talent around," added Bourne.
Highlights of the 2019 Melbourne Cabaret Festival include:
He's Every Woman:
Starting back when they were two little gays, Justin Clausen (The Lady Is A Tramp, Butch Masters: Man of Destiny) and Jamie Burgess (39 Forever, Adulting) will take you on a journey through their hairbrush singing years, re-imagining the iconic GIRL songs that shaped their world-view, and encouraged them both to sing out loud and proud! So grab yourself some bubbles and nibbly things and settle in for an hour of power ballads, party songs and Proud Mary's and keep an eye out for guest appearances from Cher and Celine Dion! 2019 Fringe World Best Cabaret Weekly Award.
Creatures of the Deep:
Winner Best Cabaret Melbourne Fringe, Creatures of the Deep is a documentary style cabaret set under the sea. With the help of our Jacques Cousteau-esque narrator you will be taken on a journey beneath the surface to meet a plethora of beautiful, wild sea creatures who are given a voice to share their unique perspective beneath the waves.
Broken Romantics: A Unicorn's Quest for Love:
Emma Dean has drawn many songs together to make a magical 'mixed tape' of broken romantic memories, with each song a unique story told through the bizarre and enchanting lens of this self-confessed "F*%king Unicorn". A smash hit at the 2018 Edinburgh Fringe Festival, Emma and her Broken Romantics band – with physical theatre performer Jamie Kendall – will delight you with a glittering explosion of music and mischief. Featuring original music, captivating storytelling and well-known songs by Sia, Foo Fighters and more.
Drew Downing's Ultimate 90s Playlist:
Prepare for a night of 90s bangers and nostalgia with cabaret rockstar Drew Downing and his infamous stage band. During high school, it was all about Saturday morning Video Hits and the Dawson's Creek soundtrack for Drew. Twenty years later, it still is. Performing songs by Macy Gray, Backstreet Boys, Spin Doctors, Spin Doctors, Joshua Kadison, Hanson, Deep Blue Something, Shania Twain and more.
What's Love Got To Do With It?:
Born in a small town in the middle of nowhere and by golly – it has taken a lot to get her here: to 2019, to the big city. There have been ups – and an occasional down – so let her take you on a ride as she waxes poetic about growing up a queen amongst those who did not see her glory. Love (letters), sex, race, gender, (popular) song, and dance all collide in this poetic spectacle. When thinking about drag everyone expects a Judy Garland but no one expects a Serena Williams – and that's where Nefertiti fills the gap.
Death of a Demi Diva:
An intimate three-person musical set in the final hours of an honest, heartbreaking and hilarious farewell concert. Death of a Demi Diva boasts a smorgasbord of original comedy songs in styles ranging from 80s Power Ballads to 1940s Arias. Lead by Star on the Rise – Broadway.com, Willow Sizer in her tour-de-force performance – Sometimes Melbourne as prima donna Madame Darling, this is a timely study on the price of fame and the resilience of the Diva.
Fem 'n 'n Organ:
Award winning, international jazz chanteuse, Fem Belling, brings to life the rare and racy songs of the early decades. With the churning whirr of Jake Mason (Cooking On 3 Burners) at the organ and Fem's breathtaking vocal prowess, this show opens a door to a truth of music deeply rooted in human history often neglected on the jukebox. Fem will fire up songs that weren't afraid of speaking out about the birds and the bees during a time where dudes could be prudes but women couldn't spit their venom.
Any Moment:
Set over the course of 24 hours, the work begins at Midnight on New Years Eve, and moves throughout a single town, hearing stories from various individuals, as the clock tumbles toward Midnight and a New Year. Featuring an all-star cast including John O'Hara (School of Rock, #VAL) and Helpmann winner Kerrie-Anne Greenland (Les Miserables, Pictures) and the writer himself, Bradley McCaw (Becoming Bill).
Amy Winehouse: Resurrected:
Amy Winehouse has been resurrected, revived and reimagined in this brand new, hilarious and uplifting show starring world-renowned actor and singer, Alexis Fishman, direct from New York. After the news arrives that her idol Tony Bennett would give anything to record with her again, Amy Winehouse finds her way back from wherever it is she went after her untimely death in 2011. She's ripe for a comeback, even if it's from the dead. Expect the beehive, the foul-mouth and all of Amy's hits, including some you may never have heard before.
"We have always had a love of cabaret, and when we first launched the MCF ten years ago, we had no idea that it would be such a success," said Executive Producers David Read and Neville Sice. "It has been a privilege to launch so many new shows that have gone onto national success. We have nurtured performers, both emerging and established – we believe in home-grown artists and will always champion their talent."
The 10th Melbourne Cabaret Festival runs Wednesday 19 June to Sunday 30 June 2019 at Chapel Off Chapel. For more information, visit: www.melbournecabaret.com for details.
Image: What's Love Got To Do With It? – photo by Jackson Grant