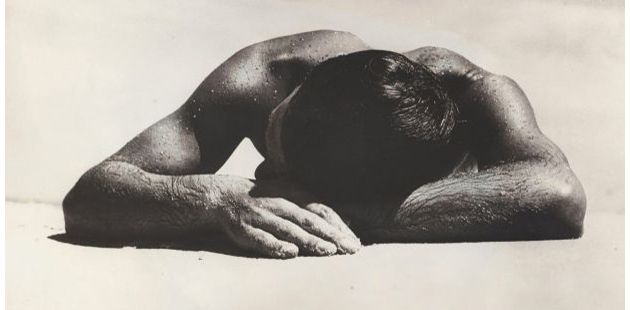 Bringing together a substantial group of works by two of Australia's famed photographers for the first time, the Mornington Peninsula Regional Gallery presents Max and Olive: The photographic life of Olive Cotton and Max Dupain – a touring exhibition from the National Gallery of Australia for a limited time until 9 July 2017.
The exhibition features 65 selected works from the NGA's sizable collection of rare vintage prints by Dupain and Cotton made between 1934 and 1945, including some of Australian photography's best known images, including Dupain's Sunbaker (1937) and Cotton's Teacup ballet (1935).
Dupain and Cotton were at the centre of Australian photography in the mid-twentieth century and were influential in the shaping of Australian culture. Friends from childhood, Dupain and Cotton produced now iconic photographs during an exciting period of experimentation and growth in Australian photography.
Their professional relationship spilled over into their personal lives and the two were married for a short while from 1939. Max and Olive explores their shared lives, studio and professional practice.
"Looking at the work of these two great Australian photographers together is enlightening; they were often shooting the same subjects, or pursuing subjects and pictorial effects in similar ways," says Shaune Lakin, Exhibition curator. "Rarely do we get to see two great Australian artists working side-by-side in this way."
"And while Max Dupain's reputation might now stand well above most other Australian photographers, this exhibition shows that Olive Cotton had a significant role to play in his development as a photographer, and was in many ways his equal."
Keenly aware of international developments in photography, Cotton and Dupain experimented with the forms and strategies of modernist photography, and drew upon the sophisticated lighting and compositions of contemporary advertising and Hollywood glamour photography.
They brought to these influences their own, close association with the rich context of Australian life and culture during the 1930s and '40s. Their achievement was the development of a truly modern Australian photography that reflected their own, very particular relationships to the world and to each other.
Max and Olive: The photographic life of Olive Cotton and Max Dupain
Mornington Peninsula Regional Gallery, Civic Reserve – Dunns Road, Mornington
Exhibition: 12 May – 9 July 2017
Admission fees apply
For more information, visit: www.mprg.mornpen.vic.gov.au for details.
Image: Max Dupain, Sunbaker 1937 (detail) gelatin silver photograph 37.7 x 43.2 cm. National Gallery of Australia, Canberra. Gift of the Philip Morris Arts Grant, 1982.