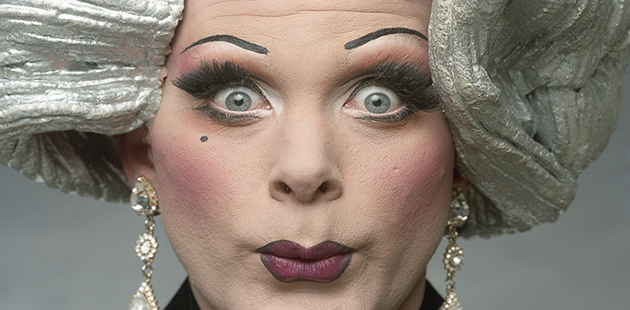 Currently showing at the Lismore Regional Gallery, Maudeville is an exhibition of the costumes of Maude Boate, the Queen of Lismore's drag queens and an entertainer of glamorous proportions, on display until 30 January 2016.
Maude is the ultimate shape shifter and over the years has stepped out in countless costumes; from Marilyn, to the Queen, Marie Antoinette, a clown and a creature from the Glamour Lagoon. Maude came into being in the 1980s and 90s, performing in the gay nightclub scene in Sydney.
She promptly turned heads with her adventurous, themed ensembles and her signature sculptured hair made from polystyrene. These outfits extended drag beyond the formula of the iconic, sexy drag queen and into the territory of art, invention, and glamourous spoof.
Maude is the creation of Michael Gates, who as a fourth generation Lismore man, son of a former Lismore mayor, ex-owner of Lismore Bridal, and current Events Coordinator of the Tropical Fruits Festival, is a local identity in his own right. Gates discovered a love for woman's clothes as a young boy.
His mother's extensive wardrobe was such that some of the more precious garments found their way into the wardrobe in his bedroom. He would try them on – to his family's amusement when he was little and then their growing disapproval as he grew older and started to sleekly fill them out… At his stage dressing up became secret.
His love of dressing in woman's clothes started then but was truly ignited when he saw his first Drag Queen, Cynthia Randall, at the Sheaf Hotel Double Bay. He remembers relief and revelation… He was not the only man with a perchance for women's frocks, make-up … and the whole kit and caboodle.
The more serious impetus behind Maude's creation came when Gates discovered he had contracted HIV. This was in the early 90s when HIV was a killer, and he refused to deny who he was now that he'd finally worked it out.
Rather than retreating from view and from the abuse, fear and confusion directed at HIV sufferers at the time, Gates decided he was going to live life large and to the fullest, striding into the spotlight with Maude. Knowing this is to understand that Maude's persona is a dynamically colourful onslaught against conservative prurience and prejudice against homosexuality and queerness.
This idea to use polystyrene originated when Gates, not having money to buy suitably outrageous wigs, saw the potential of adapting this light material which could usually be scored as needed from the local dumpster. Gates quickly discovered its endless sculptural possibilities, coaxing it into elaborate, stylised forms and transforming it with paint and glitter. The accompanying outfits leave nothing to chance, with every element crafted with technical precision and a refreshing sense for the ridiculous.
Maude's wigs became famous outside the gay club scene after they inspired costumes for the iconic Australian road movie that took drag queens to the masses; Priscilla, Queen of the Desert (1994). Gates has subsequently made all sculptural headwear for Adventures of Priscilla, Queen of the Desert ‒ The Musical and costumes made for the musical were acquired for the Powerhouse collection in 1996.
Maude Boate: Maudeville
Vicki Fayle Gallery – Lismore Regional Gallery, 131 Molesworth Street, Lismore
Exhibition continues to 30 January 2016
Free entry
For more information, visit: www.lismoregallery.org for details.
Image: Maude Boate – photo by John Webber ©
Note: The Lismore Regional Gallery will be closed for Christmas from 22 December 2015, reopening 2 January 2016. The Gallery will be open for the Tropical Fruits Parade on Tuesday 29 December 2015 from 4.00pm, and Wednesday 30 December 10.00am – 6.00pm.