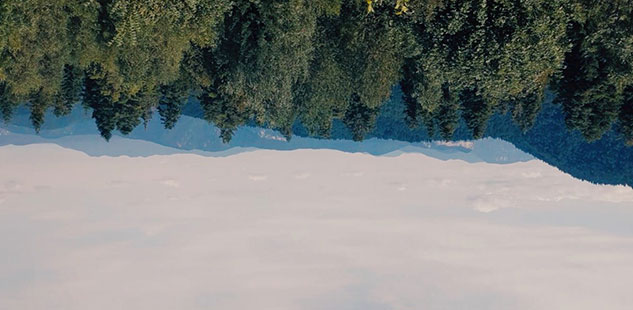 Part experimental travel vlog, part performative sculptural video installation, Matto Lucas presents Frontier at the Louis Joel Arts and Community Centre as part of the 2020 Midsumma Festival until 13 February.
In August 2019, Matto Lucas travelled through 13 different countries, in the back of an Audi convertible. Part retro road trip, part travel log, Frontier is an experimental video artwork about a queer body existing in various new geographies, documenting an organic experience; a journey, and discovering the multitude of landscapes while telling multiple intersecting narratives and exploring the transient spaces one occupies in transit.
The very nature of the term "border" is a binary of itself, creating both division, exclusion and the notion of transgression in order to traverse. A border can be seen as in relating to Julia Kristeva's notions of "abjection" (as written about in her essay Powers Of Horror) in regards to a wound: to traverse the border of the outside skin to the inside organs, creates an abject response.
What does this mean when these borders are fictional, or synthetic? What does this mean when these borders only exist within man-made rule? What does this mean when these borders are a hurdle between life and death as it is for asylum seekers, refugees or queer people seeking human rights?
What research has to be done before entering a new "country" as a queer traveller? Or, in relation to constructed bureaucratic spaces, such as the European Schengen Zone, what power do these invisible walls have on an organic environment?
Matto Lucas is an Australian Visual Artist, photographer, creator, curator and art facilitator working within mixed and digital media, with a preference for photography and performance.In 2013 Lucas was awarded a Lifetime Membership to Midsumma for his continuous work and commitment as a visual artist within the LGBTQI community. In 2015 Lucas operated as Coalesce ARI's President.
Represented commercially by Artman Gallery in 2013, In 2011 Lucas was shortlisted for the Metro Gallery Art Award, and shortlisted for the AGENDO13 young emerging artists prize in 2013, the Sunshine Coast Gallery New Media Art Prize in 2015 and The Footscray Art Prize in 2017. and won first place in the 2019 Picturing Footscray Photography prize.
Lucas was the Visual Arts Mentor at the Bendigo South East College's Academy of Creative Arts for 2016 and 2017, was the Vice President and a Committee Member at Trocadero Artspace Footscray from 2017 – 2019is a current (2019) member of Arts West, and lectures in Visual Media and Design at the Australian Institute of Music, Melbourne. Matto Lucas makes up one half of the Drinking With The Artist podcast.
---
Frontier
Joel Gallery – Louis Joel Arts and Community Centre, 5 Sargood Street, Altona
Exhibition continues to 13 February 2020
Free entry
For more information, visit: www.mattolucas.com or www.midsumma.org.au for details.
Image: Frontier – photo by Matto Lucas