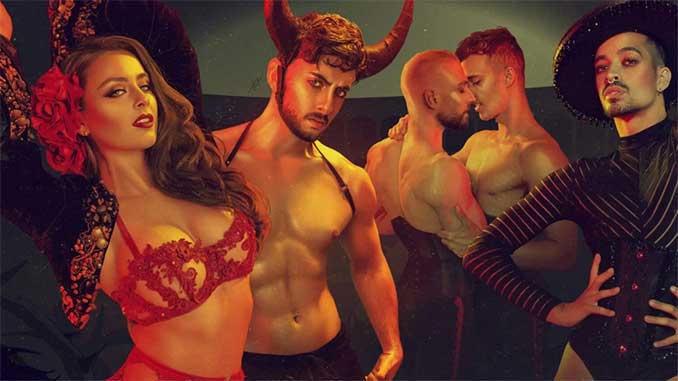 The Queen's Theatre Adelaide will come alive this Friday with the five-star, award-winning box-office hit show MATADOR la experiencia – a fiery fusion of dance, circus, burlesque and jaw-dropping circus acts.
Featuring live music and pre-show entertainment with seductive live vocals MATADOR la experiencia is a celebration of love, friendship and the bonds that hold us together.
VIP ticket holders will enjoy a post-show Latin party with a live band every Friday and Saturday night. Pre-show entertainment includes food stalls featuring delicious Spanish street food.
"Set across a fiery Spanish sunset, this is a tale of forbidden love, carnal desires, passion and pain, a tale of a love-torn bull & the seductive Matador!"  said Creative director Bass Fam.
The show takes the audience on an emotionally charged journey that explores the trials and tribulations of love. MATADOR la experiencia presents unrequited love, and the effects of infidelity whilst touching on self-discovery, identity, sexuality, lust, sex, and passion.
Comprising a diverse cast of 14 incredible performers, MATADOR la experiencia features non-stop entertainment from start to finish.
Expect everything from high-energy commercial dance pieces to beautiful, touching contemporary ballet acts as well as steamy Latin numbers intertwined with saucy burlesque acts, pole dancing and hair-raising aerial and circus acts.
Performing since 2019, this is the show that continually gives and grows and struts into Adelaide after wowing audiences at Sydney World Pride and a recent return Melbourne season of passion and love.
"Lust, betrayal, sacrifice, acceptance and more – a thematic story rather than a literal one. And it is wonderful" – Australia Arts Review
---
MATADOR la experiencia
The Queen's Theatre, Gillies Arcade, Adelaide
Season: 5 – 28 May 2023
Bookings: www.ticketmaster.com.au
For more information, visit: www.facebook.com/matadortheshow for details
Image: MATADOR la experiencia – courtesy of Bass Fam Creative