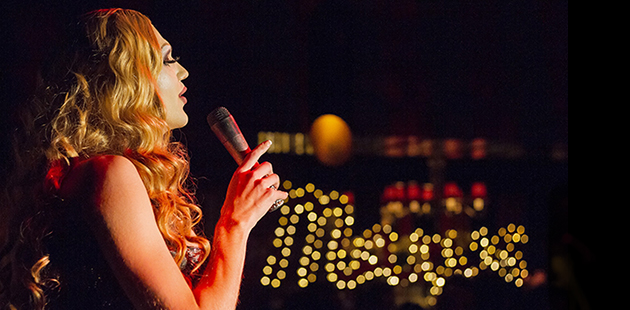 Mary's Poppin is a place where opulent décor and dazzling divas shine. A place where production crew and staff work as one to create a loveable hangout.
I embrace everything diva, from costumes, to make up, to lashes – it's intriguing. These are the types of Fringe shows that define the festival for me. For 75 minutes I was entertained – I cried from laughter, I sung along, I danced on the inside and I left on a high. Who wouldn't after seeing Adele, Dolly, Shania, Liza, Mariah, Celine, Whitney, and Tina?
Emcee Aunty Karen opened the show in a slinky fitted leopard dress number, (changing into a gorgeous sequin red number later) her flaming red hair and charisma could have been mistaken for Jessica Rabbit – but hey she was real, Jessica Rabbit is only drawn that way. Karen works in finance and begins to tell the story of an office worker they recently lost, and the diva tributes from the finance, marketing and accounts departments follow from there.
The ladies on stage representing these divas are in a league of their own. They are incredibly talented and were spot on from stunning costumes, brilliant make up, precise miming to incredible identical moves. A highlight for me was the live concert snippets which added an element of realism and which the audience lapped up every minute of. Lip syncing is not easy – and these divas could give the real ones a run for their money.
Audience participation is always a favourite, and Aunty Karen's tribute to Titanic went down like a treat. Every diva was show-stopper, so extremely difficult to point a stand-out as they were all sensational – as was the finale.
A simple stage, simple lighting and sound can produce an incredible show if the talent speaks for itself. You can have all the bells and whistles, but without talent to drive it you have nothing. Special mention to the sound and lighting crew, who not only were spot on with every cue, songs were mixed to perfection and audio as clear as a bell. This local show is fun, fabulous, and full of laughs.
If you haven't scored a ticket for Adele, I suggest you get to this show as it'll make you feel like you're in the front row. In the meantime, enjoy some snippets from the show which I'm sure will make you want to see it live. Weekends are sold out so best you get your mid week tix soon! A drag hit.
Mary's Diva Spectacular
Mary's Poppin, 5 Synagogue Place, Adelaide
Season continues to 18 March 2017
Information and Bookings: www.adelaidefringe.com.au
Image: Mary's Diva Spectacular – courtesy of Mary's Poppin
Review: Betty Samis – courtesy of All About Entertainment