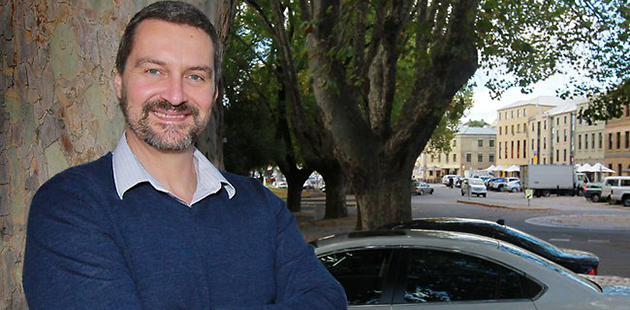 Australian Marriage Equality national director, Rodney Croome, has been named Tasmania's Australia of the Year for his contribution to LGBTI human rights and equality.
At a ceremony held in Hobart on Thursday 30 October, Mr Croome said his award shows how far Tasmania and Australia have come since he and over 100 other people were arrested for setting up a gay rights stall in a public market 26 years ago.
"It's a sure sign of how far we have come that a man once arrested for defending LGBTI human rights is now honoured for it," said Mr Croome.
But he was quick to highlight ongoing discrimination including against transgender and intersex people, and against same-sex couples refused the right to marry.
"Wherever I go around Australia I meet people who want the growing social acceptance of LGBTI folk to be reflected in marriage laws that celebrate love rather than entrench outdated attitudes. I know that in this award these many Australians will find great encouragement." Mr Croome said.
AME acting director, Ivan Hinton-Teoh, welcomed Mr Croome's award saying it shows the contribution of equality advocates is valued. "This is a wonderful recognition of the ongoing life work of a great Australian.  It is both an honour and a privilege to work alongside Rodney for a more inclusive Australia," said Mr Hinton-Teoh.
"This award highlights the overwhelming support that exists in Australia for fairness and inclusion. Today Tasmanians have honoured Rodney for his advocacy for equality.  It's time the federal government recognises the national significance of achieving equality."
Mr Croome praised the other finalists for their passion and for the understanding and respect they showed others who do not share their views.
"We live in an age when dogmatism is mistaken for principle, shouting for persuasion and empathy for weakness," said Mr Croome. "I hope that, at its best, my work, and the work of the other Tasmanian finalists here tonight, shows there is a better way forward."
Mr Croome is now in the running for Australian of the Year, together with seven other state and territory representatives, to be announced in Canberra on 25 January next year.
Image: Rodney Croome