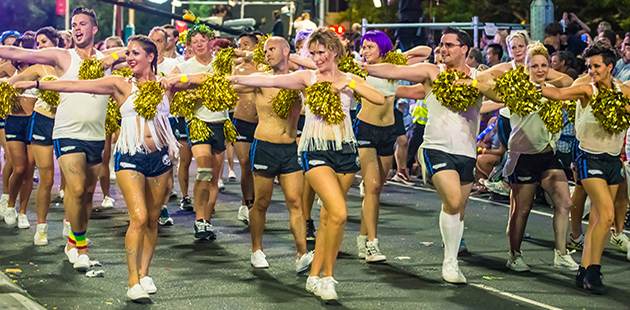 The Parade that brings the city to a standstill – the 38th annual Sydney Gay and Lesbian Mardi Gras Parade – is set to descend upon Sydney. Tomorrow night (Saturday 5 March), thousands of people will line Oxford and Flinders Streets in support of the dazzling spectacle of sparkles and self-expression.
So, you've picked your viewing point, got your rainbow flag, glitter face paint and hot pants – all you need to know is who to look out for as you cheer on the parade from the sidelines.
The Peoples Republic Of Mardi Gras – The award winning team of marchers and their pink army returns to continue the battle against homophobia and transphobia.
Muslims Against Homophobia – Muslims Against Homophobia aims to challenge homophobia in Muslim community, and promote queer Muslim rights. The group includes LGBTQI and Non-LGBTQI members and calls for queer Muslims and their supporters to stand up for and promote queer Muslim rights.
Australian Olympian & Paralympians – Made up of Australian Olympian and Paralympians this group aims to show that Australia's best athletes support diversity and inclusiveness.
Sydney AFL Women – with 17 women's teams from across Sydney, Wollongong and the Central Coast, Sydney AFL is made up of a mixture of straight, gay, trans, Muslim, Catholic, Christian participants who all support each other for who they are. The group will take to the streets to show that inclusion and diversity makes for a better community.
Sydney Queer Irish – Pirate Queens – Panti, the pirate (drag) queen of Ireland will be spreading the message of love and equality across the world. A torch – the "burning flame of love" symbolises the connection of Ireland and Australia as Panti calls for Australia to march towards marriage equality.
Gayby Baby – The film Gayby Baby has drawn a community of supporters over the years of production. With the families that feature in the film and it's supporters marching, this float says thank you to the community who supported the film over the last 12 months… especially during the media storm and banning of the film in NSW schools.
Trans* – This group of marchers are walking in support of transgender rights and to deliver a statement of Trans* pride to the world!
Gay for Ruby Rose – A light-hearted celebration of gender fluidity and sexuality as a spectrum, #GayForRubyRose embraces the idea that true inclusiveness allows that someone might be gay for just one person… and who better to fall for than Ruby Rose!
"The Sydney Gay and Lesbian Mardi Gras Parade is a highlight of Sydney's Events Calendar, attracting tens of thousands of locals and visitors who line the streets to enjoy the night's festivities," said Member for Coogee, Bruce Notley-Smith.
"The NSW Government is proud to support the Sydney Gay and Lesbian Mardi Gras Parade through our tourism and major events agency, Destination NSW. This year's Parade promises to be one of the most spectacular yet, with a wide array of amazing floats and performers on show."
For the best Parade experience, you can't go past the official Parade Viewing areas. The Diamond Club at Taylor Square is exclusive to Members of Sydney Gay and Lesbian Mardi Gras, and Parade Sideshow, just a couple of blocks away on Flinders Street, and this year hosted by the fabulous Portia Turbo and Andrew Mercardo, is a family-friendly area right on the Parade route with seating, food stalls, bars, toilets and live event screens capturing all the action.
If you can't be there, head to the Mardi Gras website to catch a live stream of the parade in full, or tune in to SBS at 8.30pm on Sunday 6 March all the action and colour from the streets of Sydney for a special event broadcast featuring Magda Szubanski, Tom Ballard, Patrick Abboud and Faustina Agolley.
For more information, visit: www.mardigras.org.au for details.
Image: One of the many groups in last year's Mardi Gras Parade (supplied)