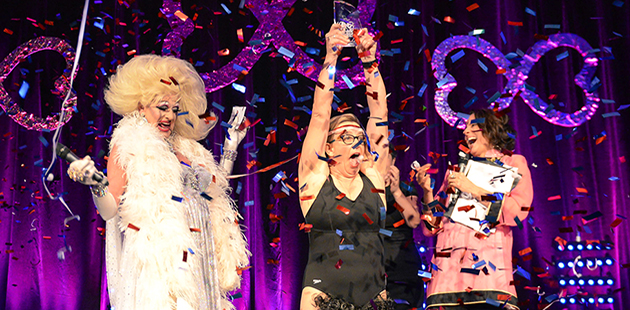 While it maybe sold-out, Lip-Sync Duels is back with last year's winner Shelly Silberman getting ready to defend her title. Held at Paddington Town Hall on Saturday 28 May, and presented in partnership with IVF Australia, Lip-Sync Duels is a fabulously fun and entertaining night bringing a group of community members together to battle it out all in the name of charity.
Set over 4 rounds, the 12 contestants compete in a knockout style contest with each winner advancing through to the next round as determined by the audience. The winner takes home a prize pack worth over $4000 for their chosen charity. Round theme's include 'the 80's', 'stage and Screen' and 'Superheroes'.
This event is also an important fundraiser for Mardi Gras with amazing prizes on offer through live and silent Auctions and raffles and lucky dips. All the monies raised from the event will go directly to supporting Sydney Gay and Lesbian Mardi Gras and its associated programs.
This year, monies raised will go towards our crucial Museum and Archive Projects. Our community is often erased from history, either by omission, invisibility, silence or negative portrayal. Mardi Gras has over 38 years of images, video and other data which documents the social history of our city. We need funds to be able to digitise and archive this data so that GLBTQI voices and stories can be included in Sydney's social tapestry.
Tickets to Lip-Sync Duels have sold out, however some tickets may become available in the lead up to the event. For more information, visit: www.mardigras.org.au for details.
Image: Shelly Silberman is crowned the 2015 Lip-Sync Duels Winner – courtesy of Sydney Gay and Lesbian Mardi Gras