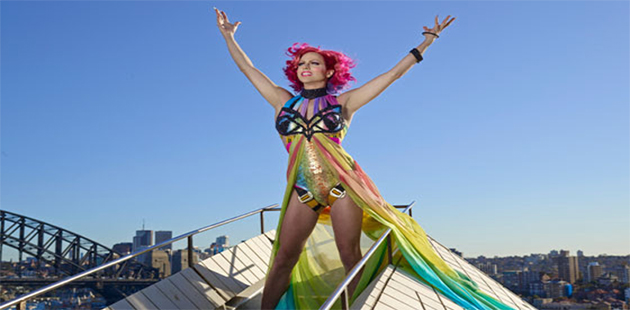 Sydney Gay and Lesbian Mardi Gras has launched its tourism campaign for the 2015 season featuring international drag superstar, Courtney Act – the face of the campaign, pictured at Sydney's most iconic locations including atop Sydney Opera House, Sydney Harbour Bridge and at Bondi Beach.
Since her star turn as a Top 3 finalist in season 6 of RuPaul's Drag Race, Courtney Act has been traveling the world as Sydney Gay and Lesbian Mardi Gras' Global Ambassador, inviting the world to visit Sydney in summer to experience all the colour, fun and general fabulousness of Sydney Mardi Gras 2015.
"As the world's most spectacular celebration of pride and diversity, I'm very proud to represent Sydney Gay and Lesbian Mardi Gras around the world as Global Ambassador," Courtney Act said.
"Earlier in the year I made a flying visit home to shoot the 2015 Mardi Gras tourism campaign, which was incredible. I never imagined I'd be photographed on top of Sydney Opera House, let alone in full drag! I can't wait to see these images start to appear around the world."
Sydney is the best summer city in the world, (and I'm not just saying that because it's my home town!), and Mardi Gras is the ultimate time to experience all it has to offer. From the festival, the Parade, the parties and events, to Sydney's buzzing culture, fantastic bars and restaurants, beautiful beaches…what's not to love!"
Sydney Mardi Gras 2015 will of course feature world-famous events like the Parade and Party, as well as a 2-week program of special events that showcase Sydney's unique summer lifestyle and open, friendly and inclusive nature.
Key events include Harbour Party, set in the sub-tropical surrounds of the Royal Botanic Gardens with views to the Sydney Opera House and Harbour Bridge – a must-do event for any Mardi Gras visitor; Women Say Something, a gala event celebrating the achievements of women; and Parade Viewing on the parade route giving visitors the opportunity to watch the world-famous Mardi Gras Parade in style and comfort.
Sydney Gay and Lesbian Mardi Gras is offering tour operators generous commissions on tickets to all major events. As Sydney Gay and Lesbian Mardi Gras CEO Michael Rolik said, "Mardi Gras attracts on average 30,000 visitors each year and with the lower Australian dollar we expect this number to increase in 2015. Tour operators have the opportunity to tap into this growth and take advantage of our commissionable tickets scheme."
Sydney Gay and Lesbian Mardi Gras is also teaming up with Planetdwellers – Australia's premier Gay and Lesbian tour operator, to once again offer visitors to Sydney a range of daytime activities during Mardi Gras. For more information: www.planetdwellers.com.au for details.
Sydney Mardi Gras 2015 runs 20 February to 8 March, with some key events going on sale from October to November with the full program launched in early December. For more information: www.mardigras.org.au for details.
Image: Courtney Act on top of the Sydney Opera House – courtesy of SGLMG
Check out the 2015 promotional video here: