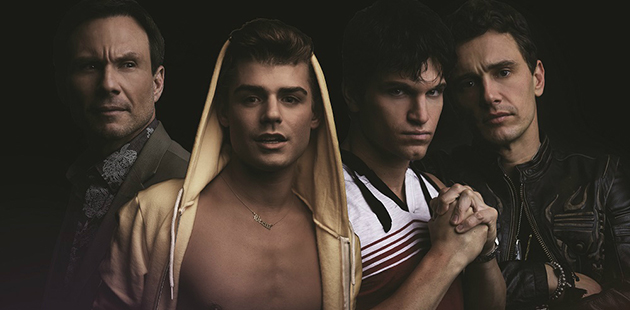 From James Franco making porn to a sing-a-long with Doris Day, Queer Screen's 24th Mardi Gras Film Festival (15 February to 2 March) has something for everyone – whether it's an inspiring political documentary, a tear-jerking drama or a sexy romp!
Featuring a world premiere, four international premieres, and a massive 31 Australian premieres, the range of films cover important issues like safe schools, marriage equality, economic migration, political asylum, and the struggles of ageing, alongside a lot of fun films celebrating the sequined, sexy and sultry side of queer life.
"Continuing our focus on diversity and aiming to be a truly representative LGBTIQ film festival has been our guiding vision," says Festival Director, Paul Struthers. "While we still feature this year's best coming-of-age movies, we are screening stories about the young and old in our community and everyone in between. Building on last year's expanded program, we have again increased the proportion of lesbian and transgender content and included more people of colour."
There is a green hue to this year's Festival as for the first time, both Opening and Closing Nights are Irish films. The Opening night audience will fall in love with award-winning drama, A Date for Mad Mary which premiered at the Karlovy Vary International Film Festival. Root for fresh-out-of-prison Mary as she desperately seeks a date for her best friend's wedding.
Closing the Festival is Handsome Devil – a comedy about geeky student Ned and his school's reaction to a blossoming friendship with sporty jock Connor. Recently shown at the Toronto International Film Festival, the screening with be followed by a very special party hosted by Irish 'royalty' – the Queen of Ireland, Panti Bliss.
My Queer Career – Australia's largest LGBTIQ film prize, is always one of the highlights of the Mardi Gras Film Festival. This year, ten fantastic films will be competing for a prize pool of over $12,000 in cash and support. The winner of Best Film will also be automatically entered into the world-renowned Iris Prize competition, which has recently turbocharged the careers of three Australian filmmakers.
Jam packed with famous faces and outstanding performances, audiences will be inspired, moved and tickled pink by an incredible array of films including the following highlights:
Angry Indian Goddesses
What happens when women get sick of fighting inequality, and instead get really, really angry? Angry Indian Goddesses is a film that pushes that question to the extreme. When a group of female friends are called to their friend's house in Goa in India, they think the biggest surprise is her announcement that she's getting married. But this is a film that is unafraid to switch up the mood drastically, what begins as a cheeky, comical buddy movie about a week-long bachelorette party, ends as something much darker. Director Pan Nalin has pulled together a rallying cry that women across the world can relate to, and puts queer women centre stage in this defiant powerhouse of a movie.
Bad Girl
Amy is the picture of teen rebellion, slumped in the back seat of her adoptive parents' car as they move to a brand new, top-of-the-line model home in rural Australia. Designed by her father, the home is a wonder of modern architecture, totally at odds with the landscape and people Amy finds around her. When the beautiful, mysterious Chloe from over the hill offers her cleaning services, Amy begrudgingly becomes friends with her and they push and break the boundaries of one another's worlds. Directed by Fin Edquist, this slow-burn thriller, which premiered at the Melbourne International Film Festival, will have you entirely unprepared for the many twists and turns this film throws at you.
Calamity Jane
A fearsome gunslinger and tougher than any man in Deadwood, Dakota, Calamity Jane has found herself in a bit of pickle. In a town of rowdy men starved of female companionship, the world-famous singer Adelaide Adams is all anyone can talk about, and hotheaded Calamity has just made a bet that she can get her to perform at their little saloon. A comedy of errors and a classic musical, Calamity Jane is a cult queer-cinema staple, filled with wry observations about gender and innocently delivered double entendres. Over fifty years later, the irascible and unambiguously butch Calamity Jane is as charming as ever.
King Cobra
It is the film everyone has been waiting to see on the big screen. A gay porn biopic full of hot young actors, featuring James Franco, and about the biggest gay porn scandal ever. This is the true story of adult film star Brent Corrigan. Born Sean Paul Lockhart, he is discovered by low-budget film producer Stephen and becomes his big star – with benefits – for Cobra Films. However, rival porn-mogul Joe and his lover Harlow want to nab this sexy twink for their own project. But things aren't that easy, and Stephen has no intention of letting his pert protégé go. Rivalries, excess, salacious scandals, some downright dirty times, and even murder give this story plenty of bite.
Moonlight
A timeless story of human connection and self-discovery, Moonlight chronicles the life of a young black man as he comes to terms with his sexuality. We revisit Chiron's story in three defining chapters, with three stunning acting performances from Alex Hibbert, Ashton Sanders, and Trevante Rhodes. Growing up in a tough neighbourhood in Miami and battling through a dysfunctional home life, Chiron struggles to find a place for himself in a dangerous and unfriendly world. Winner of the Golden Globe for Best Picture – Drama, Moonlight is the must-see film of the year.
Out of Iraq
It's 2004. In war-torn Iraq, Nayyef Hrebid has just started working for the US military as a translator, a job that continually puts him in life-threatening danger. But, when he meets and falls in love with Btoo Allami, a fellow Iraqi soldier, the two men must face new dangers and find a way to flee the country. Directed by Chris McKim and Eva Orner, and spanning thirteen years and four countries, Out of Iraq is both a gripping documentary and a true love story. It provides a heart-wrenching insight into the lives of many queer people living under oppressive governments.
Out Run
Bemz Benedito dreams of becoming the first transgender person in the Philippine Congress, representing the LGBTIQ party Ladlad. This documentary on her journey and that of the first LGBTIQ political party in the Philippines, Ladlad is at times uplifting, heartbreaking and shocking. You may be surprised at the blatant, well-meaning discrimination faced by the representatives of Ladlad, by the extreme marginalisation of LGBTIQ, and particularly of transgender people and by the overwhelming odds against this little group of would-be politicos.
Taekwondo
After the success of films Plan B, Absent and Hawaii, Marco Berger continues to develop his status as a queer auteur with Taekwondo. For his latest effort, Berger has teamed up to co-direct with fellow Argentinian Martín Farina, whose previous work includes the voyeuristic cinematography in soccer documentary Fulboy. In this outing, we meet the sweet Fernando hosting a summer getaway for the boys, including Germán, a shy teammate from his Taekwondo class. While the guys spend their holidays on typically laddish pursuits, drinking, smoking, and chatting about nothing at all, Germán is curious as to whether Fernando will make a move or if he is even gay at all. While Germán is clearly the odd one out in this party house, he feels comfortable in Fernando's company.
Teenage Kicks
Award-winning Sydney film director Craig Boreham has made a name for himself with short films exploring sexuality. His first feature film Teenage Kicks is no different, winning over critics at the 2016 Sydney Film Festival – making a splash with its script, cinematography, score, and an incredible lead performance from Miles Szanto. When his brother dies unexpectedly, 17-year-old Miklós Varga's world is completely spun off its axis. He feels immense guilt over his brother's sudden death, and is now torn between running away from it all with his best mate, Dan, and looking after his grieving family. On top of this, his burgeoning sexuality is making everything more complex, as he is becoming increasingly attracted to Dan, and his urge to experiment with men takes hold.
Women Who Kill
Drawing on all the shadowy bits of modern romance and the unknown secrets in new relationships, Women Who Kill gets surprising laughs out of suspicion and paranoia. Morgan and Jean host a semi-famous podcast about female murderers, and are successful in their work despite not working out as a couple in the past. When Morgan starts dating the mysterious Simone, her professional interests start to infiltrate her personal life, as doubt and fear take hold. It probably doesn't help that her only confidant is in prison for murder. What plays out is like a who dunnit mystery, with red herrings and coincidences luring us all into a sense of uncertainty in a story that is equal parts thrilling and amusing.
The 2017 Mardi Gras Film Festival runs 15 February to 2 March. Tickets are selling fast, with some sessions already sold out. For more information and to purchase tickets, visit: www.queerscreen.org.au for details.
Image: King Cobra (supplied)