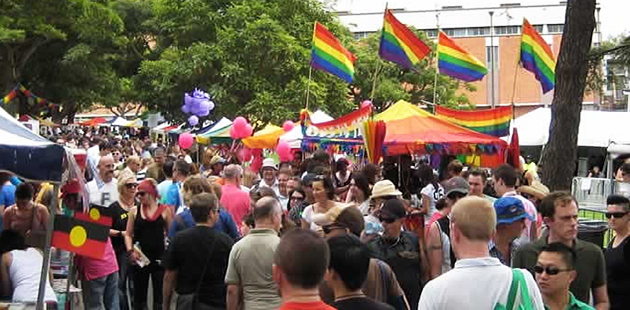 Whatever your passion or persuasion, everyone is welcome for a full day of entertainment and picnicking in the sun in Sydney's beautiful Victoria Park on Sunday 22 February for Fairday – the biggest and most colourful event of the opening weekend of Sydney Gay and Lesbian Mardi Gras 2015.
Every year, a melting pot of 70,000 smiling faces gathers together in Victoria Park to celebrate not only the beginning of Mardi Gras, but also the power and beauty of diversity.
"I love the way that Fair Day opens Mardi Gras season in such a loud, proud, welcoming and happy fashion," says Sydney Gay and Lesbian Mardi Gras CEO, Michael Rolik. "It's the perfect way for not only the LGBTQI community, but also their families, friends and supporters, to all get together and enjoy a blissful day of fun, food and festivities in the sun."
Park your picnic blanket in front of the Fair Day main stage, hosted by Justin Hill of 2DAYFM's Scoopla for free entertainment for the whole family from 10am to 8pm. Enjoy everything from a yoga session in the morning to the Sydney Gay and Lesbian Choir, the trans*fantastic Ash Baroque and Strykermeyer from Bar Bitch Chew Art and a Camp Performance by the Harbour City Bears. There'll be DJs, kids shows, comedy, cabaret, dance, and more.
Four-legged friends and their beloved humans will adore the world-famous DoggyWood dog show. Here, all of our pampered pooches get to network, show off their skills, rock some great outfits, and generally have a convivial canine time. Learn how to give your pup a much-deserved massage in a class run by Both Ends of the Lead. There will also be plenty of fantastic prizes up for grabs in the look-alike contest, talent show, best-dressed competition and the obstacle course.
A picnic wouldn't be a picnic without food, glorious food, of course! Fair Day will host more than 40 food stalls covering every cuisine imaginable – from Spanish street food to Cornish pasties, an assortment of Asian cuisines, pancakes and sweets, fresh juices and everything in between.
For the culinary creatives, there will also be cooking demonstrations from chef and restaurateur Dave Campbell of Hungry Duck in Berry, showcasing the produce of NSW's South Coast region.
There's something for everyone, with rides, retail therapy, and more than 240 different stall-holders at this year's event. Fair Day is a great place to meet new people, and learn about and get involved in your community, with its huge array of community organisations and local businesses present on the day.
Be sure to explore all the different areas of the park or take a YourGen Guided Tour. There's the Bear Tree, the YourGen Area, Trans* and Gender Diverse Area, and the Sports Village, each with lots of great, diverse programming.
The Mardi Gras Garden Lounge will play host to DJs Adam Love, Amanda Louise and Oxford Hustler, who will be spinning tunes all day long, and as the afternoon rolls on, superstar DJs Kitty Glitter and Victoria Anthony keep things pumping from the main stage.
This year the Mardi Gras women's chill out zone at Fair Day is the place to kick back, people watch and listen. The stage will be graced with the vibrant vocal stylings of local lady artists, who will serenade with soothing tunes while audiences relax in the comfort of the shady, cushioned hub. There's also a DIY Body Painting party for families and friends to get active and paint each other with the colours of Fair Day. It's fun, free and could even be a little flirty.
Keen to kick on after a day basking in the sun? As the stars come out over Victoria Park, it's time to pack up your picnic and your poodle and head down King Street to the official after party, After The Fair. Two of Newtown's most beloved venues, the Bank Hotel and the Newtown Hotel, are throwing open their doors to the sun-kissed Fair Day crowd, with great food, DJs, drinks and drag well into the night. Find out how the inner west side parties, and start your festival as you mean to continue!
Fair Day and the After the Fair Party are free of charge, and generous donations (of any size) help keep it that way. The famous Fair Day Raffle is back in 2015 and there are prizes worth a total of $4,500 up for grabs.
If you're planning to ride your trusty two-wheeled steed along to Fair Day, then you've made a great choice. Thanks to City of Sydney, Sydney Cycleways are offering free valet bike parking! Simply ride in, drop your bike off and enjoy Fair Day. Plan your journey using the Sydney cycling map.
The 2015 Mardi Gras Fair Day takes place on Sunday 22 February: 10am – 8pm at Victoria Park, Chippendale. For more information, visit: www.mardigras.org.au/fair-day for details.
Image: crowds enjoying the stalls at Fair Day