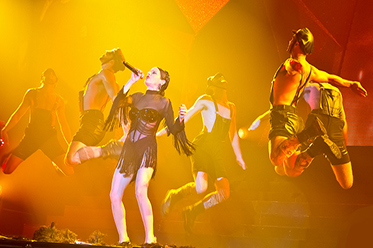 A sparkling, luminous and outlandish multi-sensory extravaganza took over Playbill Venues and Entertainment Quarter, when thousands of festival revellers flocked to the Mardi Gras Party for a world-class line-up of awe-inspiring live performances and killer club DJs.
Following on from the iconic Mardi Gras Parade, the festivities continued in fabulous style with headline performances from some of Australia's much loved LBGTQI icons including Tina Arena, Samantha Jade and Mardi Gras' first ever official ambassador, drag queen extraordinaire – Courtney Act.
Act performed the midnight slot at the event, propelling partygoers into the AM with The Party's biggest ever entertainment production, comprising 68 dancers and Act herself, to make up the magic number '69'.
Top international DJs from around the globe also kept pulses racing well into the morning. Chicago-born music legend Derrick Carter delivered a palpable live set of house, soul, jazz, old-school disco and practically everything in between.
A musical onslaught also came in the form of New York DJ Kim Ann Foxman, UK club queen Feral is Kinky and Mardi Gras DJ icon DJ Sveta, as well as top Australian DJs including Dan Slater, Adam Love, Alex Taylor and Dan Slater.
For more information, visit: www.mardigras.org.au for details.
Image: Tina Arena by Hamid Mousa