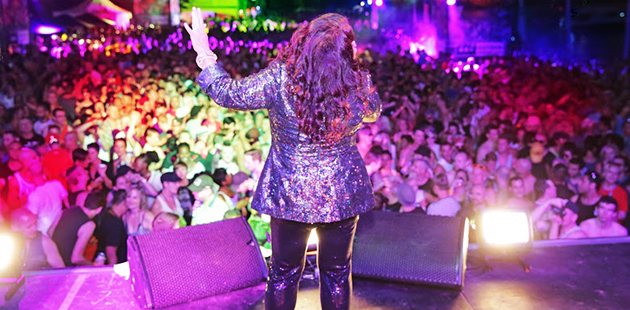 From the phenomenal parade to poignant think-pieces, pampered picnicking pooches and parties, parties, parties; the passion really pops in the program for Sydney Gay and Lesbian Mardi Gras 2015.
"Mardi Gras 2015 is all about passion," says Sydney Gay and Lesbian Mardi Gras Co-Chair, Paul Savage.  "It's what drives us, connects us, inspires us and makes us an unstoppable force for change. Without passion we only have apathy."
"Passion is what has pulled us through the dark periods, in the face of discrimination, inequality, brutality, and conflict. Passion is what has united us to come together. Passion is what Mardi Gras is all about."
"In 2015 we want to hear about what you are passionate about, what is important to you, what inspires you," adds Sydney Gay and Lesbian Mardi Gras Co-Chair, Fran Bowron.
"We invite you to give voice to your passions. Find your people, your music, and your style. Because to find your passion is to discover who you are, and there's nothing worth celebrating more than that."
Mardi Gras '15 will present Sydney with an array of free and ticketed events, including extravagant parties, exceptional comedy and theatre performances, premiere film screenings, insightful panel discussions, and many all-inclusive community events.
Mardi Gras kicks off with a favourite annual event, Queer Thinking – a thought provoking day of ideas, literature, academia and culture, exploring what it is to be LGBTQI in 2015 at the Seymour Centre on Saturday 21 February.
On Sunday 22 February, one of the festival's most treasured and highly anticipated community celebrations, Fair Day will descend once again upon Victoria Park. More than 80,000 people and their pampered pooches come together for gourmet food, rides for the kids, market stalls, comedy, dance and live music on the main stage, and of course the world-famous DoggyWood dog show!
Combining the grandeur of the big top with the fun of a carnival and the quirks of a sideshow, Women Say Something: Cirque du Femme will pull you into a world beyond your wildest imagination. Taking place at Fairground Follies, St Peters on Friday 27 February, a selection of inspiring women including Magda Szubanski, Dr Kerryn Phelps and Dr Dorothy McRae-McMahon, will create dynamic discussion around the achievements of women from all communities.
There are few parties in the world quite like Mardi Gras' Harbour Party. Diverse, sexy and bursting with energy, the 2015 Harbour Party on Saturday 28 February is headlined by Canadian chart-topping Hideaway singer, Kiesza. An intimate and sexy playground, Pool Party at Ivy Pool Club on Monday 2 March is set to be the zenith of summertime glamour in Sydney.
Darling Harbour will be the go-to place for friends and families to get a taste of Mardi Gras. Whether you want to dip your toes or dive right in, Wow Me! It's Mardi Gras, presented in partnership with Sydney Harbour Foreshore Authority, will feature a fun-filled program of events like pop-up drag shows and hands-on workshops for the kids, as well as the famous Little Black Dress Run for charity on Sunday 1 March, 2015.
The 37th annual Sydney Gay and Lesbian Mardi Gras Parade will be held on Saturday 7 March. A perfect combination of passion and people, the eye-popping, jaw-dropping spectacle is the centrepiece of Mardi Gras. Following the Parade, the official Mardi Gras Party features a piping hot line-up of DJs and musical acts from Australia and across the globe.
Finally, rounding out the official festival program will be the incredibly popular The Laneway on Sunday 8 March. Celebrate the end of Mardi Gras and recover from the Party the night before with live music, diva drop-ins, pop-up drag shows and a terrific mix of different spaces with top notch DJs.
In addition to the staple festival events, Mardi Gras 2015 will offer a plethora of incredible cultural and community events across Sydney, ensuring that every local and visiting friend has an opportunity to find their passion in their own Mardi Gras program!
Highlights include: Bianca Del Rio with special guest Courtney Act at Sydney Theatre; Nick Coyle's Blue Wizard at Belvoir; Mike Bartlett's COCK makes it anticipated Sydney premiere at the Old Fitz Theatre; and Day for Night is back bigger and better in 2015 at Carriageworks.
The impeccable, multi-talented and somewhat intimidating Sandra Bernhard is coming to Sydney's Enmore Theatre to transform it into her own personal Sandyland; a funny and moving piece of real-life theatre about children who have grown up with gay parents, Gaybies has drawn from real-life interviews from people aged four to for, makes its Sydney premiere at the Eternity Playhouse; while New Theatre revives the riotous musical play, Mother Clap's Molly House.
Curious to see how much Mardi Gras has changed over the years? The Happy Mardi Gras! photographic exhibition takes place at the Surry Hills Library; winner of the Mardi Gras 2014 Best Visual Arts Event, Richard Hedger returns with a new photographic exhibition, National Treasures – a celebration of aging in the LGBTI community; while the ever-popular Mardi Gras Film Festival presented by Queer Screen is set to be one of the best yet, with a number of premieres, award-winners and an Oscar contender.
Dance beneath the highest spinning disco ball in all of Sydney – atop the iconic Sydney Harbour Bridge; join the Dykes on Bikes at a Women's Soiree; participate in the 2015 Sports Festival – presented by Team Sydney; or take part in the very first gay event at the Sydney Observatory – the aptly titled Stargayzing; there is something for everyone at the world's most dazzling celebration of pride and diversity.
"This is definitely one of the most richly diverse Mardi Gras programs yet," says Sydney Gay and Lesbian Mardi Gras CEO, Michael Rolik. "There really is something for absolutely everyone to get involved in, no matter their backgrounds. I'm so proud of the whole Mardi Gras team for the hard work they've done to create such an exciting program of events."
The 2015 Sydney Gay and Lesbian Mardi Gras runs from Friday 20 February to Sunday 8 March. For more information and complete program, visit: www.mardigras.org.au for details.
Image: Harbour Party 2014 – photo by Ann-Marie Calilhanna