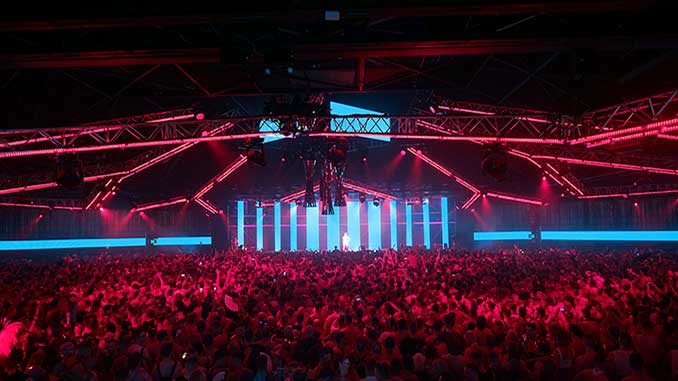 Sydney Gay and Lesbian Mardi Gras are excited to announce the return of iconic events to their glittering Festival program, running from 18 February – 6 March 2022.
Much-loved Mardi Gras events making their grand return in 2022 include: the annual flag raising at Sydney Town Hall, all-day community spectacular Fair Day, the official Mardi Gras Party, Laneway recovery party, the glam Paradiso Pool Party, queer comedy gala Laugh Out Proud, breathtaking ballroom extravaganza Sissy Ball, retro soiree Kaftana Party, Mardi Gras Film Festival and Queer Art After Hours – joining the previously announced Parade for next year's Festival program.
"We're so excited to bring back some of our most cherished events in 2022," said Mardi Gras CEO Albert Kruger. "Our Festival has always served as a platform for self-expression through art and culture, and after two challenging years of limited contact, 2022 is an opportunity for us to not only unite, connect and be entertained; but also celebrate the diversity and creativity of our wonderful communities and share our pride to the world."
Tickets to Mardi Gras Festival events and Parade go on sale 12.00pm (AEDT) – Monday 15 November. Mardi Gras members will get presale access to all ticketed events from 11.00am (AEDT) – Friday 12 November. American Express Card Members will receive 72 hours of pre sale access to purchase Parade and Party tickets from 11.00am (AEDT) – Friday 12 November.
A Hardship Ticket Ballot presented by Principal Partner American Express has been established to provide the community with 3,000 complementary tickets to enjoy the Parade. The ballot is for anyone who is experiencing financial strain and cannot afford a ticket to Parade, with registrations opening on Monday 15 November and drawn at random in early January. 78ers will receive four complimentary tickets to the Parade, and Mardi Gras members will receive two.
The 2022 Mardi Gras theme is UNITED WE SHINE – signifying that LGBTQI+ communities shine brighter together. It is a reminder of all that we can achieve when our communities rise as one.
It is a call to stand united against the inequalities LGBTQI+ people continue to face and empowers us with the strength that our history shows: that we have the power to create a more equitable society.
The 2022 Sydney Gay and Lesbian Mardi Gras runs 18 February – 6 March. For more information, visit: www.mardigras.org.au for details.
Image: Sydney Gay and Lesbian Mardi Gras Party (supplied)
---
Mardi Gras Festival events returning in 2022 are:
Progress Pride Flag Raising
Sydney Town Hall – 18 February 2022
The Progress Pride flag will rise at Sydney Town Hall on 18 February 2022 to mark the beginning of the Festival season. In the spirit of this season's theme, UNITED WE SHINE, leading community members will come together as the international symbol of LGBTQI+ pride shines from one of Sydney's most iconic buildings. The flag will fly until the end of the 2022 Festival. Presented by the City of Sydney.
Fair Day
Victoria Park – 20 February 2022
The all-day rainbow extravaganza that kicks off the Mardi Gras Festival is back with all the events and activations the community knows and love – as well as a few surprises. Bask in the sunshine with a picnic, wander through the community stalls with your pooch in tow or kick off your heels and dance the afternoon away as Fair Day turns into night. In 2022, Fair Day will put the spotlight on emerging, ground-breaking and culture defying LGBTQI+ artists, musicians, and organisations. Mardi Gras is accepting stall registrations until 2.00pm (AEDT) – Monday 15 November. Proudly presented in partnership with American Express.
Kaftana Pool Party
ivy Pool – 23 February 2022
Steam your muumuus and dust off your chunky costume jewellery, Kaftana Party is back. The iconic ivy Pool will be transformed into the ultimate retro summer daydream for this poolside afternoon of extravagant fabulousness. Sit back and sip on a Pink Lady and celebrate with a camp smorgasbord of special guests, DJs, and live performances.
Laugh Out Proud
Enmore Theatre – 25 February 2022
The queer comedy event of the year, Laugh Out Proud is a one-night-only showcase delivering a melting pot of fan favourites, funny faithfuls, and rising stars in the Australian queer comedy scene. Following sold-out shows in 2020 and 2021, get in quick to snap up your tickets to this night of bent belly laughs.
Sissy Ball
Sydney Town Hall – 26 February 2022
Join the fierce icons and rising stars of the Australian ballroom scene and soak in the essence of queer culture, art and expression at Sissy Ball. This year's glam throw down finds a new home at the regal Sydney Town Hall. Celebrating identity, fluidity and finesse with legendary house battles, live music, DJs, phenomenal performing artists, and VIP viewing gallery.
Paradiso Pool Party
ivy Pool – 28 February 2022
Sydney-siders and the global community unite for Paradiso Pool Party. We're turning the iconic ivy Pool and Changeroom into the epitome of Mediterranean sun kissed glam for the final day of summer. Escape the work week, pop on the out-of-office and pull up to a poolside cabana as the cocktails flow and the DJs, live vocalists and musicians turn day into night.
Parade
Sydney Cricket Ground – 5 March 2022
A powerful protest and glittering celebration of diversity, Mardi Gras Parade is the centerpiece of the Festival season. The iconic event brings together LGBTQI+ people from all over to share their passion, champion equal rights and show their pride to the world. In 2022, the Parade returns to the Sydney Cricket Ground where tens of thousands of spectators will cheer on as marchers take to the field in a display of colour, community and love. The Parade will be broadcast live on ABC so audiences from across the country can tune in and be a part of the celebrations. Mardi Gras is accepting parade registrations until 1.00pm (AEDT) – Monday 15 November.
Party
Hordern Pavilion, Max Watts, Watsons & Entertainment Quarter surrounds – 5 March 2022
Step into a party playground of sensual celebration and joy as the largest LGBTQI+ party in the Southern Hemisphere celebrates its 40th edition at the Hordern Pavilion. This year, the official Mardi Gras Party goes back to its roots with dance floors, chill-out spaces and quirky corners to explore. Plus, everyone's favourite local and international DJs, pop-up shows and performance artists, just like it used to be.
Laneway
The Beresford and Hill Street – 6 March 2022
Wrap up the Mardi Gras weekend with the campest curb-side tradition. Spread across both levels of The Beresford and spilling out onto Hill Street, Laneway is the perfect way to bid farewell to Mardi Gras 2022. For the ultimate glam experience and exclusive access to the upstairs dancefloor, DJ and performances treat yourself to a Laneway VIP ticket.
Partnered Events:
Queer Screen's 29th Mardi Gras Film Festival
17 February – 3 March 2022
Queer Screen's 29th Mardi Gras Film Festival will bring the latest and best LGBTIQ+ films to cinema screens across Sydney and on-demand Australia wide. Full Program announced on 12 January 2022.
Queer Art After Hours
Art Gallery of New South Wales – 2 March 2022
Witness the wonders of colourful camp artistry as the Art Gallery of New South Wales comes to life for Queer Art After Hours. Inspired by this year's theme UNITED WE SHINE, this is your chance to hear the queer and salacious stories behind the Gallery's collection. Discover the godly, the glamorous and the ground-breaking at this explosion of innovative performance art, installations, music and gallery tours – served with champagne till late. Presented by Sydney Gay and Lesbian Mardi Gras and the Art Gallery of New South Wales