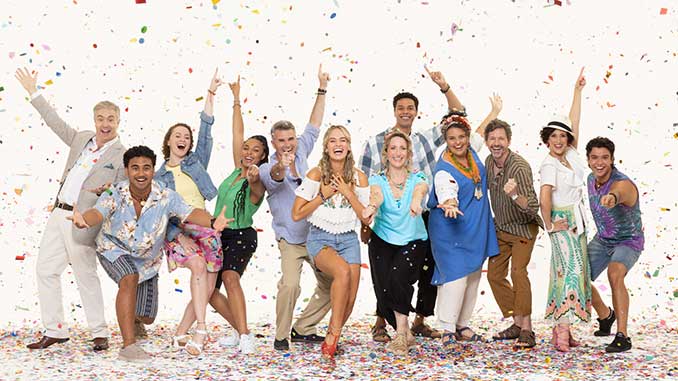 The global musical phenomenon MAMMA MIA! The Musical opens tonight at the Sydney Lyric Theatre! Featuring 22 of ABBA's greatest hits, including Dancing Queen, Voulez Vous, S.O.S and Take a Chance On Me, the iconic songs you know and love are guaranteed to have you dancing in the aisles.
Starring in this exciting new Australian production as Donna Sheridan is Helpmann Award winner Elise McCann and alongside her as her daughter and bride-to-be Sophie, is emerging Australian actor Sarah Krndija. Starring as Donna's loyal friends Rosie and Tanya is Bianca Bruce and Deone Zanotto respectively.
Sophie's unsuspecting fathers are played by Martin Crewes as Sam Carmichael, Drew Livingston as Harry Bright and Tim Wright as Bill Austin. Sophie's adoring fiancé Sky is played by Lewis Francis, whilst newcomers Nina Carmen and Kadesa Honeyhill star as Sophie's friends Ali and Lisa respectively with Sky's mates played by Jordan Tomljenovic as Pepper and Etuate Lutui as Eddie.
The incredible supporting cast includes (in alphabetical order) Chiara Assetta, Lily Baulderstone, Carlo Boumouglbay, Campbell Braithwaite, Emily Cascarino, Chelsea Dawson, Denise Devlin, Lauren Goetz, Matt Hamilton, Crystal Hegedis, Marie Ikonomou, Josh Mulheran, Bronson Pfeiler, Lewis Shilvock, Tom Struik, Riley Sutton, Carla Venezia and Geoffrey Winter.
This 2023 production is a re-staging of the highly successful and critically acclaimed 2017 production which featured the original work of a completely Australian creative team lead by Helpmann Award winning Director Gary Young, Choreographer Tom Hodgson, Musical Supervisor Stephen Amos, Set Designer Linda Bewick, Costume Designer Suzy Strout, Lighting Designer Gavan Swift and Sound Design by Michael Waters.
This exciting new production of MAMMA MIA! The Musical is produced in Australia by Michael Coppel, Louise Withers & Linda Bewick.
Set on a Greek island paradise and inspired by the story-telling magic of ABBA's timeless songs, writer Catherine Johnson's heart-warming tale centres around a young bride-to-be. On the eve of her wedding, a daughter's quest to discover the identity of her father brings three men from her mother's past back to the island they last visited 20 years ago.
Seen and loved by over 65 million people around the world, this smash hit phenomenon is a joyous celebration of love, laughter and friendship, MAMMA MIA! The Musical is a fabulous night out for all ages!
"A contagious atmosphere…if by the end of the musical you're not dancing on your seat and singing along to the songs then you must have gone to the wrong theatre." – BROADAYWORLD.COM
---
MAMMA MIA! The Musical opens tonight (Saturday 27 May) at the Sydney Lyric Theatre and plays until 30 July, before heading to Brisbane's Lyric Theatre – QPAC from 6 August and Melbourne's Princess Theatre from 4 October 2023. For more information, visit: www.mammamiathemusical.com.au for details.
Image: MAMMA MIA! The Musical (Australian Cast 2023) – photo by Sam Bisso