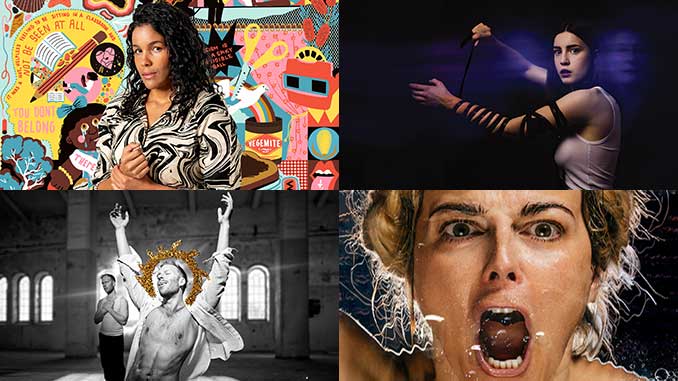 With eight works that explore and challenge the concepts of belief, fate and the rituals that bring us together today, Malthouse Theatre has announced its 2024 season.
From the stage premiere of an award-winning Australian memoir about growing up the child of Black migrants in white middle-class Australia, to a world premiere new work from Back to Back Theatre; from Shakespeare's Scottish Play reimagined from Lady Macbeth's perspective to a technically challenging sci-fi adventure; and a new work from the bold and candid Nicola Gunn.
Then there is the return season of a much-lauded stage adaptation of a Nobel Prize laureate's work; from an exploration of secret queer identity within the confines of a 1990s Pentecostal Church, to closing the year with a holiday experience that truly sleighs, Malthouse promises eight compelling reasons to visit our theatres in 2024.
'This is a highly theatrical season. There isn't a moment of domesticity or realism in sight, as every work celebrates theatre that transports you into fantasies, heightened realities, folklore, or ecstasy," said Malthouse Theatre Co-CEO & Artistic Director Matthew Lutton OAM. "It is very deliberately a season of productions celebrating how theatrical theatre can be."
Season 2024 follows on Malthouse's commitment to inclusivity and removing barriers for audiences that have not previously attended. Malthouse's latest audience data shows that 54% of audiences are aged 44 years or younger, 38% of audiences identify as Culturally and/or Linguistically Diverse (CALD), and approximately one third of audiences identify as part of the LGBTQIA+ community.
The Hate Race
The year opens in February in unflinching style with the theatrical premiere of The Hate Race, a retelling of Caribbean-Australian writer Maxine Beneba Clarke's best-selling, award-winning memoir exposing the realities and sting of otherness.
Starring Zahra Newman (Wake In Fright), who embodies all characters from the book with astonishing honesty and theatricality, The Hate Race is more than a theatrical experience – it is a call to action.
Yentl
After a triumphant debut in 2022, garnering wide acclaim, four Green Room Awards and numerous five-star reviews – Malthouse is proud to present a return season of Kadimah Yiddish Theatre's Yentl.
This new stage adaptation of Nobel Prize laureate Isaac Bashevis Singer's iconic short story is the first since the 1975 Broadway play and Barbra Streisand's iconic 1983 musical film.
Directed and co-written by Gary Abrahams, Elise Hearst and Kadimah Yiddish Theatre Artistic Co-Directors Galit Klas and Evelyn Krape, and starring Jana Zvedeniuk (winner of the 2023 Green Room Award for Outstanding Performance), Nicholas Jacquinot, Evelyn Krape and Genevieve Kingsford, Yentl is an ode to the feminist undertones and queer subtext of the original story and an invitation to celebrate the beauty of Yiddish culture.
Homo Pentecostus
In May, audiences are invited to join an odyssey of self-discovery and liberation with Homo Pentecostus. Actor, dancer, and writer Joel Bray unveils an intimate exploration of his secret queer identity within the confines of a 1990s Pentecostal Church.
From the humble church halls to the vibrant disco dancefloors, Homo Pentecostus peels back layers of conflicting allure and hidden shame in an ecstatic testament to resilience, love, and the pursuit of personal truth.
MULTIPLE BAD THINGS
May also sees the world premiere of the latest work by ground-breaking company Back to Back Theatre, MULTIPLE BAD THINGS. Back to Back Theatre is a global leader for challenging the assumptions of what is possible on the stage, and in ourselves.
For over 30 years, their ensemble of performers has created epic and arresting theatre that weaves together the personal, political, and cosmic, touring the world with Ganesh Verses The Third Reich, Small Metal Objects, Food Court and Lady Eats Apple.
In MULTIPLE BAD THINGS, the company explores the notion that everyone's version of the perfect world looks a bit different, so how to build a utopia that meets everyone's expectations? Three employees decide to build a new structure together and grapple with what these new rules should be.
Macbeth (An Undoing)
In the second half of the year, visionary playwright Zinnie Harris reimagines Shakespeare's Scottish Play from Lady Macbeth's perspective in Macbeth (An Undoing).
An exhilarating tale of manipulation, ambition, and the intoxicating need to challenge the roles others prescribe for you, Bojana Novakovic (Love Me) and Johnny Carr (Five Bedrooms) star in this visceral and epic portrait of the 11th century on stage.
Malthouse Theatre Artistic Director Matthew Lutton crafts a grand spectacle, igniting Shakespeare's battle of power in a world rife with superstition and the supernatural.
The Interpreters (Apologia)
A new work from revered first-person artist Nicola Gunn (Piece for Person and Ghetto Blaster), The Interpreters (Apologia) unpacks her personal fantasy of being a French actress – despite being categorically not French.
In a surreal comedic encounter, the aspiring French actress quarrels with a Japanese film director and their interpreter about how to translate a story about a complex mother-daughter relationship into multiple languages.
Their arguments spiral into riveting and confounding misunderstandings, and the power of who is doing the translating is paramount as Nicola confronts having your voice translated by others.
Under The Skin
Cult studio A24, creator of hit films Everything Everywhere All At Once and Get Out, had its breakthrough 2013 cult hit with Under The Skin starring Scarlett Johansson.
Acclaimed writer Pamela Carter and Malthouse Theatre Artistic Director Matthew Lutton are now collaborating on an ambitious, highly technical stage version of Under the Skin, adapted from the Michel Faber sci-fi novel.
An otherworldly woman, Isserley, embarks on a mysterious mission to hunt hitchhiking men for sustenance. She's skilled at it, very skilled, but her perspective begins to shift as she learns more about why she's been sent to hunt.
In an extraordinary synthesis of performance and technology, featuring live motion capture and digital creature design, audiences are transported into a reality where we are not earth's apex predator – and in turn – are invited to think deeply about the beauty of the world in which we walk.
Fuck Christmas
Fat Fruit (Sarah Ward & Bec Matthews) and director Susie Dee close out Malthouse's 2024 program with a wild, mutinous, punk celebration of Christmas, Fuck Christmas. It's time to challenge the norm, flip four calling birds to tradition, and embrace the festive chaos.
From the suffocating binaries of boys and girls, naughty and nice, to the children forced to sit on an old man's knee, to the overconsumption, joy, excess, greed, sharing, bringing people together, and tearing them apart – we're going to unwrap secular traditions and create an alternative celebration and tradition.
---
Tickets to The Hate Race, Yentl, Homo Pentecostus, and Macbeth (An Undoing) are now on sale to Malthouse Supporter Community, and on sale to general public on Thursday 24 August 2023. Tickets to Multiple Bad Things, The Interpreters (Apologia), Under the Skin, and Fuck Christmas are on presale from Thursday 8 February 2024 to Malthouse Supporter Community and on sale to general public on Thursday 15 February 2024. For more information, visit: www.malthousetheatre.com.au for details.
Images: The Hate Race – photo by Tiffany Garvie; Yentl – photo by Mark Gambino; Homo Pentacostus – photo by Kristian Gehradte; and Macbeth (An Undoing) – photo by Boogie