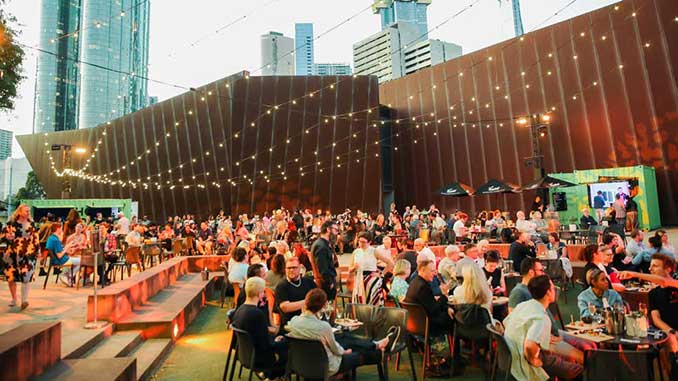 Osher Günsberg, Rhys Nicholson, Em Rusciano, Michelle Brasier, Reuben Kaye, Clementine Ford, Linda Morrison, Dan Kelly, Eliza Hull to feature in the 2024 Malthouse Outdoor Stage Program this Summer.
Melbourne's cultural heartbeat is getting ready to pulse as Malthouse Outdoor Stage announces its triumphant return for its third consecutive summer season, commencing in February 2024.
Malthouse's annual summer venue has undergone a major upgrade supported by the Victorian Government ahead of the 2024 season, solidifying its status as a permanent outdoor fixture and Melbourne's premier destination for live outdoor entertainment.
Completed this month, the extensive project has improved both aesthetics and functionality streamlining the seasonal setup for performers, while also promising to enhance the overall visitor's experience.
Malthouse audiences will be treated to an abundance of outdoor seating, locally produced wines from the Malthouse Bar as well as Greek snacks from its new resident cafe Koyzina.
As it prepares to usher in a new era of openair performances, the reinvigorated Malthouse Outdoor Stage invites audiences to immerse themselves in an unforgettable summer of brilliant live music, comedy, cabaret and podcast entertainment.
"Malthouse is kicking off the summer with a completely revamped outdoor stage," said Matthew Lutton, Malthouse Artistic Director & Co-CEO. "The program will feature some of the country's most exciting comedians including Reuben Kaye, Rhys Nicholson, Em Rusciano and music from Eliza Hull, and Snarkicircuslindyband.
"We're looking forward to audiences experiencing stellar acts, in a truly one-of-a-kind setting, under the night sky."
---
The 2024 Malthouse Outdoor Stage kicks off on Thursday 1 February. For more information and full line-up, visit: www.malthousetheatre.com.au for details.
Image: Malthouse Outdoor Stage Area – photo by Tamarah Scott