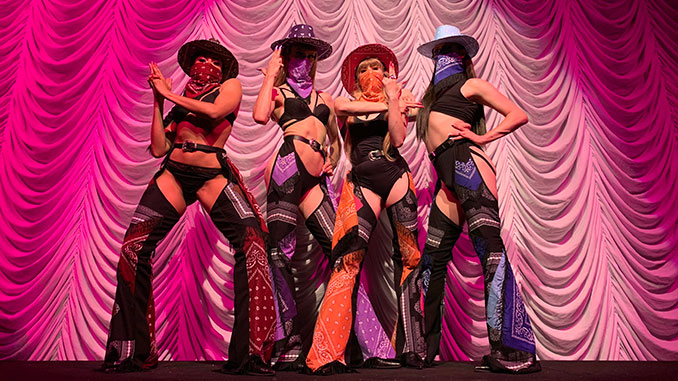 It may not be heaving dance floors in a packed Club Fringe or standing ovations inside venues this year, but the Melbourne Fringe Festival is still here and ready to make some noise!
After some hefty bumps in the road recently, the 2021 Festival has been re-imagined, and ready for audiences to "ride out the roadmap". After the lockdown extension was announced, Australia's independent artists went back to the drawing board.
This week, the Festival is proud to announce a formidable and fabulous program of 126 shows that can be enjoyed across Australia and worldwide from 30 September – 17 October 2021.
Since the original program launch in August (when in-person Festival events could still potentially proceed) 44 new shows have been added to the program and 55 in-person events have also adapted for digital platforms for people to enjoy in their homes.
The new Melbourne Fringe Festival by the numbers:
• 126 shows total (including 44 new events since the original program launch)
• 117 digital (39 live and 87 on-demand events)
• 9 in person (2 IRL events to enjoy at home and 7 to see "in the wild")
• 83 Australian premieres
• 40% award winning shows or artists
Through screens, earphones and mailboxes, independent artists from Melbourne and far beyond are ready to share ground-breaking, noise-making art from 30 September 2021.
Audiences in Melbourne, Sydney or across the globe, can enjoy a bold and boisterous program of comedy, theatre, cabaret, experimental art, dance, visual art, design and anything else you can possibly imagine from Fringe without even leaving their local area.
Melbourne Fringe Creative Director and CEO, Simon Abrahams remarked on the resilience and innovation of the artists presenting this year's program.
"I'm so proud that Fringe's independent artists have been able to take this difficult moment in their stride and will still present a Festival full of fun, bold and experimental art, tackling big ideas," he said.
"We made an impossible festival in 2020, and we can do it again. After 18 extraordinarily difficult months, our artists have got a lot to say about the world and current events."
"There's so many boundary-pushing and exciting works that will enrich the lives of audiences in lockdown with online events as well as unique, at home experiences and surprising outdoor encounters. There's some big dramatic works, but there's also plenty of irreverent, celebratory and fabulously fun events."
"Our hearts are with all the artists whose works couldn't proceed in this year's Festival. We're working to find opportunities for as many of these works as possible to be presented in the coming months and into 2022," said Abrahams.
The Festival kicks off with the opening ceremony – a free, digital event Art Guides the Way on Thursday 30 September. This special event will pay homage to the Festival that could have been, and celebrating the Festival it is.
Ten Fringe artists with cancelled events have been commissioned to make new art (including circus, cabaret and comedy) – literally re-using and re-purposing the printed Fringe guides. Like a Phoenix from the ashes, the Guides will take on new life as a series of amazing one-off performances in an evening not to be missed.
The majority of the Festival's originally planned signature events that cannot be executed due to lockdown restrictions will be rescheduled from November onwards, with a highlights season to be presented in 2022 at the Festival's year-round venue Fringe Common Rooms at Trades Hall. Dates to be announced soon.
While Melburnians may still be apart, Fringe is a chance to come together. It's a chance to share incredible art – to laugh, to lament, to sing and to find solace. So, make some noise for the artists of Melbourne Fringe Festival from 30 September to 17 October 2021. For more information and full program, visit: www.melbournefringe.com.au for details.
Image: YUMMY: How to Make a Western – photo by James Welsby
---
Highlights of the 2021 Melbourne Fringe Festival Program:
Audible Cubicle – A psychedelic audio-visual journey through the public toilets of Melbourne's northern suburbs – inner urban cubicles. Public conveniences (within a 10K radius from home) reimagined as a kaleidoscope of sound and visuals – On Demand!
Dazza and Keif Reenact the Titanic Movie Playing All the Roles – problematic breakdancing drag kings Dazza and Keif present their interpretation of the 1997 blockbuster that took the world by storm– On Demand!
Design Fringe: Designers on Our Doorstep – showcases a wide range of local designers and their works. Accessible online as well as on posters across the City of Port Phillip, and supported by its new home at Linden New Art, you will gain access to the homes and working methods of the designers featured in this year's Design Fringe program – On Demand!
Digital Dance Club with All the Queens Men – a free online dance event to connect the rainbow and allied community during these turbulent times. Boogie on down to Zoom-town for dancing, lip syncing and very special guest performers. Wed 13 October (5.00pm)
Let Me Get Something Off My Chest –  is a polemical storytelling event featuring some of Victoria's LGBTIQA+ artists and activists telling the world what's making them laugh, cry or sigh this year. This edition is hosted by barrister and civil rights campaigner Gemma Cafarella and features speeches from Maddox Gifford, Paul Kidd, Chloe Lewis, Yves Rees and Ricki Spencer – On Demand!
Multiply: The Film – A film chronicling the of the most profound, collective experiences of 2020 – emerging from lockdown and re-joining our communities in-person. Hundreds of physically distant participants gathered in Prahran Square to bring to life a new work by acclaimed choreographer Stephanie Lake – On Demand!
Queer-aoke – a rambunctious living room karaoke party celebrating music's biggest queer names and most beloved queer anthems. Throw on a lewk, warm up that voice, rally your household and get ready to raise the roof from the comfort of your own home! 7 & 14 October (8.00pm)
Selina Jenkins Sings – Whether they be songs of protest, humour or heartache, this highly relatable content will have feet tapping, minds ticking and hearts racing. It's a rare opportunity to catch Selina performing outside of her stage shows, and one you don't want to miss – On Demand!
Star Spangled Banter – This show laments, salutes and magnifies homogenised anthems. Using the national anthems of Australia and U.S.A as a starting point, this solo by Jonathan Homsey creates a vocabulary of somatic oxymorons. this work unravels how cultural and political phenomena sit within our body and how we can expunge them one booty-shake at a time – On Demand!
That One Time I Joined the Illuminati – Do the Illuminati actually exist? What's their big secret? And can a 24-year-old with social anxiety, insurmountable HECS debt and a penchant for using their birthdate as their PIN somehow infiltrate the global elite? Follow Lou Wall as they take you down a rabbit hole into the darkest and strangest corners the internet has to offer – On Demand!
YUMMY: How to Make a Western – A spaghetti western spoof exploring westward expansion and the perils of manifest destiny. This production was shot as a feature-length film and will be screened in full with hilarious audience engagement – On Demand!