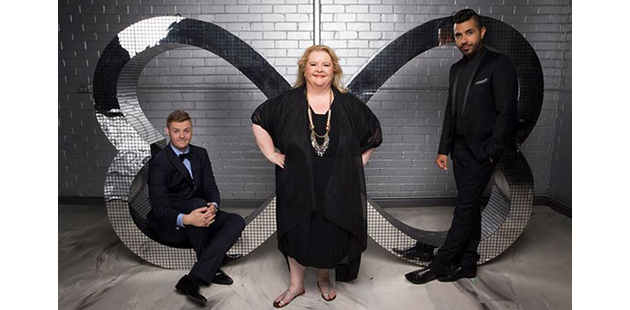 With the 2015 Sydney Gay and Lesbian Mardi Gras Parade only a matter of weeks away, SBS Television has announced that comedian and actress Magda Szubanski, along with comedian Tom Ballard and journalist and reporter from SBS 2's The Feed Patrick Abboud will host the Parade broadcast on Sunday 8 March.
The Sydney Gay and Lesbian Mardi Gras is one of the world's largest, most high profile and most loved LGBTQI celebrations, providing an opportunity to commemorate a universal message of diversity, equal rights, pride and inclusion.
"Mardi Gras is a wonderful way for all kinds of people to come together in a friendly, accessible celebration of diversity," says Co-Host Magda Szubanski. "It's the party to end all parties and everyone is welcome to join in."
"So get your bedazzlers ready, pop on your sequined onesies – Australia, it's time to get your gay on . . . I know I will. I'm thrilled to be a part of the sparkle and magic of the Sydney Gay & Lesbian Mardi Gras Parade on SBS."
"I couldn't be happier to be returning to the SBS family for this year's Mardi Gras coverage," says Co-Host Tom Ballard said,  I've got my sequins sorted, I've got my Grindr subscription updated, I've got the journalistic nous of Patrick Abboud and I'm co-hosting with one of the funniest people ever, Magda Szubanski."
SBS's exclusive television broadcast will be streamed online at the same time and will include the best of the spectacular floats and costumes in the parade with commentary from Magda Szubanski, Tom Ballard and Patrick Abboud live on the streets, as well as interviews with celebrity guests.
The coverage will also include stories from the parade participants exploring the messages behind the floats, covering issues of sexuality, equality and discrimination that affect the LGBTQI community.
"Last year we were incredibly proud to return Sydney Gay and Lesbian Mardi Gras to free-to-air television for the first time in twelve years, and are thrilled to build on the success of the broadcast to bring this iconic event to all Australians on SBS ONE in 2015," says SBS Managing Director Michael Ebeid.
"Mardi Gras is a celebration of the LGBTQI community, which goes straight to the core of SBS's purpose – to explore, appreciate and celebrate diversity and by doing so, contribute to a more cohesive society. SBS's Mardi Gras coverage is the perfect opportunity to give a voice to unique Australian stories and experiences."
The theme for the 37th Sydney Gay and Lesbian Mardi Gras is passion – an unstoppable force which drives action, unites people and above all, inspires. SBS is embracing the passion with its very own colourful float set to shimmy its way into this year's parade route. For more information about the SBS broadcast, visit: www.sbs.com.au for details.
The 2015 Sydney Gay and Lesbian Mardi Gras runs 22 February – 7 March. For more information, visit: www.mardigras.org.au for details.
Image: Tom Ballard, Magda Szubanski and Patrick Abboud – courtesy of SBS