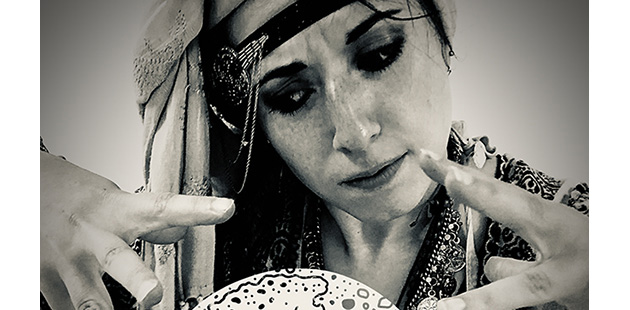 Starting Friday 13 November, experience New York's weird cabaret underbelly that's not often seen outside of the seedy Big Apple – until now – as Macábaret – A Zoom Seance is presented as part of the 2020 Melbourne Fringe.
Butch Mermaid and Thinkery & Verse are creating some sexy, spooky, safe fun for your Halloween season, featuring performers from a macabre cabaret scene that even New Yorkers are a little afraid of. Acts never seen in the light of day – until we have to perform at 8.00am in NYC for a Melbourne night time audience, that is!
Inspired by a 1920's fortune teller's shop in New York, Macábaret invites the audience to peer through Zoom into a dusty crystal ball and see a variety of acts filled with spooky, strange, silly and downright sinister spirits.
For each performance a different poor, lost soul will call into Madame Macábaret to seek advice from the spirit world. In response, a different line up of macabre performers from New York (and around the world) will be conjured to share their 'spirited' performances live on Zoom.
Karen Alvarado (Producing Director) is a Latinx actor, director and producer born in Corpus Christi, Texas. She grew up touring bilingual history plays in Texas and Northern Mexico. Ania Upstill (Director) is a physical theatre artist and clown based in Brooklyn, NY.
Alvarado and Upstill believe that the pandemic can't stop art. Macábaret is only one of their collaborations this year; others included two podcasts and a geocached 'ghost hunt' that allows participants to experience fragments of a play at different geographical locations. If this is our reality right now they're taking advantage and bringing performances to Melbourne audiences that they would otherwise likely never see!
"I wish I could have brought my solo show, Transhumance, to Melbourne Fringe this year in person," said Upstill. "Right now, though, this is what international travel looks like so let's have as much fun on Zoom as possible!"
---
Macábaret – A Zoom Seance
Digital Fringe – via Zoom
Performances: 13, 14, 20 & 27 November 2020
Information and Bookings: www.melbournefringe.com.au
Image: Macabaret | Butch Mermaid | Ashley Basile