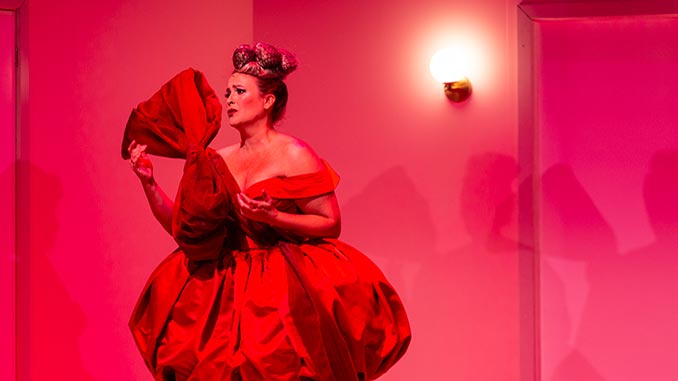 Victorian Opera is thrilled to present a return season of its instantly-iconic production, Lorelei, for a limited run at the Palais Theatre from 30 June – 2 July 2021.
Starring much-loved divas Ali McGregor, Antoinette Halloran, and Dimity Shepherd, the new Australian operatic-cabaret made a big splash with its world premiere in 2018; a sold-out season, critical and audience acclaim, a swag of nominations, and two Green Room Awards for Best New Australian Work and Best Set and Costumes (Opera).
Dressed to impress, the Lorelei are poised on their rock. Their songs are so beguiling that they cause ships to crash. But today our Lorelei are having a crisis of conscience. Must they keep doing things the way they always have?
The three fashionista sirens return to sing sailors to their doom once again. Questioning patriarchal norms and the stories we're used to telling, it's the show that redefined modern opera.
The brainchild of soprano and cabaret star Ali McGregor, Lorelei united a collaborative dream team of Melbourne's fiercest and funniest creative minds and voices.
Casey Bennetto (Keating! The Musical) and Gillian Cosgriff (8 Songs in 8 Weeks) combined forces to write a razor-sharp libretto. Composed alongside Julian Langdon (Seven Deadly Sins), the music is a modern blend of tango, pop, and classical writing.
Director Sarah Giles, nominated for a Helpmann Award for her work on the production, returns alongside conductor Phoebe Briggs, Victorian Opera's Head of Music.
Set and Costume designer Marg Horwell's designs, influenced by the impossible fashions of the Met Gala, earn their own applause for their stunning visual impact, popping under vibrant lighting design by Paul Jackson. Jim Atkins' sound design adds thrilling effect.
With its lush score, spectacular costumes and 75-minute runtime, Lorelei is the perfect opera for first timers and lovers of cabaret and music theatre alike. Their siren song is to die for, don't miss the boat!
Due to the delayed easing of restrictions, caused by Melbourne's most recent lockdowns, Victorian Opera regretfully must cancel the opening night of its forthcoming season of Lorelei on Tuesday 29 June.
The award-winning production will now open on Wednesday 30 June with subsequent performances on Thursday 1 and Friday 2 July at the Palais Theatre, St Kilda.
"From music and lyrics to set and costumes, it's an engaging package whose appeal goes well beyond the usual opera crowd." – Limelight
Director and Dramaturg: Sarah Giles Musical Director: Phoebe Briggs Featuring: Dimity Shepherd, Ali McGregor, Antoinette Halloran, Victorian Opera Chamber Ensemble Set and Costume Designer: Marg Horwell Lighting Designer: Paul Jackson Sound Designer: Jim Atkins Music: Julian Langdon, Casey Bennetto, Gillian Cosgriff Lyrics: Casey Bennetto, Gillian Cosgriff Orchestration: Julian Langdon Concept: Ali McGregor
---
Lorelei
Palais Theatre, Lower Esplanade, St Kilda
Season: 30 June – 2 July 2021
Information and Bookings: www.victorianopera.com.au
Image: Victorian Opera's 2018 production of Lorelei – photo by Pia Johnson