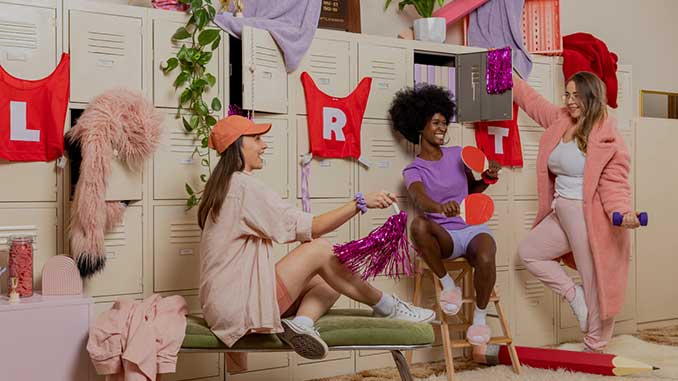 Set against the backdrop of a pop-up locker room serving some seriously sweet retro realness, No Vacancy Gallery is showcasing, until Sunday 3 April, over 30 artists – uniting Melbourne Women and Non-Binary Creatives, in Locker Room Talk.
Kate Pullen and Louise Brough are the brains behind Locker Room Talk. The project began as a response to the pressures they have endured as women – in work and life, paired with a desire to celebrate some of the incredible artists they admire.
"From a young age I learned that there were expectations around how I should look, what I should be interested in, how I spoke, and what my life goals should be, all based on my gender," said Kate. "Sometimes these were direct, other times much more subtle, and I didn't really become fully aware of their presence or power until my late 20s and early 30s."
The show aims to be a positive space for artists to explore what is important to them. What has been their experience? What pressure have they felt, and what did they want to communicate through its art? In turn, the realisation that our fears are often also held by others helps ease a little of our anxiety and confusion.
"Locker Room Talk is important to help individuals realise that they aren't alone in their uncertainties, doubts and journeys. This can provide a comfortable environment to help us be more compassionate towards ourselves and others," said artist Vanessa Bong.
On Friday 1 April everyone is invited to come and celebrate from 6.00pm. Absorb the show, pick up some cute merch, scrawl a positive message in the Who Gives A Crap toilet stall, and grab one of the limited number of free espresso martinis, care of Minor Figures.
Exhibiting artists include: 23rd Key, Abbey Rich, Ashley Ronning, Bea Vaquero, Bonnie Eichelberger, Brook Gossen, Carla Scotto, Casey Schuurman, Daisy in Dots, Eleonora Arosio, Elin Matilda Andersson, Elise Lampe, Ellen Porteus, Emma Rowland, Jessica Cruikshank, Jessica Singh, Julia Laskowski, Karen Bravo, Kitiya Palaskas, Laura De La Chica, Mariko Konno, Melissa Ya, Mimi Leung, Moonshine Madness, Nani Puspasari, Pey Chi, Pink Bits, Plush Magic, Rebecca Mills, Samantha Curcio, Tegan Iversen, The Good Type Co, Tiffany Atkin, Vanessa Bong, Wanissa Somsuphangsri and Yan Yan Candy Ng – all artworks available for sale.
---
Locker Room Talk Exhibition
No Vacancy Gallery – QV Building, 34 – 40 Jane Bell Lane, Melbourne (Naarm)
Exhibition continues to 3 April 2022
Information: www.lockerroomtalk.com.au
Image: The Locker Room (supplied)