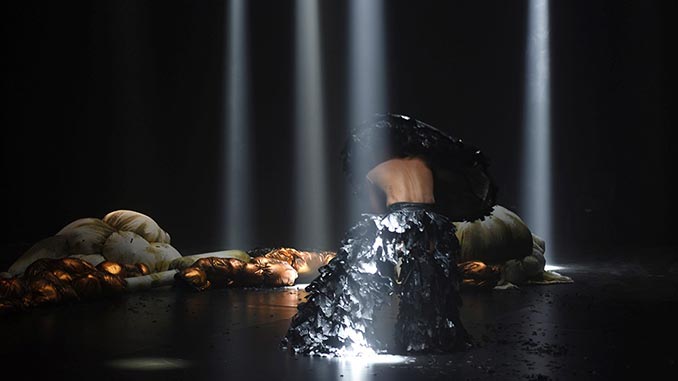 Performance Space has announced its dates for its renowned annual Liveworks Festival of Experimental Art 2021 from 20 – 24 October at Carriageworks.
Amidst upheaval across Australia and internationally, Performance Space remain committed to presenting a platform for artists to make bold new work, the Liveworks Festival of Experimental Art.
Now in its seventh year, Liveworks 2021 will return to its home at Carriageworks and continue with an evolved offering, an interactive digital program which was debuted to acclaim in 2020.
"Last year in 2020, we put on a festival in the midst of the pandemic. We radically transformed the shape of Liveworks so that we could bring brilliant new artistic work to life and offer a safe, inspiring and connected experience despite the intense challenges of the time," said Jeff Khan, Artistic Director and CEO, Performance Space.
"In a time of lockdowns, restrictions and border closures we reached national and international communities through our brand-new digital program; provided local audiences with inviting, thought-provoking and galvanizing artistic experiences; and supported a luminous and determined cohort of experimental artists to create incredible new works, the likes of which we hadn't seen before."
"This year, we build from this experience to once again offer Liveworks as a source of connection, renewal and hope this October, at a critical moment in local and global history. We will expand on our discoveries from 2020 to offer new kinds of artistic experience across digital and physical realms."
"Liveworks 2021 foregrounds extraordinary, curious, resilient and urgent artistic voices from across our region. As we all reckon with the continuing instability of our current moment, the artists and works of Liveworks begin to envision what's next: amidst all of the flux and upheaval, what opportunities do we have to reconnect with each other, rediscover pleasure and create more equitable and sustainable social structures?" said Khan.
The inventive, thought provoking program for Liveworks 2021 includes artist-led conversations, a glimpse into the future of experimental art in the making and the presentation of captivating, bold new work from the Asia-Pacific.
Liveworks Festival of Experimental Art 2021 will emerge in three program streams to enliven digital screens and invigorate physical spaces at Carriageworks:
LIVE FUTURES: A brand-new series of artist-led conversations about the future.
LIVE DREAMS: A dynamic platform for works-in-progress, exploring the art of tomorrow.
LIVE NOW: A program of new experimental art, expanding our perspective on what's possible.
Liveworks Festival of Experimental Art 2021 will offer audiences the opportunity to experience art that affirms our capacity for renewal, wonder and transformation.
---
Liveworks Festival of Experimental Art 2021 runs 20 – 24 October. Further program details to be announced soon. Tickets go on sale 2 September. For more information, visit: www.performancespace.com.au for details.
Image: AEON†: EPISODE I, Justin Shoulder, Liveworks Festival of Experimental Art 2020 – photo by Heidrun Lohr