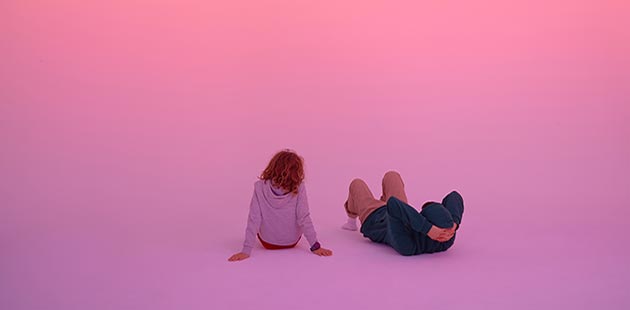 An illuminating program of experimental work from across Australia and the Asia Pacific, Performance Space has revealed the 2019 Liveworks Festival of Experimental Art, which takes place at Carriageworks this October.
Now in its fifth year, Liveworks Festival of Experimental Art is internationally known as a creative platform for captivating new work, inviting audiences to connect with bold and innovative performances, installations, parties, workshops and conversations over 11 days.
Each year, Performance Space brings together the most groundbreaking artists of our time to push artistic boundaries and create unexpected experiences. In 2019, a wide network of visionary artists, curators and organisations unite to present a series of new commissions and premiere works that collectively point to the future of contemporary arts practice.
For this year's edition of Liveworks, Performance Space is thrilled to present an expanded program of free events, including a new late-night music program, and some of its most ambitious Asia Pacific projects and artistic collaborations to date. Many of these works are commissioned in partnership with national and international colleague organisations, and are set to tour in Australia and beyond.
"As always, Performance Space is humbled to provide a platform for some of the most brave, bold and visionary work from the Asia Pacific," said Jeff Khan, Performance Space CEO and Artistic Director. "Artists have a remarkable capacity to imagine new worlds and open up new possibilities for how we live. In 2019 this work is needed more than ever."
"This year's celebration of experimental art converges around two central themes: our program of Feminist Sound features women and non-binary artists who champion the intersection of sound art, experimental music and performance. Elsewhere, an array of Culture Disruptors challenge the stories we tell ourselves about who we are, questioning the foundation and future of our cultural identities."
Performance Space is proud to present five newly commissioned major works, three world premiere performances, three Australian premieres and specially curated collaborations with some of the most significant Asia Pacific artists as part of Liveworks this year.
Highlights from the 2019 program include: Other Tempo – a dynamic performance installation of modified drum kits and visual scores by artist Lauren Brincat. Co-commissioned by Carriageworks and Performance Space, this free large-scale work is the first major commission of an Australian female artist to be showcased in Carriageworks' public space.
Under Brincat's direction, a group of celebrated women drummers – from emerging experimental musician Alyx Dennison to legendary former Go Betweens drummer Lindy Morrison – collectively present a unique approach to the sonic, physical and sculptural properties of their instruments.
In a newly-commissioned performance by feminist champions and pop provocateurs, Chicks on Speed fuse the group's signature electronic music genius with performance art and bespoke technology for I'll Be Your Body Instrument. Featuring Chicks on Speed's extraordinary objektinstruments – specially-crafted wearable music devices that create sound in visionary new ways, this all-encompassing performance casts a feminist lens on our techno-fixated culture.
Unbearable Darkness will see audiences witness an uncanny cybernetic dance experiment conjuring Butoh master Tatsumi Hijikata from beyond the grave using a spirit medium, live dance, motion capture and a lively digital avatar. Choy Ka Fai explores the legacy of the expressive and historic dance form Butoh, questioning its appropriation in Western culture while searching for a new choreographic language for the Asian body in this Australian premiere.
Daddy is the latest work from Joel Bray, one of the most electric new figures in Australian dance. From the sugarcoated idyll of childhood reminiscence to the glazed excesses of queer adulthood, Joel's story proves that a sweet tooth is a dangerous thing. An exploration of his insatiable cravings for father figures and the imperial all consuming hunger for Aboriginal Australia, Daddy probes one of the paradoxes of our age: when so much is on offer, why are we left so hungry?
Gail Priest and Thomas Burless present an exquisite installation and world premiere performance where science, sound and sculpture meet in A continuous self-vibrating region of intensities. Inspired by the lesser-known work of pioneering vocalist Margaret Watts Hughes and her 19th century invention, the Eidophone – the artists have created a collection of sculptures and devices that convert the human voice into a mesmerising display of visual patterns and effects. Each night, vocalists Carolyn Connors and Sonya Holowell join Priest to sing these objects to life, enabling us to hear and see sound at the same time.
Samara Hersch brings her intimate new work and surprising, challenging and tender experience Body of Knowledge to Liveworks in 2019. Performed by teenagers, who call into the theatre on mobile phones – this work is a powerful meditation on age and change: changes to bodies, changes in attitude and changes to life. Questions of boundaries, sexuality, pleasure, shame, pain, consent, ageing, grief and death are all on the table as teens from across Australia and the globe chat with the audience in real time from their bedrooms.
When you're an artist from the world's oldest living culture, expectations crowd your work. With gleeful humour and sharp observation, plenty serious TALK TALK puts front-and-centre the parts of Indigenous art-making that usually remain behind the scenes. Weaving threads of stand-up, visual art and new media into dance theatre, this new solo performance by renowned choreographer Vicki Van Hout skilfully lays bare the complexities of negotiating culture across disciplines, genres and eras.
Performance Space welcomes sound art pioneers Liquid Architecture to Liveworks for the first time with Tricks of the Mouth – a curated showcase of groundbreaking female Asia Pacific artists. Immersing audiences in a series of interconnected performances, this unique program explores tricks of the mouth, chatter, translation, verbalism and linguistic re-coding, and features legendary Japanese musician Phew and Yogyakarta-based speculative coder, designer, and horror-aficionado Natasha Tontey.
Iconic Sydney performer and Performance Space alumni Betty Grumble returns with The Unshame Machine– a pussy printing party and deep-squat disco of experimental bodily becoming, storytelling, sharing and sex. Noting the histories of fellow printmakers, c*nt loving science and defiance, this collaborative performance and installation features some excellent tunes, and says "F*%k the shame machine – power to the pussy."
In Double Double, celebrated dancers and choreographers Jo Lloyd and Deanne Butterworth are joined by interdisciplinary artists Evelyn Ida Morris and Tina Havelock Stevens – each on drums – in an epic meeting of four performers where spontaneous compositions and formations emerge out of a physical and sonic mania. Motion and noise slap against each other as tension escalates, making for a riveting sensory experience.
In a specially curated exhibition and performance project, Performance Space and 4A Centre for Contemporary Asian Art bring John Vea's work to Australia for the first time. Known for his ongoing exploration of Pacific migrant workers, If I pick your fruit, will you put mine back? – challenges viewers to consider the equality and validity of a global workforce.
Anchored by his signature wit and humour, Vea's video, installation and performance practice has been defined by a journalistic investigation into how workers from Moana Nui a Kiwa (the Pacific Ocean) have been co-opted as labour for both Aotearoa (New Zealand) and Australia.
In an exciting new collaboration for Liveworks 2019, Performance Space and Bombay Sapphire present Sonic Nightcap – a free program of rich entertainment and after-hours parties in The Bombay Sapphire Canvas Bar. The multi-sensory interactive hub plays host a specially curated program of performances every night by female, non-binary and gender diverse artists working at the cutting edge of electronic music, sound art, pop and contemporary performance.
Leading artists will share the inspirations that shaped their artistic practice and sparked the ideas for their Liveworks projects in our Livesparks program, co-presented with Bombay Sapphire. In an intimate one-off event in The Bombay Sapphire Canvas Bar, free artist readings and performances will be framed by creative conversations with Jeff Khan, Performance Space's CEO and Artistic Director.
The sixth edition of Liveworks' beloved queer performance and party extravaganza, Day for Night is set to take audiences on an epic journey through queer space and time. As day becomes night, a series of newly commissioned performances and exquisite installations see some of Australia's brightest and best queer artists reinvent and re-figure their work for the glittering unfurling of Sydney's hottest queer art party.
Performance Space is delighted to deliver an additional series of Conversations and Workshops as part of the Liveworks 2019 program, where some of the most exciting voices in the Asia Pacific will discuss their experimental and multi-disciplinary practices. Audiences are invited to get hands-on with the artists, educators and collaborators of Liveworks and gain new perspectives into what it means to be making work – here and now.
Liveworks Festival of Experimental runs 17 – 27 October 2019 at Carriageworks. For more information and full program, visit: www.performancespace.com.au for details.
Image: Samara Hersch – Body of Knowledge – photo by Pier Carthew