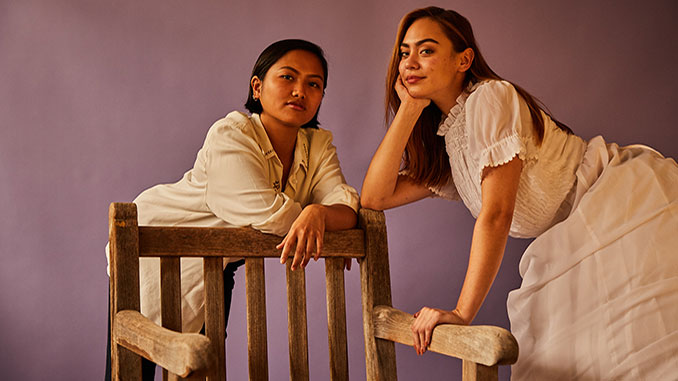 Sally Davies and Melanie Julien-Martial celebrate the true universality of a beloved text, bringing their new adaption of Little Women to the stage this November at The Blue Room Theatre.
Jo would rather paddle her own canoe and die a spinster than give up her freedom for a man. Amy, on the other hand, would give anything to be loved, and even more by someone rich. Meg is content to be settled with her Mr Brooke. And Beth just wants everyone to be happy and to play her music.
This queering of Louisa May Alcott's timeless coming of age tale finds something to admire and loath about each of the March sisters and their neighbour Laurie, as they grapple with everyday life, tragedy, love, and independence.
Featuring a stellar cast including Cezera Critti-Schnaars, Jess Nyanda Moyle, Ramiah Alcantara, Amber Kitney, and Mani Mae Gomes, and designers Eilish Campbel, Joe Paradise, and Rhiannon Petersen, experience Little Women as you never have before.
Mel & Sal is a new production collaboration between Perth based performance-makers Melanie Julien-Martial (Two Canaries; Cephalopod; Final Form; The Jellyman) and Sally Davies (Ugly Virgins; A Region Where Nobody Goes; Tunes From The Roadside).
Inspired by Kaitlyn Greenidge's New York Times article The Bearable Whiteness of Little Women, the duo have placed a diverse and queer lens via an entirely non-white, female cast to challenge erasures and silences of non-white voices within the literary canon.
Co-Producer & Director: Melanie Julien-Martial | Writer & Co-Director: Sally Davies | Featuring: Jess Nyanda Moyle, Cezera Critti-Schnaars, Mani Mae Gomes, Amber Kitney, Ramiah Alcantara | Set & Costume Designer: Eilish Campbell | Sound Designer: Joe Paradise Lui | Lighting Designer: Rhiannon Petersen | Dramaturg: Alexa Taylor | Stage Manager: Catherine O'Donoghue | Co-Producer & Publicist: Kailyn Crabbe | Marketing: Simeon Neo
---
Little Women
The Blue Room Theatre, 53 James Street, Northbridge (Perth)
Season: 9 – 27 November 2021
Information and Bookings: www.blueroom.org.au
Image: Little Women – photo by Duncan Wright