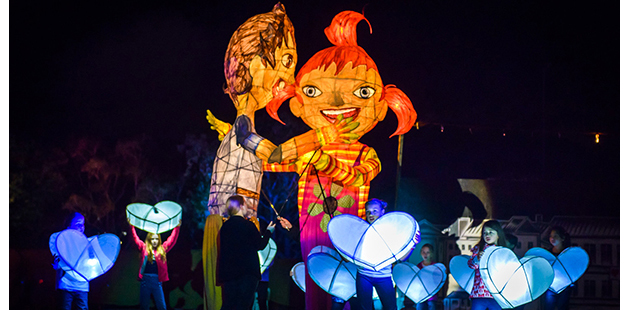 Now in its 24th year, the Lismore Lantern Parade is an annual community arts festival held on or around the longest night of the year, the Winter Solstice.
Attracting in excess of 30,000 people each year, the festival celebrates community, art and nature with arts, crafts, workshops, regional cuisine, a spectacular parade, lanterns, parade bands, street theatre, music, carnival dancers, illuminated puppets, fire art and pyrotechnics.
"Lanterns, fire and outdoor celebration are deeply embedded in many cultures from China, Japan, Burma and Vietnam to Europe and Africa," says Jyllie Jackson, Artistic Director and CEO, Lismore Lantern Parade. "The lantern represents a positive metaphor for community optimism and hope throughout the world and it was from this tradition that the Lismore Lantern Parade was born."
Celebrating 24 years of bringing light to the heart of Lismore, this year's theme Wonderland, will be a cross between an enchanted fairy tale paradise and a colourful fantasy dreamland. The universal and multicultural theme makes the Lantern Parade appealing to people from all walks of life and nationalities.
The devastating floods in early 2017 brough much heartache to Lismore Lantern Parade organisers – as three metres of water swept through their old workshop, destroying much of their lanterns, materials and tools. But they have thrived – moving into their new workshop, creating installations for the Commonwealth Games Cultural Festival, working on events for an international audience, and planning this year's lantern parade.
With their finale home of five years, Oakes Oval, not available this year due to delays in the facility upgrade, the Lismore Lantern Parade will be presented around the Lismore Quadrangle (The Quad) precinct, including the Conservatorium and Fredrick's Carpark, for the day's activities and parade finish.
The Quad will be transformed into a magical wonderland full of light projections, fire art, bonfire, fireworks, delightful creatures and luminous garden surprises that will amaze and inspire.
The 2018 Lismore Lantern Parade will be held on Saturday 23 June. For more information and program overview, visit: www.lanternparade.com for details.
Image: Lismore Lantern Parade – photo by Natsky