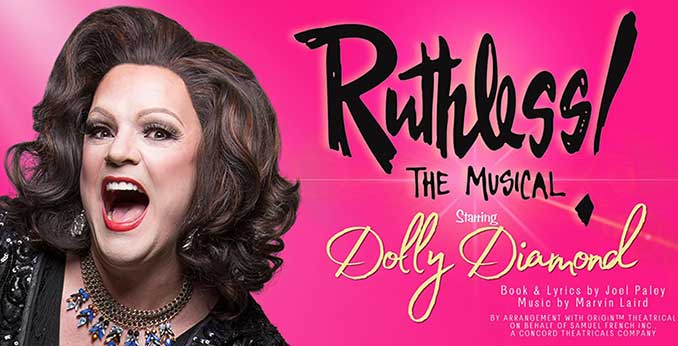 Ladies, gentlemen, and all you fabulous folks in Melbourne, brace yourselves for a spectacle like no other, as the Queen of Cabaret, the unstoppable Dolly Diamond, takes to the stage in Ruthless the Musical! at St Kilda's Alex Theatre in March 2024.
Hold onto your sequins, because Dolly is here to sprinkle her magic dust and leave you in stitches! This sensational production is proudly brought to you by Stagebugs Productions.
Dolly Diamond, is stepping into the iconic role of Sylvia St. Croix, and she's determined to turn the theatre upside down. With a sense of humor sharper than a stiletto heel, Dolly declares, "I've waited years to play this role on stage, I've been playing it off stage all my life." Melbourne, get ready for a masterclass in sass, camp, and uproarious hilarity!
"When I saw Ruthless in New York I thought, that's the role I was born to play… but they didn't offer me the child star role of Tina Denmark, so I'm playing Sylvia St. Croix instead!" said Ms Diamond.
Dolly Diamond isn't just a star on stage; she's also a dedicated Ambassador for Guide Dogs Australia, Movember, and the LGBTQ Domestic Violence Foundation. Her illustrious career has taken her to countless stages, from the Adelaide Cabaret Festival to the Sydney Gay and Lesbian Mardi Gras.
She's even left her mark on the international stage, performing at the Edinburgh Fringe as part of the House of Oz line-up and hosting Dolly Diamond's Rather Large Variety Night @ Just the Tonic.
She'll be joined by a team of theatrical titans that will make Ruthless the Musical! a laugh-out-loud riot. Leading the charge is Chelsea Matheson, the Director extraordinaire known for her ability to weave theatrical magic into every production, and her remarkable work with the Melbourne Shakespeare Company and Three Fates Theatre Company.
In the music department, we've got the incomparable Dave Barclay as our Music Director, a maestro whose work includes tick, tick… BOOM! and Little Shop Of Horrors. Expect musical numbers that will have you tapping your toes and humming along.
Adding a dash of elegance and a sprinkle of pizzazz is none other than Michelle David, making her Australian Choreography debut, but with a list of credits from the UK that could circle a double-decker bus. Prepare to be utterly bewitched– it's like watching Fred Astaire and a sprinkle of fairy dust rolled into one!
Behind the scenes, our creative geniuses are ready to dazzle. Damian Jones, known for his enchanting set designs will work his magic, and Sidney Younger, our lighting virtuoso with credits in Bananaland and Songs for a New World, will cast his illuminating spell, leaving you awestruck.
In this uproarious musical, featuring Marvin Laird's catchy tunes and Joel Paley's witty book and lyrics, prepare for a wild ride! This riotous and fabulously camp production has earned thunderous applause throughout its extensive Off-Broadway residency.
With a mischievous nod to classics like Gypsy and Mame, as well as iconic films such as All About Eve, it serves up a satirical feast, poking fun at the relentless pursuit of fame and fortune by those irrepressible "show brats."
Melbourne, we're not just excited; we're downright ecstatic to have Dolly Diamond as our Sylvia St. Croix. Get ready for a night of laughter, camp, and entertainment that will leave you in stitches! Ruthless the Musical is your ticket to the comedy event of the year.
Are you prepared to laugh until your mascara runs? This is the one show you absolutely can't afford to miss! And as Dolly herself says, "I'm ready for my Sylvia St. Croix close up!"
Prepare for an evening of comedy and show-stopping moments that will have you rolling in the aisles! Get ready for the comedic ride of a lifetime with Dolly Diamond in Ruthless the Musical!
---
Ruthless the Musical!
Alex Theatre, 1/135 Fitzroy Street, St Kilda
Season: 1 – 24 March 2024
Information, visit: www.stagebugsproductions.com
Image: Dolly Diamond to star in Ruthless the Musical! – courtesy of Stagebugs Productions