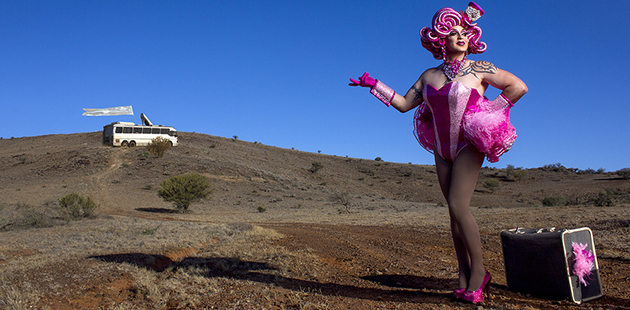 With a bus bursting full of fabulous frocks, Philmah Bocks and Art Simone are hitting the road once again to make their annual pilgrimage to Broken Hill. The two ladies are both extremely excited to be hosting the 2nd Broken Heel Festival in September 2016.
"I just can't wait to throw on a some sequins and roll in the red dirt, it's such a wonderful juxtaposition for me to feel so glamorous and yet so dirty at the same time," says Co-Host Philmah Bocks. Celebrating The Adventures of Priscilla, Queen of the Desert – the film that changed my life, and being able to do what I love, makes me one lucky girl!"
This year's festival promises to be even wilder, with over 20 acts and such an odd variety of events as to surely rival the Parkes Elvis Festival as the most unique weekend on the Australian calendar. The Broken Heel Festival celebrates Priscilla's themes of diversity, drag, music, friendship, adventure, and the wonders that can be discovered when you get off at the wrong stop.
Entertainment for the three days in Australia's only heritage-listed city include: the spectacular arrival of a bus full of stunning drag queens and kings from around the nation; an Abba tribute band, cabaret and comedy acts, and  DJ's, all performing from a stage bedecked with a four-metre tall stiletto, and the original bus from Priscilla, Queen of the Desert the Musical.
Events over the weekend include: a chicken champagne breakfast; an outrageous main street parade; art exhibitions and markets; a schnitzel crawl; ping pong competitions; and of course, an inevitably ribald screening of the legendary film itself. Sydney's ACON team, alongside local sexual-health workers, will be back with their mobile testing HIV unit, chill space and popup photo booth in the outdoor arena of the event.
Attendees will even have the chance to meet Shirl (actress June Bennett) who, in one of the film's most memorable moments, dared to take on Bernadette in a drinking competition… and speaking of drinks, Adelaide Hills Prancing Pony Brewery will be bringing their Giddy Up Bar, and selection of Fire brewed beers to quench your thirst!
Of course, half the fun of the Broken Heel Festival will be found in the unexpected, those unscripted, unpredictable moments that tend to happen when hundreds of drag queens take over an outback mining town for an entire weekend. Roadtrippers, fun seekers and those all dressed up with nowhere to go are welcome to the Broken Heel Festival at Broken Hill, on the western edge of NSW… a mere 1100kms from Sydney.
"I can't wait to put on some thongs again!" says Co-Host Art Simone. "I'll be stopping at every K-Mart along the way to purchase every pink and orange thong, there will be a national shortage come September!"
The 2016 Broken Heel Festival takes place Friday 9 – Sunday 11 September. For more information and bookings, visit: www.bhfestival.com for details. The Outback has never looked so fabulous!
Image: Philmah Bocks is heading off to Broken Hill for the 2nd Broken Heel Festival (supplied)