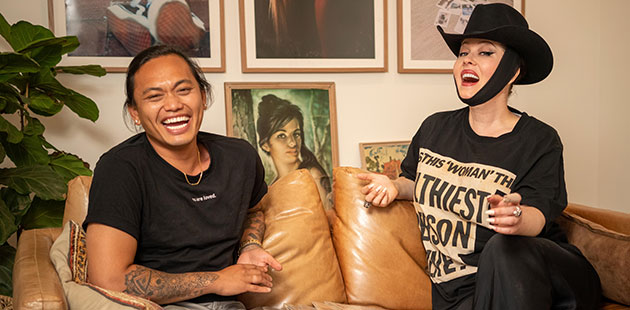 A range of LGBTQI+ community projects across Australia will receive grants of up to $10,000 each as part of the third annual ANZ and Sydney Mardi Gras Community Grants program.
The 11 not-for-profit organisations and individuals will use the funding for a wide range of community projects, including education and training, community development and creation, and arts and culture, making positive impacts on the LGBTQI+ community.
Grant recipients this year include: Boomalli Aboriginal Artists Co-operative who will produce an art exhibition to highlight and create opportunities for Aboriginal and Torres Strait Islander LGBTQI+ artists; Frontyard Projects Inc who aim to deliver interactive and engaging financial literacy workshops for LGBTQI+ youth; and Tanzer, an award-winning music and film artist who will collaborate with 20 other alternative queer artists to produce an interactive art installation that explores queer identity.
"As part of ANZ's continued support of the LGBTQI+ community, we're thrilled to once again partner with Sydney Gay and Lesbian Mardi Gras to award grants to individuals and organisations that are working hard to improve the lives of LGBTQI+ people," said Michelle Jablko, ANZ Chief Financial Officer and Executive Sponsor of ANZ Pride. "These projects will make a real difference to many Australians and we can't wait to follow the journeys of the recipients in delivering their initiatives around the country."
"This year's recipients have all shown that they're committed to bettering the lives of those in the LGBTQI+ community," said Albert Kruger, Sydney Gay and Lesbian Mardi Gras CEO. "We're thrilled to support them to deliver a range of projects aimed at youth and elderly, first nations, transgender and gender diverse people, mental health, and people living with a disability."
The partnership between ANZ and Sydney Gay and Lesbian Mardi Gras has spanned over 14 years and the grants program is an extension of the partnership beyond official festivities to further support the LGBTQI+ community. For more information, visit: www.anz.com for details.
Image: Khanh Ong and Tanzer (supplied)
---
2020 ANZ & Sydney Mardi Gras Community Grants recipients:
ACON's Pride in Sport Australia (NSW): ACON's Pride in Sport program is Australia's first and only sporting inclusion program specifically designed to achieve best practice as benchmarked by the Pride in Sport Index. This helps create inclusive spaces though the reduction of homophobia, biphobia, and transphobia stigma and discrimination, and better health outcomes for LGBTQI+ people. This grant will allow ACON to build the capacity of two national sporting organisations through a 12 month consultation partnership, dedicated LGBTQ Mental Health Awareness Training, development of sport specific LGBTQI+ resources, social media campaign and visibility items for the sport to utilise in showing their allyship to the LGBTQI+ community.
Boomalli Aboriginal Artists Co-operative (NSW): Boomalli provides a safe space for artists to express their sexual orientation and identity through the visual lens. The grant will help produce an art exhibition that will highlight and create opportunities for Aboriginal and Torres Strait Islander LGBTQI+ artists and communities. The exhibition will be curated by Aboriginal artist, Dennis Golding, and will be available to view in person or online via a virtual tour using 360 technology.
Frontyard Projects Inc (NSW): Queering Money Management is an education-focussed initiative collaborating with leading LGBTQI+ accountants and creative professionals to deliver interactive and engaging financial literacy workshops for LGBTQI+ youth. The workshop series will be offered to LGBTQI+ youth across Sydney, Brisbane and Melbourne at no cost. Queering Money Management is an LGBTQI+ community-focussed collaboration between Frontyard Projects, The Accountability Institute and Monash University, endorsed by Chartered Accountants Australia and New Zealand and creative performing artist, Karen from Finance. The workshops will enable LGBTQI+ youth to make informed financial decisions and help them to build future resilience.
GLBTI Rights in Ageing Inc (WA): A community-run event that celebrates LGBTQI+ pride and builds an environment where people can feel safe, be themselves and connect with new people. The core focus is to provide a safe space for LGBTQI+ elders and the wider community to come together and connect through dance, games and social interaction, with many positive benefits to the community especially following the effect of COVID-19. A youth LGBTIQ+ dance will also be held to support young people.
Jamila Main (SA): Actor and playwright, Jamila Main, will stage her new play Butterfly Kicks in Adelaide in 2021. The story follows Milla, Annabel, and Bea as they ride a wave of consequences of visible queerness in post-plebiscite Australia. The project will be produced with a queer, professional, award-winning team that includes trans and disabled artists and queer people of colour. The play will also be livestreamed for interstate and international audiences.
Jess Permezel (VIC): This grant will help Jess Permezel create a website that will provide free and culturally safe childbirth education resources for LGBTQI+ individuals and families. The first of its kind in Australia, this website will address the urgent need for resources and information specific to LGBTQI+ folks who are preparing for childbirth and early parenting. The website also aims to become a key resource for educating perinatal care providers on LGBTQI+ safe and inclusive practice.
LGBTQ Domestic Violence Awareness Foundation (QLD): The LGBTQ Domestic Violence Awareness Foundation was established to help end domestic, family and intimate partner violence (DFV) and abuse within LGBTQI+ communities. This grant will help to increase visibility through an awareness campaign and will support workplaces, educational institutions and the broader community to observe annual LGBTQI+ Domestic Violence Awareness Day campaigns through targeted information and resources.
Low Standards (NSW): Created by twins Jeremy and Bedelia Lowrencev, two young, queer, disabled artists from Western Sydney, Low Standards is a multi-disciplinary, devised theatre piece working across physical theatre, verbatim and audio art, specifically developing the new discipline Auslan Choreography and told through Auslan dialect. This experience will connect artists within and across these communities, and drive visibility of queer and disabled people in the arts sector.
The Mischief Sisters (NSW): This duo of storytellers plan to make a world class short film on the work of Dr Mark Cross, a psychiatrist specialising in LGBTQI+ issues. The film, whilst beautiful and warm, won't be afraid to deal with the darker side of anxiety issues within the community and will bring Dr Cross' message of kindness and hope to his own community and a broader audience. The audience will also learn how to deal with their own anxieties using his techniques.
Spectrum App (NSW): Spectrum is a market first, queer community app made in Australia that allows users to find, rate and add safe spaces, as well as providing a knowledge base for LGBTQI+ issues such as coming out, sexual health and community stories. Additionally, Spectrum has a list of emergency contacts, and a fully customisable user profile. To help overcome the mental health challenges of COVID-19, Spectrum aims to expand to include an Events feature, acting as a centralised hub where users can access events from a range of queer organisations that focus on bringing the community together.
Tanzer (VIC): Award-winning queer music and film artist Tanzer will produce Disco Instamatic – a large-scale video art installation with an original disco soundtrack and will allow visitors an experience like stepping inside a music video. This immersive hyper-colour celebration of queer identity will incorporate video portraits of 20 multidisciplinary artists within the alternative queer community of Victoria. The free exhibit will be presented at Abbotsford Convent and launched online via YouTube, Instagram and TikTok, with hopes of touring nationally.