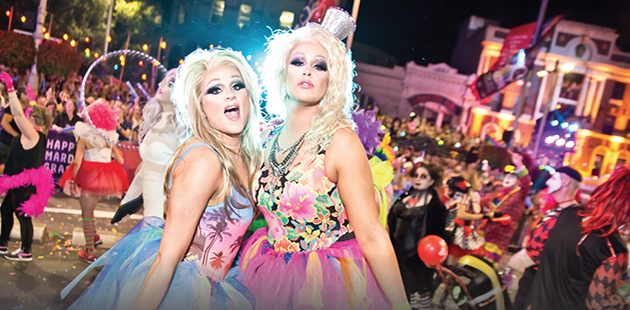 Over 12,600 dazzling parade participants will sashay their way up Oxford Street for the 42nd annual Sydney Gay and Lesbian Mardi Gras Parade on Saturday 29 February 2020.
"We have some truly wonderful parade floats who have embraced the theme of WHAT MATTERS," says Sydney Gay and Lesbian Mardi Gras CEO, Albert Kruger. "From pure celebration and creative self-expression, to floats with a wild and witty protest call to action, the 2020 Sydney Gay and Lesbian Mardi Gras Parade is an opportunity for us to come together and tell the world about the things that are important to the LGBTQI+ community."
With 191 diverse floats, each with their own unique take on the festival's theme WHAT MATTERS, this year's Parade promises to be a stunning display of celebration, passion and support. Checkout the Parade Running Order here! Here are a few floats not to miss:
Climate Change and Sustainability
Following the recent bushfire crisis, several floats are calling attention to the health of our planet. Le Petit Bateau are a collective of artists who are planning a colourful ocean theme float made using plastic bottles and recycled materials. Expect mermaids, sexy octopuses and incredible choreography.
The P.I.N.K. F.L.A.M.I.N.G.O.S. float is a comment on the global climate crisis with a giant pushable float that will show the Earth roasted on a spit, fueled by gas cylinders from USA, Russia, China and India.
Mardi Gras have also created a climate change focused float, featuring a giant genderless puppet of Gaia made from sustainable materials, calling for the world to come together to support each other and take care of the earth.
Bushfire Heroes
The heroes from the frontline of the recent bushfires will also come together and be celebrated on Parade night. LGBTQI+ community members and their allies from the NSW Rural Fire Service, Fire and Rescue NSW and the NSW State Emergency Services will proudly take to Oxford Street in a symbol of unity for their LGBTQI+ members and the community.
Anniversaries
Two community organisations will be commemorating significant anniversaries at the Parade. 35 years ago, St Vincent's Hospital opened the first dedicated HIV/AIDS ward in Australia – 17 South. This year their float pays tribute to how far we have come since then, both in overcoming the stigma associated with a positive diagnosis and also in transforming HIV into a manageable chronic condition for almost all of those living with HIV in Australia today.
Bobby Goldsmith Foundation, Australia's longest-running HIV charity, will also be at the Parade celebrating 35 years of helping people living with HIV to live longer, healthier lives.
Regional Australia
LGBTQI+ communities in regional areas across Australia will have their moment in the spotlight with the likes of Newcastle Pride, Central Coast Pride, Shellharbour, Broken Heel Festival and Country Queens all featuring huge and colourful parade entries. For the very first time ever, these regional areas will also become Parade live sites, screening the Parade in full so their communities and supporters back home can cheer them on as they strut their stuff in Sydney.
Mardi Gras Volunteers Farewell
Daniel Lester – a Mardi Gras Parade volunteer who has been involved in the Parade for 20 consecutive years will farewell Mardi Gras with a float featuring other Parade volunteers, friends and family. This important float shines a light on the wonderful people that dedicate their free time to helping spread LGBTQI+ awareness at the annual Parade.
The LGBTQI Homeless
A poignant message requiring urgent attention is LGBTQI+ homelessness. The float Please Don't Forget Our Homeless aims to highlight the growing number of LGBTQI+ homeless, in particular the elderly who are living in their cars. The float will take to the Parade with a simple message and endeavors to be a voice for those who are the most vulnerable in our society.
Celebrating the colourful collision of creativity and culture across our communities, the world-renowned Mardi Gras Parade unites hundreds of thousands of revellers for the biggest night on the LGBTQI+ calendar. Crowds line the streets for hours in anticipation of the Parade, which is open for all to enjoy, so make your way to Oxford or Flinders Streets early to get the best viewing place and experience this creative playground under the stars.
The 2020 Sydney Gay and Lesbian Mardi Gras Parade takes place on Saturday 29 February 2020. For more information, visit: www.mardigras.org.au SBS will also screen the Parade live from 7.30pm (AEDT). For more information, visit: www.sbs.com.au for details.
Image: Mardi Gras Parade – courtesy of SGLMG